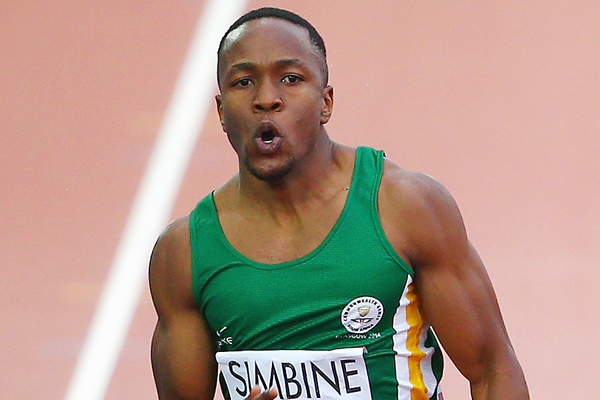 It's still early in the season but South African sprinter Akani Simbine has demonstrated that he's got all it takes to prove a worthy adversary this year, winning his 100m race with a National Record (NR) and World Lead (WL) of 9.96s at the ASA Night Series Meeting in Pretoria on Tuesday.
He shaved 0.01s off the former record he held jointly with team mate Henricho Bruintjies. The 22-year old set the former mark and Games Record (CR) enroute winning the 100m at the 2015 World University Games in Gwangju, South Korea.
This is the third sub-10s run for Simbine who is only the second South African man to break 10s (after Simon Magakwe). He also believes that he can go even faster:
"The time I ran does not feel real especially since it is still so early in the season. I got to admit that I am surprised by the shape I am in. My coach and I have not really even started to do speed work. I am confident that I can run a much faster time" he said.
Simbine may perhaps attain his goal much earlier than planned as he goes against Bruintjies at the Gauteng-North Championships this weekend.
Interestingly, both sprinters are currently being handled by the same coach, Werner Prinsloo after Bruintjies parted ways with his former trainer last month and pulled out of the World Indoors.
Meanwhile Carina Horn and Alyssa Conley both qualified for the women's 100m at the forthcoming Olympic Games after clocking 11.23s and 11.29s respectively at the event.