Former African Youth champion in the Triple Jump, Fabian Edoki was on Tuesday (March 1) listed as one of the most outstanding athletes of the year by the U.S. Track and Field and Cross Country Coaches Association (USTFCCCA).
The Regional Athletes and Coaches of the Year for the 2016 National Junior College Athletic Association Indoor Track and Field season were announced on Tuesday, and Track and Field athletes of both genders from the four regions were honoured.
Edoki, who is a freshman at South Plains College in Texas, was named 'Field Athlete of the Year' for the Western region. He set a Personal Best (PB) of 7.90m in the Long Jump a couple of weeks ago at the South Plains College Indoor Invitational in Levelland, and the mark put him at 1st in the county, 7th among all collegians and 31st in the world. He also placed 8th in the Triple Jump with a leap of 14.79m.
This honour follows his recent achievement of being named the National Athlete of the Week by the USTFCCCA three times in as many weeks. Edoki, who is a product of the Cross River State developmental programme, took to his Facebook page to share the good news: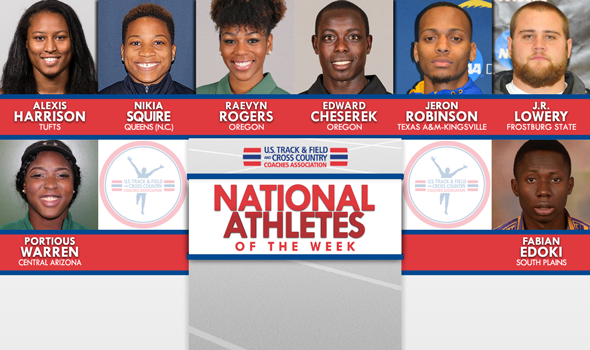 "Words can't describe how happy I am to be Field Athlete of the Year. I give God the glory. I will keep on making history for my family. I want to thank everyone who has been supporting my great journey, I will keep on working hard and trusting God for everything", he said.
Edoki represented Nigeria at the 2014 World Junior Championships in Oregon where he ranked 12th in the Triple Jump. In a recent interview with www.spctexans.com, the jumper who currently holds the African Youth Championships Triple Jump Record (15.18m) revealed that his current form has had a tremendous impact on his family.
He said, "Coming all the way from my country of Nigeria, my main goal was to be No.1 in internationals. When we started training, we worked on my technique, and Coach Vance helped me a lot. When we went to our meet in Kansas, he saw my mistakes, and we worked on it, and it's been a long process.
"I know my dad right now is almost crying, because this is unbelievable for my family. Coming to South Plains College and working with Coach Vance has changed my life, in everything. He's always telling me at practice, 'Fabian, just keep working, you're going to be great.' I'm now finally starting to see the results."