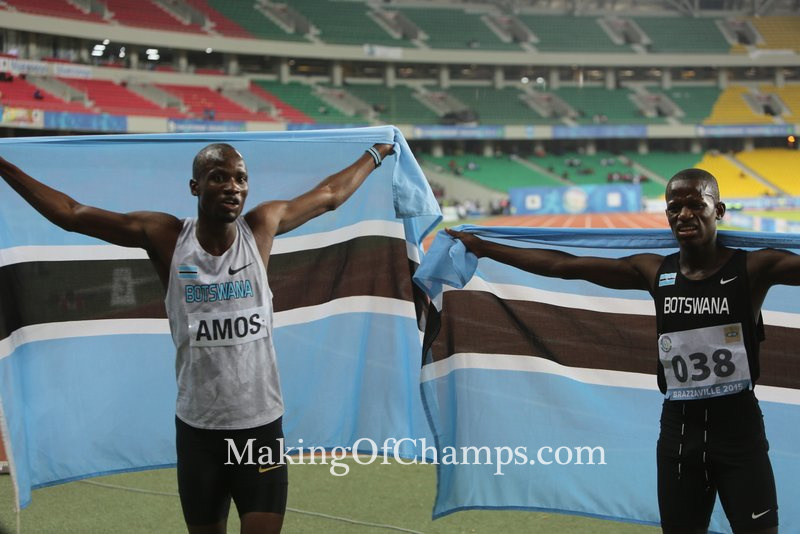 Commonwealth Games 800m champion, Nijel Amos was more than happy to add the All-Africa Games GOLD medal to his growing list of titles, following an impressive race at the New Kintele Stadium in Brazzaville where he outran defending champion, Taoufik Makhloufi to clock the winning time of 1:50.45.
Winning the title served as a consolation of some sorts for Amos who contrary to expectations, failed to make the final at the World Championships in Beijing after finishing 3rd in the semis. However, he went on to retain his Diamond Race Trophy, before ending the season on a winning note at the ongoing All-Africa Games where he is making his debut.
Reigning Olympic champion in the 1500m, Makhloufi followed in 2nd place with a time of 1:50.72, while Kenya's Job Kinyor (1:50.79) took the Bronze medal ahead of his compatriots Timothy Kitum (1:50.93) and Jackson Kivuva (1:50.98) who placed 4th and 5th respectively. Fellow Botswana athlete, Boitumelo Masilo finished 8th in the race.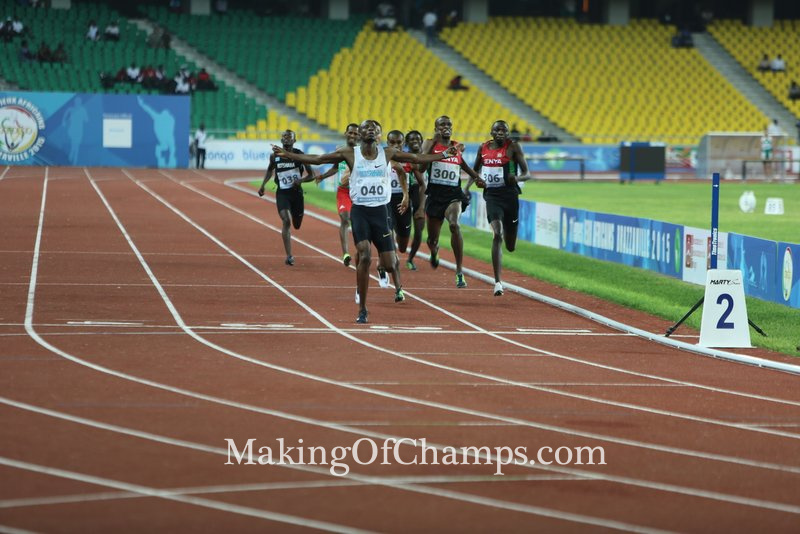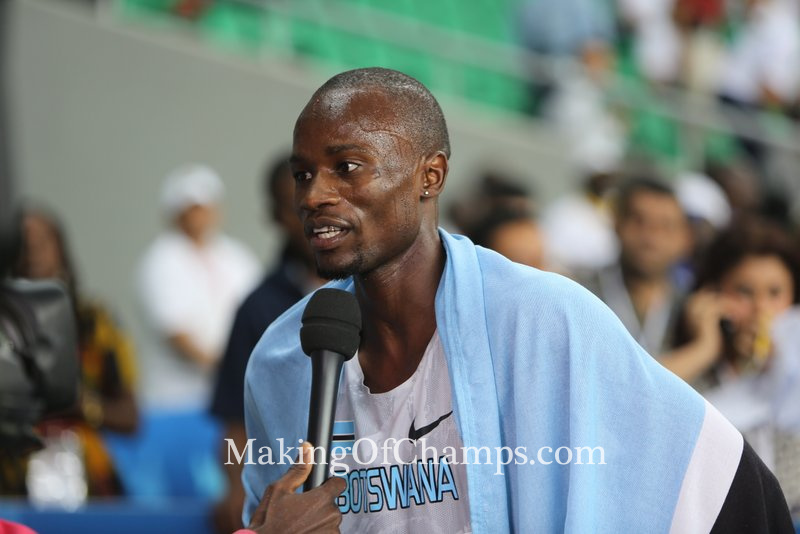 Nijel Amos ends the season on a high after a disappointing outing in Beijing.
Amos said, "I really celebrated this victory because it is my first All-Africa Games medal. This is my first time at the championships so it means a lot to me; it means a lot to place it in my cabinet, because at the end of the day when I retire, I should have every medal in my cabinet.  Any addition to my cabinet puts a smile on my face."
Algeria's Abdelmalik Lahoulou was outstanding in the men's 400m Hurdles , racing to the title with a National Record (NR) of 48.67s, and inspiring team mate, Miloud Rahmani to a 2nd place finish in 49.27s; Mohamed Sghaier  of Tunisia claimed Bronze with 49.32s while Kenya's William Mbevi Mutunga followed with a Season's Best (SB) of 49.43s.
Nigeria's Henry Okorie placed 7th with a Personal Best (PB) of 50.01s. The World Championships certainly served in preparing Lahoulou for the All-Africa Games, having gotten to the semis in Beijing where he ran an NR of 48.87s, before shaving 0.20s off his time in Brazzaville.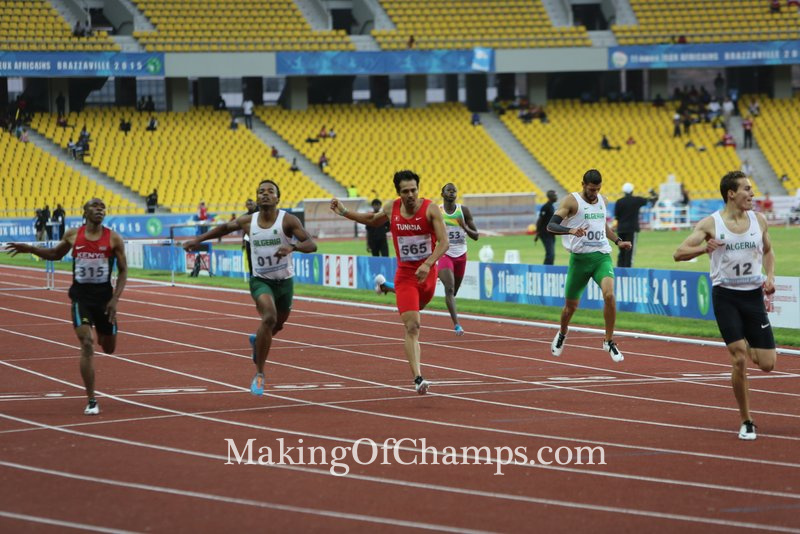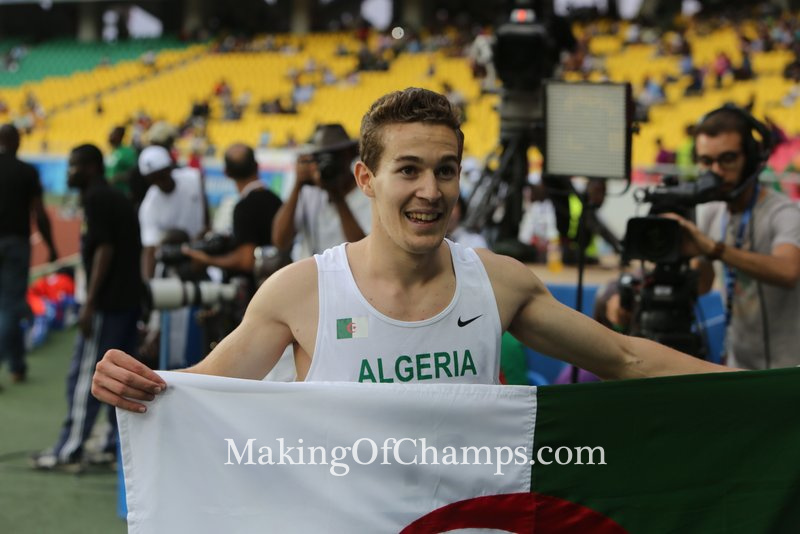 Alice Aprot did Kenya proud by securing the women's 10000m title with a Championship Record (CR) of 31:24.18, while team mate Gladys Kiptagelai coasted home in an SB of 31:36.87.  Beijing 2015 Silver medallist Gelete Burka won Bronze in 31:38.33.
It was a proud moment for Chinazom Amadi as she won her first GOLD medal at continental level. The Nigerian champion made a leap of 6.31m to narrowly defeat Joelle Mbumi Nkuindjin of Cameroun, who also recorded the same distance. Algeria's Romaissa Tahani Belaboid initially led the pack, having made a jump of 6.30m on her first attempt at the Kintele Stadium. However, Amadi and Nkuindjin were able to go 1cm further to secure the Top 2 spots.
It has been an off season for Commonwealth Games GOLD medallist, Ese Brume who finished outside the podium in 5th place with 6.23m. The African Junior Record holder was beaten to the national title by Amadi in June, and was unable to eventually make it to the World Championships. Winner of the women's High Jump, Lissa Labiche of Seychelles was 4th with an SB of 6.25m.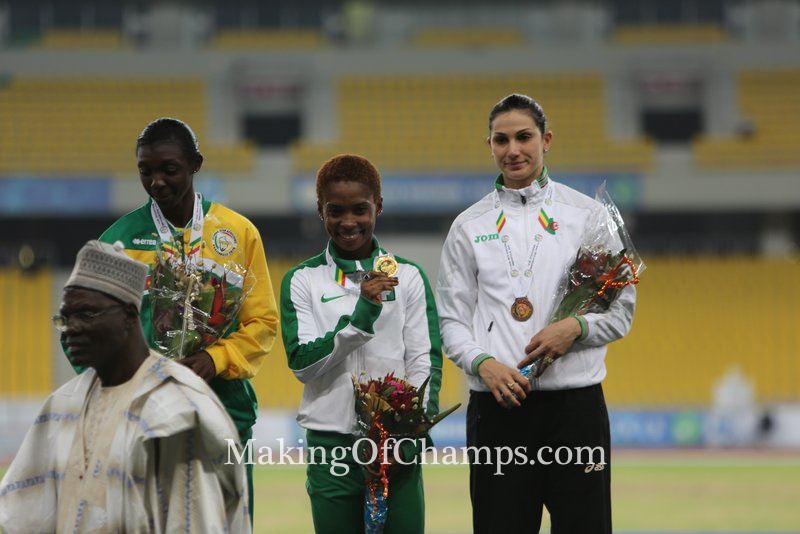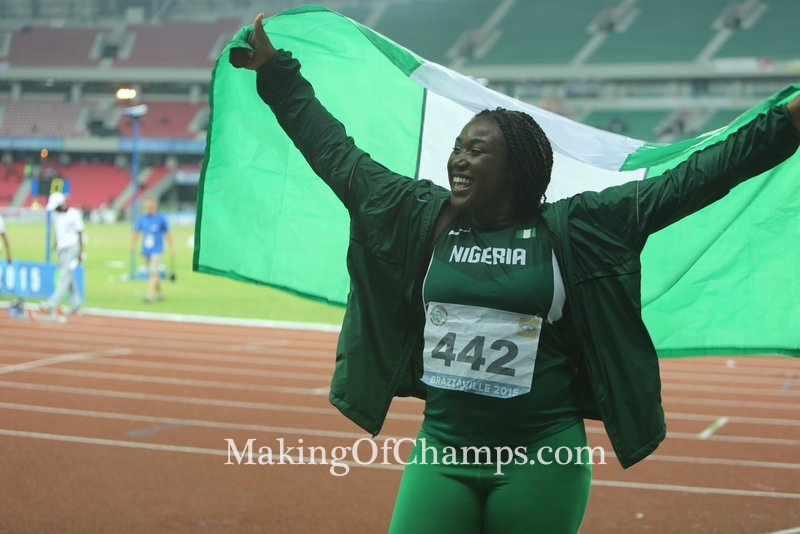 Claire Uke won her first medal for Nigeria in her debut outing for the country, winning GOLD in the women's Discus throw with 54.25m. Ischke Senekal of South Africa (50.53m) and Ghana's Julia Agawu (49.08m) followed in 2nd and 3rd positions respectively. Precious Ogunleye, who is also making her first appearance in Nigerian colours, finished 4th with 48.18m.
Hichem Khalil Cherabi of Algeria dominated the men's Pole Vault event, clearing 5.25m to take GOLD ahead of Ghana's Jordan Yamoah (5.20m) and Mohamed Romdhana of Tunisia (5.10m).
Cote d'Ivoire's Marie Josee Ta Lou looks set to add the 200m title to the 100m GOLD she won a few days ago. The Ivoirian won both races in the heats and semis, where she clocked a time of 22.93s to finish ahead of Nigeria's Lawreta Ozoh (23.47s). Ngozi Onwumere will certainly put a fight as she hopes to win her first individual medal for Nigeria; the US-based athlete won her heat and semis as well, qualaifying for the final in 23.53s.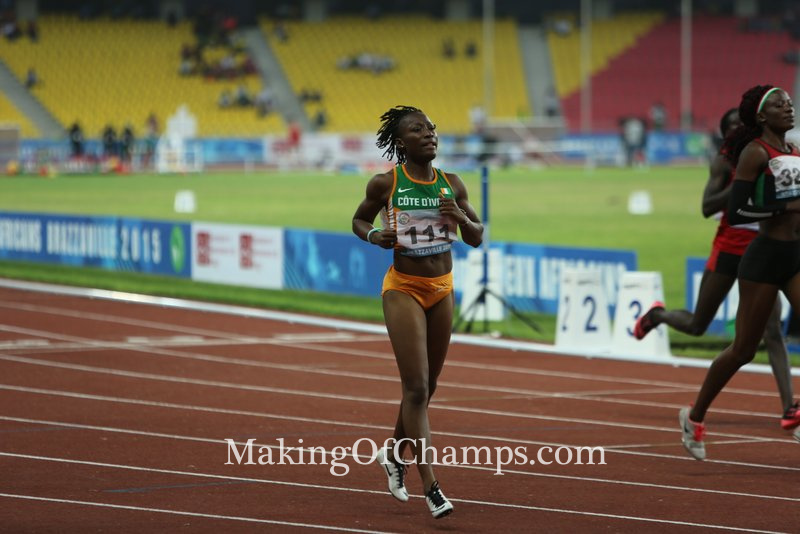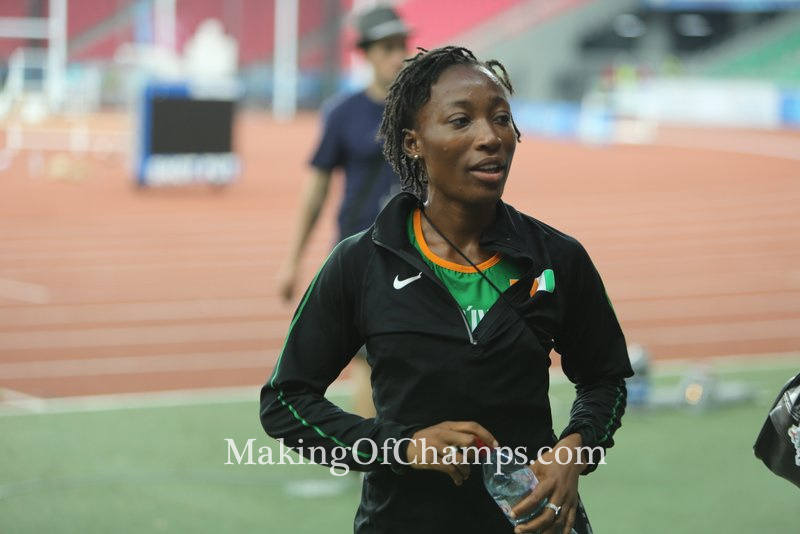 Other athletes competing in Thursday's final are home girl Natacha Ngoye Akamabi (23.58s), Pon Karidjatou Traore of Burkina Faso (23.75s), Kenyan Eunice Kadogo (23.64s), Phumlile Ndzinisa of Swaziland who set an NR of 23.47s, and Ghana's Janet Amponsah (23.48s).
Cote d'Ivoire's NR holder Hua Wilfried Koffi (20.85s) will go against three Nigerians Obinna Metu (20.55s), Divine Oduduru (20.51s) and national champion, Odele Tega (20.98s) in the final of the men's 200m. All four athletes won their respective heats, while three of them (with the exception of Tega) went on to win each of their semifinal races.
They will be joined by Jammeh Adama of the Gambia (20.83s), Sibusiso Matsenjwa of Swaziland (20.84s), Idrissa Adam of Cameroon (20.95s) and Zambia's Sydney Siame (20.91s). Defending champion in the women's 400m Hurdles, Ajoke Odumosu returned to winning ways in Brazzaville where she won Semifinal 1 of the event in 57.31s.
Namibia's Lilianne Klaasman (59.10s, NR), Jerioth Wanjiku (59.83s) and Annerie Ebersohn (1:01.02) followed the Nigerian. National champion Amaka Ogoegbunam returned a time of 58.46s to win Semifinal 2 ahead of Audrey Nkamasao (59.32s), Olga Razanamalala of Madagascar (1:00.30) and Burkina Faso's Rokya Fofana (1:00.51, SB).