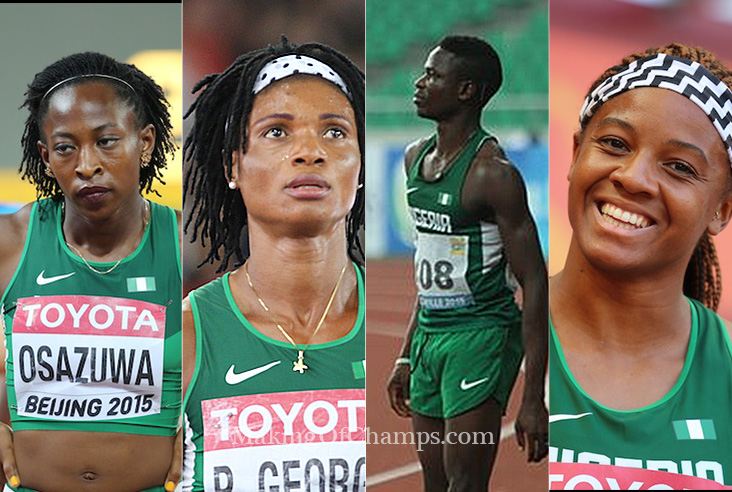 Here's the full schedule of ALL Team Nigeria Athletes competing on DAY THREE (September 15th) at the 2015 All African Games, Congo Brazaville. You can follow Making of Champions on any of our social media platforms for LIVE TWEETS on Twitter and POSTS on Facebook throughout the day.
Men's Long Jump Qualifying Round
5:00pm – Group A ( Samson Idiata), Group B ( Ezekiel Ewulo).
Women's Heptathlon (Shot Put and 200m)
5:05pm & 7:40pm – National Record holder Uhunoma Osazuwa, Oluwakemi Francis and Hope Idhe.
Men's 400m Hurdles (HEAT 1)
5:10pm- Henry Okonje (Bronze medallist at 2015 Nigerian Trials).
Women's 400m Final
5:40pm – National Champion Patience Okon George vs. African Silver medallist, Kabange Mupopo of Zambia, Oluwatosin Adeloye and Magaret Etim.
Men's 400m Final
5:55pm – Orukpe Erayokan vs. 2014 African Champion Isaac Makwala of Botswana.
Women's Javelin
6:20pm – Kelechi Nwanaga
Women's 100m Hurdles Final
6:40pm – National Champion Lindsey Weyinme vs. Oluwatobi Amusan and Roswita Okou of Ivory Coast.
Women's 4x100m Final
8:10pm – 2014 Commonwealth Silver medallists, Nigeria vs. 2014 African Silver medallists, Ivory Coast.
Men's 4x100m Final
8:20pm – 2014 African Champions, Nigeria vs. Ivory Coast and Ghana.
Picks of the Day
Men and Women's 400m Final – Orukpe Erayokan and Patience Okon George.