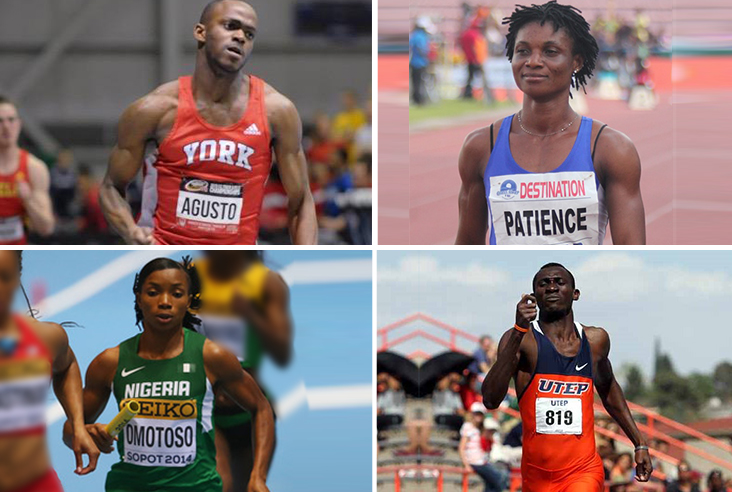 The Track & Field schedule at the World University Games (Jul 3rd–14th) in Gwangju, South Korea started on Wednesday July 8th, but unfortunately none of Nigeria's athletes registered for the first day's track events, men's and women's 100m and 400m, save for Chukwuma Onyeaku, had even arrived in Korea in time for the start of their event.
Onyeaku was the only Nigerian who took to the track on Wednesday, finishing 5th in Heat 9 of the 100m in 10.61s and going through as a fastest-loser to the next round. Incidentally, 19-year old Mobolade Ajomale representing Canada won Heat 7 with a time of 10.41s.
Odele Tega, who along with Onyeaku was entered to run the 100/200m double for Nigeria, did not start Heat 6. Quarter-milers Omeiza Akerele and Biola Onakoya were also no-shows in Heats 3 and 4 of the men's 400 metres.
Incidentally, the University Games record of 44.81s in the 400m is held by a Nigerian – Clement Chukwu set the mark way back in 1997 at the Games in Catania, Italy. It will now be another 2 years until the next Games in 2017 before another Nigerian will be able to attempt to match Chukwu's historic feat.
Stephanie Kalu did not start Heat 4 of the women's 100m, neither did Patience Okon George start Heat 1 of the women's 400m. Okon George would have been one of the favourites for the World University Games title- she just ran a PB of 50.76s on Sunday in Switzerland, making her Nigeria's fastest female quarter-miler since Falilat Ogunkoya ran 50.50s at the World Championships in 2001! The fastest time recorded in the 5 Heats of the women's 400m on Wednesday was 53.09s.
Making of Champions can exclusively reveal that some of the athletes in the 21-strong contingent due to represent Nigeria in the Track & Field events received an email on Monday (3 days after the World University Games had started) communicating that their trip to represent Nigeria at the Games had been cancelled because the sponsor that NUGA (the Nigerian University Games Association) had lined up had 'pulled out at the last minute'.
Consequently, the only Track & Field athletes in Korea are likely those who made contingency plans, to not depend on the funding from NUGA to transport them there.
One of such athletes is promising quarter-miler Ayo Agusto, a national indoor champion over 300m where he studies in Canada. He has PBs of 47.60 and 21.37s in the 400m & 200m respectively. Agusto crowd-funded to raise over 5,000 US dollars to personally pay for his own trip from Canada to Korea to represent Nigeria.
To Agusto's disappointment, he arrived Gwangju to find that he had not even been entered into any individual event! Instead he was registered for only the 4x100m, and it remains to be seen if Nigeria even has enough sprinters at the Games to make up a relay team.
Luckily for Agusto, given all the no-shows for Team Nigeria, he has been made a last minute entry for the 200m, and is now listed to compete in Heat 2 on Thursday morning – let's wish him the best of luck as he represents his fatherland for the first time! Odele Tega is still listed in Heat 6 but as far as we know currently, he has not made the trip.
Omolara Omotosho, 2014 World Relay 4x400m Bronze Medallist, is listed in Heat 3 of the women's 200m for Thursday morning, while Gbemisola Obanoyen, her fellow Adekunle Ajasin University student, is on the startlist for Heat 6. At time of press, it is unclear if either of them has actually made the trip to Gwangju.
Here is the list of 21 Athletes initially expected to don Nigeria's colours in the Track & Field events at the Games. We understand that some Nigerians entered into other sports arrived in Gwangju on Wednesday, but it is currently unclear how many and whether all of them arrived in time to contest their sport at the Games which started since last Friday!
Nigeria's initial Track & Field list for 2015 World University Games
Odele Tega (100m/200m)
Chukwuma Onyeaku (100m/200m)
Omeiza Akerele (400m, 4x100m)
Biola Onakoya (200m/400m/4x100m)
  Allen Eke (800m/1500m)
Stephen Mozia (Shot Put)
Ayotoluwa Agusto (4x100m)
Anthony Osheku Jnr (4x100m)
Simon Afoke Oshasha (4x400m)
Chukwuma Madunta (4x400m)
Adedamola Adeniji (4x400m)
Seun Emmanuel Olaniyi (4x400m)
 Female 
Stephanie Kalu (100m/200m/4x400m)
Patience Okon George (400m, 4x400m)
Euphemia Edem (Long Jump)
Ngozi Onwumere (200m)
Florence Uwakwe (4x100m)
Omolara Omotosho (4x100m/4x400m)
Gbemisola Ogbanoyen (4x100m)
Ayobami Ojediran (4x100m)
Comfort Avuzorie (4x400m)