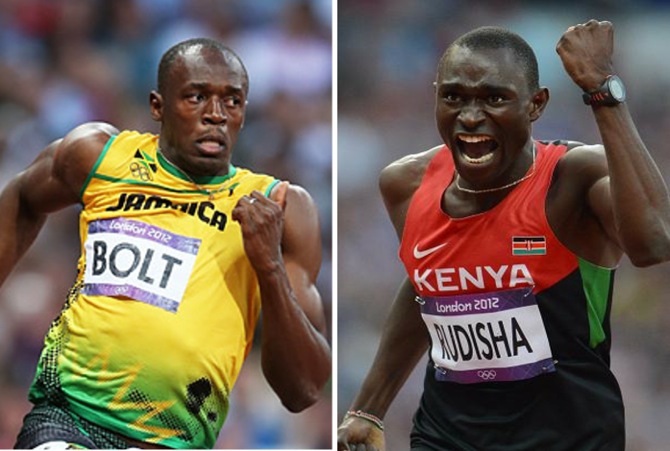 The return of multiple world and Olympic champion, Usain Bolt, to the New York Diamond League on Saturday was not as dramatic as expected, as the 28-year old had to contend with a strong headwind of -2.8 m/s to win the 200m, but not in the record breaking fashion the Jamaican is accustomed to.
It had been anticipated that Bolt would at least dip inside 20s for the first time this year at the same venue where he set his World Record (WR) of 9.72s in 2008, but it was not to be as clocked 20.29s, and didn't seem impressed by his time, which was slower than the 20.13s he ran at the IAAF World Challenge in Ostrava, his first 200m race of the year.
The World Record holder was closely followed by Zharnel Hughes of Anguilla in 20.32s while country man, Julian Forte placed 3rd with 20.46s as Panama's Alonso Edward finished in 4th place (20.62s). Going by his performance in New York, it's still not clear if Bolt is in form to overcome the threat posed by USA's Justin Gatlin who has been making waves with his incredible form from last year.
The 2004 Olympic GOLD medallist was the world leader in the 100m/200m last year and looks set to continue his unbeaten streak as he currently occupies the No.1 spot in the world in both events with an impressive 9.74s and 19.68s respectively.
Tyson Gay overcame a shaky start to win the men's 100m in 10.12s, making it his 2nd win in the series this year after a victorious outing in Eugene. It was a close one between the American and Trinidad and Tobago's Keston Bledman who was initially disqualified for a false start but later allowed to run under protest.
His disqualification was upheld after the race and Jamaica's Nesta Carter was moved to 2nd position with a time of 10.15s, while South Africa's Akani Simbine was 3rd in 10.18s.
Tori Bowie dominated the women's 200m race from the very beginning and clocked a Season's Best (SB) of 22.23s, with Nigeria's Blessing Okagbare-Ighoteguonor following in 2nd with a time of 22.67s, while Jamaica's Sherone Simpson placed  3rd with 22.69s.
USA's Francena McCorory put up an awesome performance to win the women's 400m, running a scorching Meeting Record (MR) and World Lead (WL) of 49.86s, thus erasing the former mark set by Botswana's Amantle Montsho (49.91s). She was followed by Shaunae Miller of the Bahamas (50.66s) and Jamaica's Stephenie-Ann McPherson (50.84s).
The men's 400m International race was another record-breaking event as South Africa's Wayde Van Niekerk clocked a National Record (NR) of 44.24s to finish ahead of veteran, Chris Brown (44.7s4) and one of the fastest men ever in the quartermile, USA's Tony McQuay who returned a time of 45.26s.
In the absence of world leader, Jasmine Stowers in the 100m Hurdles, Sharika Nelvis took her second Diamond League title of the season, winning the event in 12.65s ahead of European champion, Tiffany Porter who clocked 12.81s while World champion, David Oliver won the men's version of the race, storming to victory with a time of 13.19s.
Olympic Bronze medallist, Javier Culson won the 400m Hurdles with an SB of 48.48s and was closely, followed by South Africa's Lj Van Zyl who posted an SB of 48.78s. Team Nigeria's Miles Ukaoma made an impressive Diamond League debut in the race, finishing 5th just ahead of World champion, Jehue Gordon with an SB of 49.25s.
World Record holder in the men's 800m, David Rudisha returned to winning ways at the Adidas Grand Prix, completing his race with an SB of 1:43.58. USA's Boris Berian placed 2nd in 1:43.84 while Pierre-Ambroise Bosse of France returned a time of 1:43.88 to finish 3rd.
The London 2012 champion is still struggling to get back to the form that saw him break the WR multiple times in 2012, but his victory in New York has stoked some embers of hope in the hearts of fans ahead of the World Championships.
One of the surprise winners of the evening was USA's Ben True who pulled an upset to win the men's 5000m in 13:29.48. New Zealand's Nick Willis was 2nd in 13:29.78 while Nguse Amlosom of Eritrea and Kenya's Thomas Longosiwa placd 3rd and 4th respectively with 13:30.22 and 13:30.26.
Cuba's Pedro Pablo Pichardo was prevented from doing some damage to Teddy Tamgho's MR of 17.96m, due to the windy conditions at the Icahn Stadium. He won the event with a jump of 17.56m ahead of USA's Will Claye (16.96m) and Omar Craddock (16.55m), with Nigeria's Tosin Oke finishing 5th with a jump of 16.47m.
Canada's Christabel Nettey secured her first Diamond League victory with an MR of 6.92m in the women's Long Jump ahead of former world champion, Tianna Bartoletta who was 2nd with 6.89m, while Great Britain's Shara Proctor placed 3rd with 6.72m.
Czech Republic's Vítězslav Vesely took the men's Javelin throw with a distance of 83.62m while reigning Olympic, world and European champion in the women's Discus, Sandra Perkovic, recorded a fifth straight victory this season and a third in the past 10 days, with a throw of 68.44m.
Two-time world champion, Blanka Vlasic and world and Diamond Race leader, Ruth Beitia went head-to-head until the late stages of the competition when the Spaniard first cleared the bar at 1.97m, breaking Vlasic's MR of 1.94m.
The Croatian equalled that mark on her third attempt, to retain her status as MR holder. However Nigeria's record holder in the event, Doreen Amata was unable to clear any height at the meeting despite her fantastic progression this season.