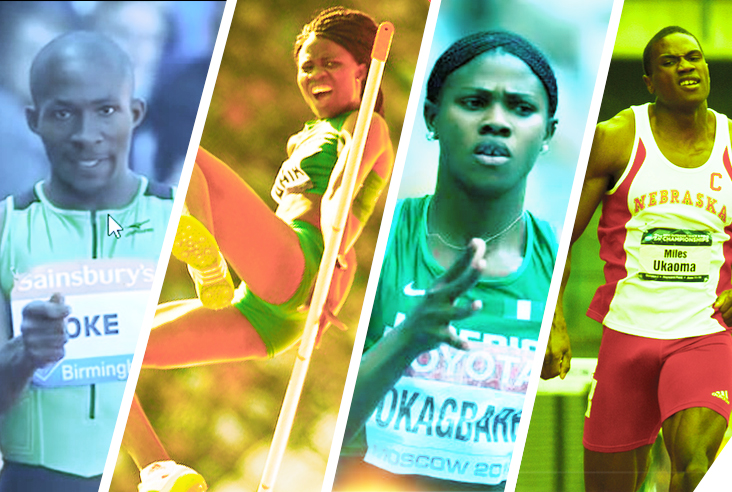 The seventh leg of the 2015 IAAF Diamond League series is one to watch out for as FOUR national athletes are set to compete at the Addidas Grand Prix slated to hold at the Icahn Stadium on Randall's Island in New York City on Saturday.
Reigning Commonwealth DOUBLE sprint champion, Blessing Okagbare-Ighoteguonor will spearhead the Nigerian interest which also includes national Triple Jump Champion Tosin Oke, High Jump National Record holder, Doreen Amata, and national athlete, Miles Ukaoma, who competes in the 400m Hurdles. The meeting will be the third in the series for both Okagbare-Ighoteguenor and Oke, while Amata and Ukaoma will be making their debut.
The Nigerian track queen started her Diamond League season at the Shanghai Meeting, winning convincingly in the 100m in a star-studded line-up that included 100m/200m world champion Shelly-Ann Fraser-Pryce. She clocked a new Season's Best (SB) of 10.98s ahead of USA's Tori Bowie (11.07s). This came just a week after finishing 2nd in 11.05s at the Jamaican Invitational.
With her performance in Shanghai, Okagbare-Ighoteguonor was definitely a favourite at the Eugene meeting. However Fraser- Pryce was the star, clocking a World Lead (WL) of 10.81s alongside Cote d'Ivoire's Murielle Ahoure, while Bowie came 3rd in 10.82s. The Nigerian finished 4th with an impressive SB of 10.87s.
Okagbare-Ighoteguonor was missing in action in Rome, Birmingham and Oslo, which is quite uncharacteristic of the African record holder who ended 2014 as the most prolific athlete of the Diamond League since its inception in 2010, having notched up 38 appearances in the series, and participated in nine Diamond League meetings in 2014.
She will be competing in the 200m for the first time this year against a respectable field comprising of USA's duo of Bowie and Kimberly Duncan, Jamaica's Sherone Simpson and Anthonique Strachan of the Bahamas.
2010 Commonwealth Triple Jump Champion Oke will continue his quest for qualification for the 2015 World Championships, as he needs to make a leap of at least 16.90m to secure a ticket to Beijing. He opened his Diamond League account in Doha, competing in a field that had two of the greatest Triple jumpers EVER, Cuba's Pedro Pablo Pichardo and Olympic champion, Christian Taylor.
The duo both went above the 18m mark, while Oke finished 6th with his leap of 16.83m. The Nigerian placed 3rd in Birmingham with his attempt of 16.71m and will be hoping everything goes his way in New York where he will once more go against the Diamond League Record (DLR) holder Pichardo, and USA's duo of Will Claye and Chris Benard.
Although she may not be the favourite to win in New York considering that she's competing against an elite field that features European Champion Ruth Beitia and two-time World Champion Blanka Vlasic, Amata won't be a walk-over considering her progression this year.
The Nigerian High Jump queen started her impressive outdoor season with a 3rd place finish in Atlanta, scaling the height of 1.85m. Since then, she has won all other competitions including the Drake Relays and IAAF World Challenge in Dakar where she made her best jump in four years, winning the event with a distance of 1.94m, which is just 1cm shy of her NR and PB, and quite coincidentally, the qualifying mark for the 2015 World Championships.
National 400m hurdler Ukaoma was the 2014 NCAA champion, but will be considered the underdog as he races against a star-studded field that includes world leader Bershawn Jackson, World Champion Jehue Gordon, world Silver medallist Javier Culson, and Olympic Silver medallist Micheal Tinsley. Ukaoma has represented Nigeria in a number of international competitions and will be hoping for a new PB as he's just .03s shy, with his SB of 49.25s.