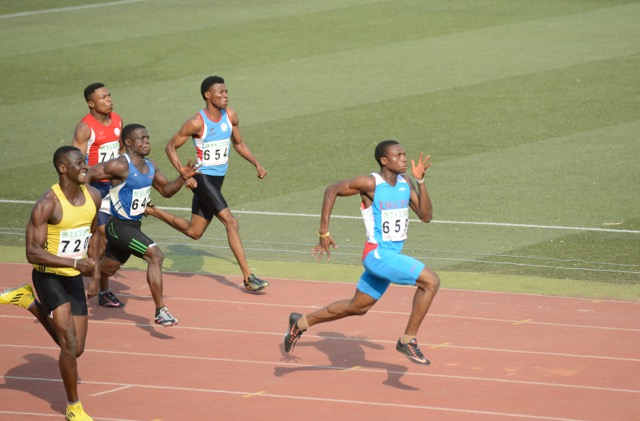 The 2015 Athletics season kicked off early for young athletes in Nigeria with the staging of the 5th edition of the D.K Olukoya Youth and Junior Athletics Championships, which was held over the weekend at the Teslim Balogun Stadium in Lagos.
According to the Secretary General of the Athletics Federation of Nigeria (AFN), Olumide Bamiduro, a total of 556 athletes competing for 16 States and 30 clubs, took part in the competition, which served as National Trials for the forthcoming African Junior Championships in Addis Ababa from March 4 to 8, and the African Youth Championships scheduled to take place in Mauritius in April.
Some of the events featured in the championship include the 100m, 200m, 400m, 800m, 1,500m, 3,000m, Long Jump, High Jump, Triple Jump , Shot Put and Javelin throw amongst others. A number of young athletes who shone at the recently concluded Lagos Secondary School Sports Festival (Ibile Games) also tried their luck at the National Trials.
They include Ese Oguma who won the sprint double as well as the 4x100m at the Ibile Games, Isaac Odugbesan (Shot Put Silver Medallist), Ruth Usoro (200m, Long Jump and 4x100m Champion), Nere Omatsola (High Jump winner) and a host of others.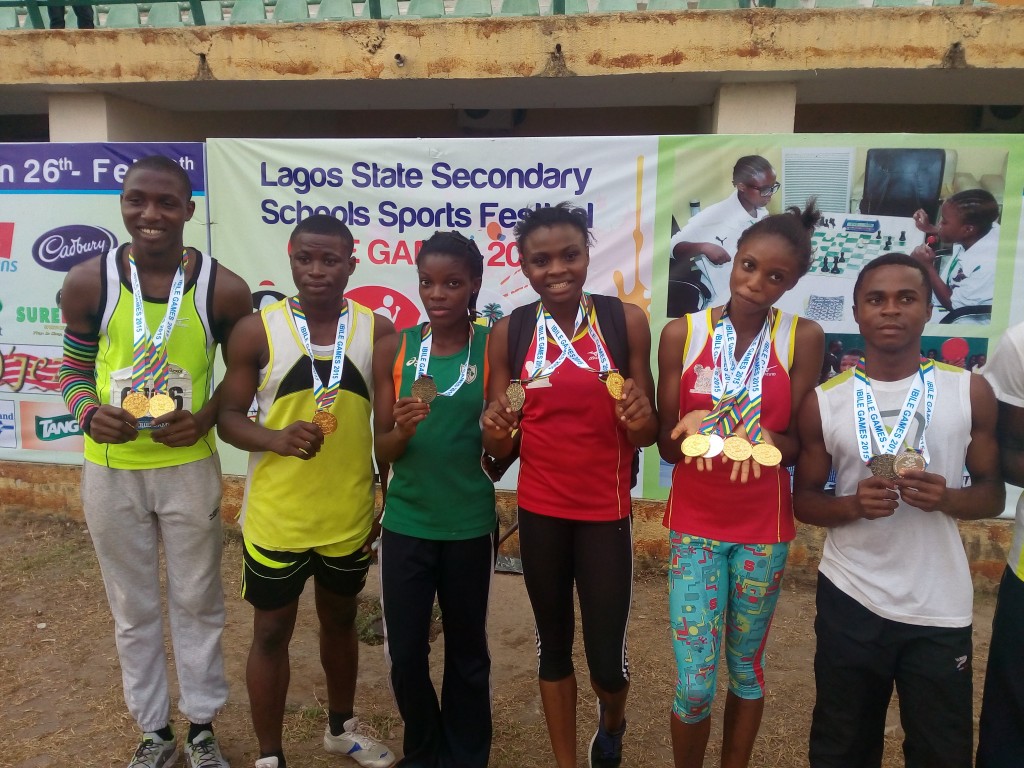 Delta State's Divine Oduduru who is the National 200m title holder and World Junior Championships Silver Medallist, was at hand to raise the bar of the competition where he clocked 10.80s in the heats of the 100m, and improved his time to 10.72s, battling a strong headwind of -3.0m/s in the final. He also dominated his heat in the 200m. Kwara State athlete, Victor Peka was second in the 100m while Ashien Godwin of Esteem Club took third in 11.12s.
Making of Champions caught up with the reigning 100m/200m continental Youth Champion after his race where he revealed that he wasn't pleased with his time. He also stated that he had set his sights on winning GOLD in Addis Ababa as well as other major competitions.
He said, "The reason I wasn't happy was that I didn't see what I was expecting. I was expecting a 10.3, but I did 10.80s in the heats and 10.72s in the final. I am waiting to be called into camp where I can train harder to be a champion. This year is going to be better than 2014 because I must return with a medal from All-Africa Games.
"I won't repeat the mistakes I made last year at the African Senior Championships. I can also guarantee a medal at the African Juniors. I hope to be included in the Nigerian team that will be in the US in preparation for the IAAF World Relays in the Bahamas, after which I am aiming for a ticket to the World Championships where I hope to go against my mentor, Usain Bolt in the 200m event."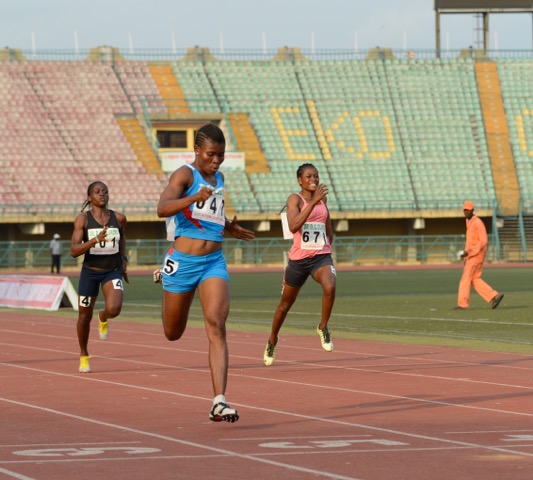 National, African and Commonwealth Long Jump champion, Ese Brume used the Trials to commence preparation for the season. She featured in the 100m where she won her heat in the junior category with a time of 12.36s, and eventually took the final in 12.29s, ahead of Mercy Ntia-Obong of Cross Rivers (12.38s) and Buka Tigers' Oluwatobi Amusan (12.46s).
The African Junior Record Holder revealed that she intends running more 100m/200m races this year as she hopes to combine the sprints with her main event, the Long Jump.
The boys' U-18 event was won by Olisakwe Chukwu in 10.98s, with ThankGod Igube (11.20s) and Egbochinam Chibuike (11.37s) at his heels, while Blessing Adiakerehwa won the girls' Youth category in 12.17s ahead of Oluwaseuni Omotayo (12.25s) and defending champion Aniekeme Alphonsus (12.38s) of Akwa Ibom State.
Abisoye Adenekan led the Youth category of the Girls' 100m Hurdles where she returned a time of 16.03s; Mary Okorhi (16.50s) and Victoria Adunbi (16.59s) emerged second and third respectively.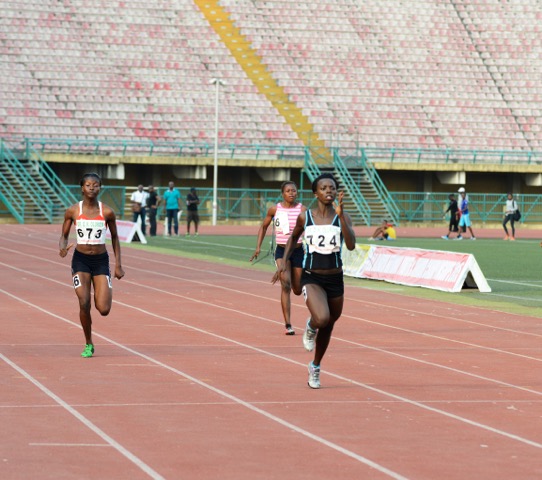 In other events Judith Aniefula won the Girls' Shot Put with a throw of 12.70m while Chinenye Okocha and Grace Oladejo came second and third respectively with 11.81m and 10.58m. The Boy's category was won by David Aniemena of Delta State in 13.91m while Sadam Ibrahim and Kingsley Apeh followed with 12.80m and 11.40m.
Grace Anigbata of Delta State was delighted to beat Esther Issa of Lagos State to the High Jump title with a Personal Best (PB) of 1.65m.
She said after her event, "I am so glad because I can't believe it. I was scared of Esther's height but I was determined to do my best. To be sincere, after clearing your jump, your prayer is for your opponent to fail to clear the same height. I have cleared 1.70m in training but I am expecting to go over 1.85m within the next two months."
The Boys' Shot Put (Youth) event was keenly contested for, with Odgbesan emerging the surprise winner with 15.14m. It was sweet revenge for the 16-year old ashe dominated Powell Egwim, who denied him the top spot in the same event at the recently concluded Lagos Secondary School Sports Festival. Egwim finished a distant fifth at the Olukoya Championships.
Bamiduro stated that athletes selected for the African Juniors will be called into a closed camp in preparation for the continental championships.