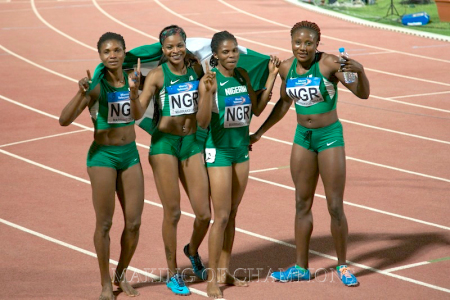 Team to Nigeria's trio of Folashade Abugan, Patience Okon George and Ada Benjamin will be aiming to end the season on a high as members of Team Africa's women's 4x400m relay team at the IAAF Continental Cup this weekend in Marrakech.
Okon George , Regina George, Benjamin, Abugan won a fourth consecutive continental title for Nigeria during last month's African Championships in Morocco with a time of 3.28.87s, ahead of Kenya (3:32.26s) and Botswana (3:40.28s).
However Regina was excluded from the team and will be replaced by silver medallist at the Championships, Kabange Mupopo of Zambia who posted the same time as Abugan (51.21s) in the 400m final but had to settle for second place via a photo finish. Interestingly, Mupopo is also the team captain for Zambia's senior national football team, the 'She-polopolo'!
Getting to the podium this weekend will be the final icing on the cake for the Nigerian athletes, two of whom (Abugan & Okon George) won bronze at the inaugural IAAF World Relays in the Bahamas, silver at the Commonwealth Games in Glasgow with a time of 3:24.71s, behind Jamaica's 3:23.82s, and then gold at the African Championships.
The Nigerian team ranks third on the 2014 IAAF Rankings with a Season's Best (SB) of 3:23.41s behind the USA (3:21.73s) and Jamaica (3:23.26s). Abugan and Mupopo jointly hold the 21st position in the world, having posted 51.21s as their fastest times this season. Abugan clocked the time twice to emerge National and African champion.
Okon George is 25th in the world with 51.29s while Benjamin occupies the 44th spot with a Personal Best (PB) of 51.68s, which she ran in the heats of the 400m in Marrakech.
Team Africa will go against a strong Americas field comprising of world leader Francena McCorory USA (49.48s) and the Jamaican trio of world No. 4 and Diamond League Trophy winner, NovleneWilliams-Mills (50.05s), Commonwealth Champion, Stephenie Ann McPherson (No. 5 with 50.12s) and Christine Day (No. 6 with 50.16s). The USA and Jamaican teams finished ahead of Nigeria at the IAAF Relays, while Jamaica dominated the event in Glasgow, with Nigeria following in second.
The European team is made up of Italian quartermiler, Libania Grenot (No. 10 with 50.55s), Ukranian Olha Zemlyak (No. 20 with 51.07s), Indira Terrero (No. 32 with 51.38s) and Malgorzata Holub (No. 59 with 51.84s). The reserve athletes are Elena Korobkina of Russia and Antoinette Nana Djimou of France.
Asia-Pacific will be represented by the Australian team which ranks 20th in the world with an SB of 3:30.27s. Members of the squad are Anneliese Rubie (No. 93 with 52.35s), Jessica Thornton (No. 112 with 52.50s), Kendra Hubbard, Lyndsay Pekin with Lauren Wells and Alex Hulley in reserve.
The IAAF Continental Cup will be taking place in Marrakech, Morocco THIS WEEKEND (Sept 13th & 14th), and Folashade Abugan, Patience Okon George, Ada Benjamin and Kabange Mupopo (ZAM),  will be representing Team Africa in the women's 4x400m on Sunday Sept 14th at 8.40pm!
Day 1 is LIVE on SuperSport 2 from 6.20-10.10pm. Day 2 is LIVE on SuperSport 6 from 5.20-9.10pm!