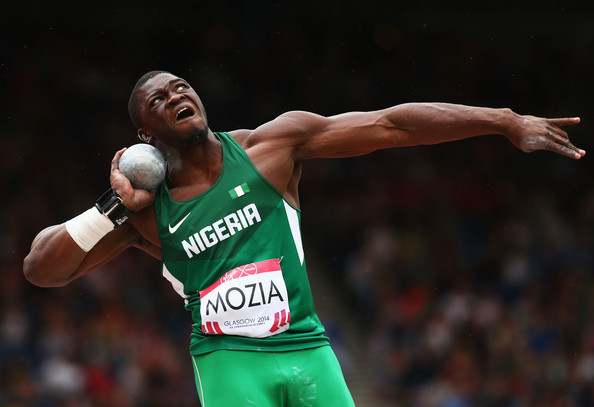 Stephen Mozia is Nigerian champion in the both the shot put and discus throws. However, he will be representing Team Africa at the IAAF Continental Cup this weekend in the discus throw only, alongside African champion, Victor Hogan of South Africa.
Mozia formally began competing for Nigeria at the World Indoors in Sopot this year, though he missed out on qualification for the final of the men's shot put event. However, he had set a National Record (indoor) of 20.79m at the Ivy League Championships prior to the world indoors.
The Cornell University senior went on to set an NR of 20.38m at the NCAA East Preliminaries in May, and then won the shot put at his debut outing during the National Trials in Calabar with a distance of 18.14m, followed by Augustine Nwoye who had a throw of 17.25m. He also dominated the discus event with 53.69m while Nwoye followed again with 53.28m.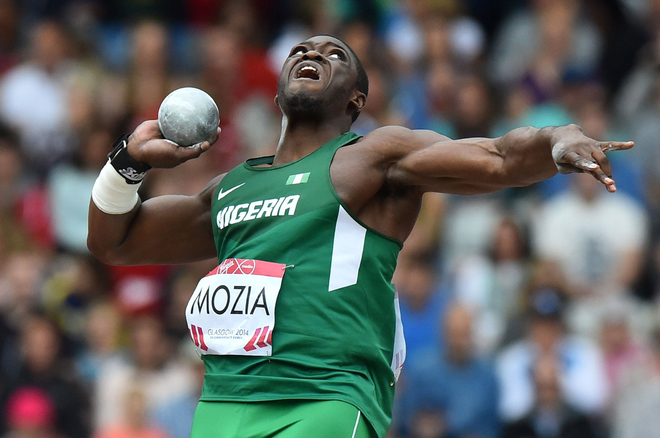 He competed at the Commonwealth Games in Glasgow where he finished 7th with a throw of 17.76m in the qualification round, ruling him out of the final. He placed fourth in the Men's shot put final at the African Championships in Marrakech with 17.65m, while Nwoye finished in seventh with 16.90m. South Africa's Orazio Cremona won with 19.84m.
However he made up for this with a bronze medal in the discus with 57.11m, though his Season's Best (SB) of 62.80m would have seen him claim silver as eventual winner, Hogan took the title with  a distance of 62.87m, while team mate Russell Tucker with 62.15m. Mozia makes the selection into the African team since the top two in the event were from the same country and cannot both represent the continent.
Mozia ranks 53rd in the world this year, with Hogan being twenty spots ahead (No.33) with an SB of 64.16m. The pair would be contending against World No. 7 and 24 respectively inTeam Americas' Jorge Fernandez (66.50m) and Jason Morgan (64.72m). Gerd Kanter of Estonia (No. 10) would be spearheading the European attack and he comes with an SB of 66.02m. His teammate is Poland's Robert Urbanek whose effort of 65.75m puts him at No. 17 on the rankings.
Former Commonwealth champion and silver medallist at the last Continental Cup, Benn Harradine (No. 13) will be hoping to upgrade to a gold medal this time around and comes with a best performance of 65.94m. He is joined by Sultan Mubarak Al-Dawoodi (No. 132) in the Asian-Pacific team. 
The IAAF Continental Cup will be taking place in Marrakech, Morocco THIS WEEKEND (Sept 13th & 14th), and Stephen Mozia will be representing Team Africa in the men's discus throw on Sunday Sept 14th from 6.50pm!
Day 1 is LIVE on SuperSport 2 from 6.20-10.10pm. Day 2 is LIVE on SuperSport 6 from 5.20-9.10pm!