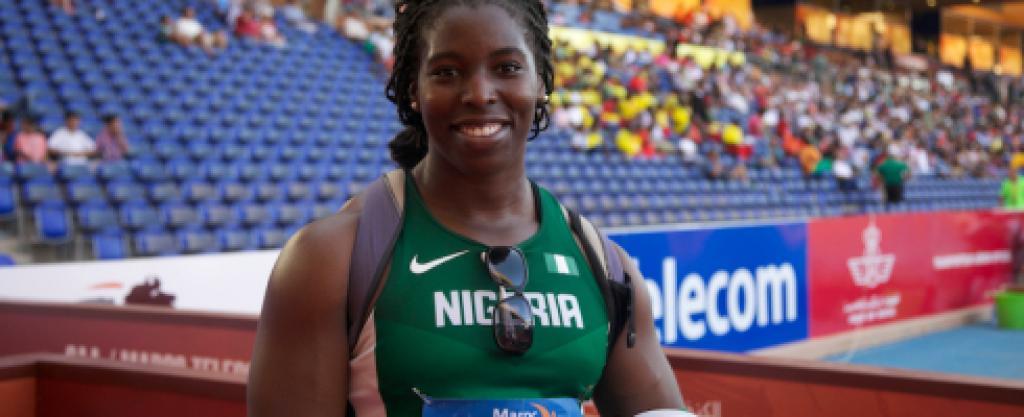 National discus champion, Chinwe Okoro, who won the African title last month with a Personal Best (PB) and Championship Record (CR) of 59.79m, will represent Team Africa at the IAAF Continental Cup in Marrakech in both the discus and shot put, after also getting an African Championship medal in the latter – a Silver. 
It was a 1-2 for Nigeria at the discus event at the Africa Championships, as teammate Nwanneka Okwelogu followed with 51.66m, but Morocco's Amina Elmoudeen, who placed 3rd with a throw of 48.21m will be Okoro's teammate at the Continental Cup on September 13 and 14, as two people of the same nation cannot represent the continent in the same event.
Speaking after her victory in Marrakech, Chinwe made no secret of the fact that she hopes to send more records tumbling in the near future: "It was my best performance, and my next goal is to realize the best record in the next competitions," she said. Okoro's throw in Marrakech makes her 42nd in the world this year, and she will be looking to break that 60m barrier at the Continental Cup!
The woman to beat will undoubtedly be reigning European, World and Olympic champion, Sandra Perkovic (SB 71.08m), who won the 2014 Diamond Race, after dominating all but one of the seven meets for the discus. The world leader, along with France's Melina Robert-Michon (world No. 12 with 65.51m) make up Team Europe. 
The duo of Gia Lewis-Smallwood (No. 2 with 69.17s) and Yaime Perez (No. 8 with 66.03m) will represent Team Americas, while Dani Samuels of Australia (No. 3 with 67.99m) and China's Yang Yanbo (No. 20 with 63.31m) complete the field for Team Asia.
In the shot put, Valerie Adams will be the woman to beat. She is the reigning world indoor and outdoor, Commonwealth and Olympic Champion, as well as defending champion of the Continental Cup. Adams won the Diamond Race last week in Brussels with a world lead of 20.59m. She and World No.4, Gong Lijiao of China (19.65m) are representing the Asia-Pacific.
Christina Schwanitz (No. 2) and Evgeniia Kolodko (No. 5) will compete for Team Europe, having made throws of 20.22m and 19.52m respectively this year. Schwanitz is the reigning European champion and silver medallist at the last World Indoor and outdoor championships. USA's Michelle Carter (No. 3) with an SB of 19.80m and Cleopatra Borel of Trinidad and Tobago (No. 7) complete the field.
Okoro goes to the competition with an SB of 16.40m in the shot put, and is 108th in the world this year, while teammate and African Champion, Cameroun's Auriol Sally Dongo (16.48m) is 76th in the world. Okoro freely admits that the discus is her preferred event, as such the African pair will no doubt benefit from the exposure that comes with competing against a top notch field!
The IAAF Continental Cup will be taking place in Marrakech, Morocco THIS WEEKEND (Sept 13th and 14th) and Chinwe Okoro will be representing Team Africa in the women's discus on Saturday Sept 13th from 7.50pm and the shot put on Sunday Sept 14th from 6.30pm.
Day 1 is LIVE on SuperSport 2 from 6.20-10.10pm. Day 2 is LIVE on SuperSport 6 from 5.20-9.10pm!