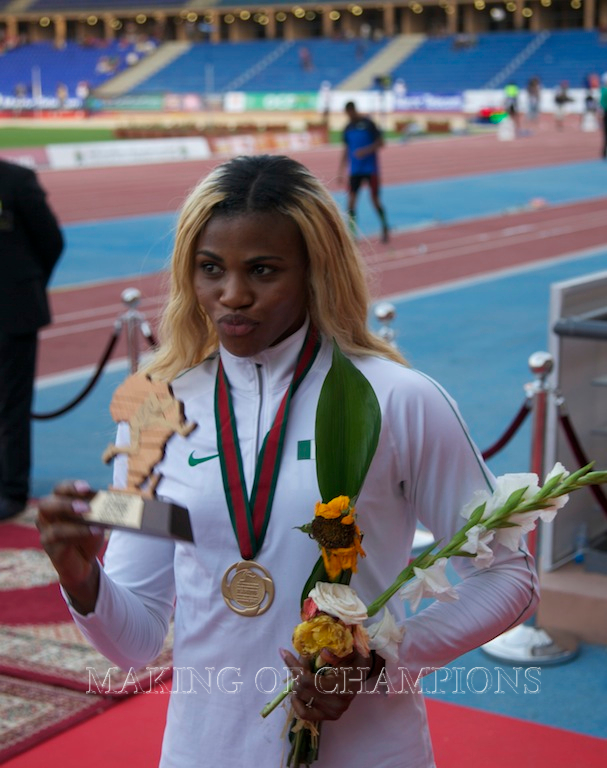 BLESSING OKAGBARE, recently crowned Commonwealth 100m & 200m Champion and African 100m Champion & Record Holder, speaks EXCLUSIVELY to MAKING OF CHAMPIONS on her career, personal life and on Nigerian Athletics! In this FINAL part of the 3-part interview series recorded in Morocco during the African Championships, she speaks on the possibility of attempting an Olympic treble, and shares her thoughts on what it would take to revive Athletics in Nigeria!
So is the Long Jump still your favourite event?
Yes, it is!
What are the chances that you will combine all 3 events – the 100m, 200m and Long Jump at the next World Champs and Olympics?
I will say 70/30 because the schedule is always off, and the long jump exerts more strength on your body, that's the truth. I worked really really hard but there is something about this whole body. Your mental state can be fine but when the body has shut down, it has shut down. There is nothing you can do than give it the rest that it deserves. I don't know if the schedule is going to permit me to attempt the triple that I did last year but I would really want to do it, trust me.
Do you think there is a case for you asking them to make the schedule work in your favour? They did it for Michael Johnson and Carl Lewis in the 90s…
They did, so we'll see how it goes. It's all politics! (she  laughs) 
How do you feel about Nigerian athletics today? There was a time we used to win a lot of medals on the global stage but now it seems like you are our only individual Olympic medal hope. Do you feel the weight of the whole nation on your shoulders?
No, I used to but like I said I put my priorities straight. If the people who are out there can't do much to support the sport, this is my career. I have so much passion for what I do, I love Track & Field. I want to enjoy every moment of it. At the same time this is where I earn my living and take care of my family and I have to take care of it. I can't wait for them; I can't sit down and expect them to want to do something for me, so that is the difference between the people that are succeeding and those that are not. So if you keep waiting for these people, trust me you are going to be way behind.
Do you think that Track & Field in Nigeria can be revived to rival the likes of USA and Jamaica on the world stage?
No, I don't think so. I'm not cursing them but it's going to be really hard, it's going to be extremely hard. Right now they are doing a lot of recruiting versus building on what they have – it doesn't make any sense to me, you know, it doesn't.
So how can we make that revolution in Track & Field happen?
I don't know, a lot of things have been said in the past but it doesn't look like they are going to change. They will keeping making the same mistakes and the government will keep changing and new people come. Some people who have no clue about sports will sit there as ministers and so on. First of all you need to find someone who has passion for this game, that knows the sport, that knows what it means to break a world record. Some people don't even know what a world record or African championship record means. You need people who are educated about the sport. That is the way you can get athletes to do the best. Athletes that you are supposed to pay training grants in November, you then give them in April when it's no longer relevant. They will just use it for shopping. You can't give me that kind of money now, I will just go to the mall! They are always doing things at the last minute. That is one of the things they need to change because it is not taking us anywhere. It is just slowing us down.
Making Of Champions is working on a plan to start Professional Track Clubs in Nigeria and train athletes to go to the Olympics, giving them access to world class training in Nigeria. Do you think it's something that could work in Nigeria?
It might be a 50-50 thing. I don't know how successful it will be.
It worked in Jamaica…..
It depends on the people running this whole thing. If it's going to work for them, good luck. I would just wish them good luck.
How would you like to give back to Nigeria, and play a role in reviving the sport across the nation?
I'm trying to set up my foundation. I'm still working on that but I have to make sure that I have people that I can actually trust because I don't really stay in Nigeria, so I need people that I can trust to stand there when you need them. I still have so much going on but I want to give back to my community, my country and fans. I'm setting up my foundation to help young kids coming up in any way I can – probably put them through school, maybe up to college. It will be a great thing so I'm looking forward to that.
So if Making of Champions is able to start this programme to give home-based athletes training right in Nigeria, would you like to support that programme?
It depends! I can't just put my money into something I have no guarantees will work…
No money involved oh, it's just for you to mentor the kids…
Okay, yeah, whichever way I can support, of course I will!
Thank you so much for taking the time to speak exclusively to MAKING OF CHAMPIONS – we wish you all the best for the future!
Thank you!
If you missed Part I, on Blessing's CAREER and her chase for more MEDALS and RECORDS, check it out here!
Or Part II, on her MARRIAGE, KIDS, and on finding her voice on Social Media, click here!