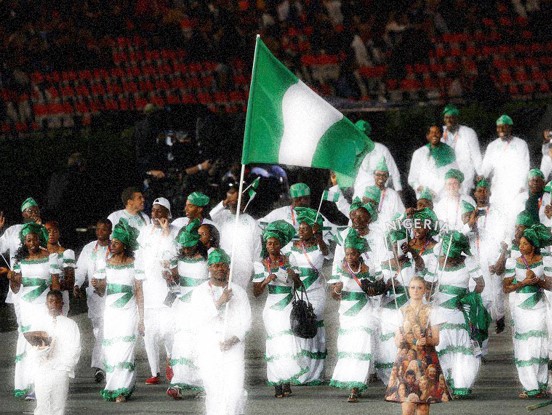 All six Nigerian athletes that were entered for the men and women's 100m sailed through the heats and semis on Day 1 of the African Senior Athletics Championships in Marrakech, Morocco, to qualify for the final of the event on Monday night
In the women's semis, Lawreta Ozoh who only returned to action after observing a two year ban, and is competing in the individual 100m for the first time since her return, took third in the first semi with 11.58s. The Commonwealth Games Silver Medallist (in the 4x100m) went against World Championships Double Silver Medallist, Murielle Ahouré who took the heat with 11.19s, the fastest time in the semis.
Commonwealth double gold medallist, Blessing Okagbare won Heat 2 with 11.20s to set up an exciting encounter with the Ivorian in today's final. Gloria Asumnu placed third in 11.44s. Another Ivorian, Ta Lou Gonezie also secured a place in the last eight with 11.25s, as she came second behind Okagbare. Monday's race therefore will promises to be a Nigeria versus Cote d'Ivoire affair, which will no doubt set the tracks of the Grande de Stade Marrakech alight, and perhaps, send some records tumbling.
Commonwealth Games finalist, Mark Jelks ran the fastest time in the Semis of the men's 100 metres and now looks favoured to clinch his first African title. Jelks easily dominated the race, and even had enough time to look behind and gauge his opponents' speed as he crossed the finish line. The Nigerian champion breasted the tape in 10.16s, beating South Africa's Akani Simbine to first place in Heat 2. However he has to watch out for Cote d'Ivoire's Wilfried Koffi Hua who won Heat 1 in 10.17s, and was followed by Monzavous Edward who came second in 10.38s. Ogho-Oghene Egwero was second in Heat 3 in 10.37s, in a photo finish with South Africa's Simon Magakwe who won it in 10.36s.
Nichole Denby looks good enough for gold in the women's 100m hurdles, having won Heat 1 (13.20s) ahead of Senegal's Gnima Faye (13.45s) and Rikenette Steenkamp (13.47s) of South Africa. Heat 2 threw up a surprise in the person of Lindsay Weyinme who competed for Nigeria and was second with 13.39s behind Cote d' Ivoire's Rosvitha Bodjiho Okou who led with 13.18s. Conspicuously missing was Ugonna Ndu who was expected to make an appearance at the African Championships for the first time.
Noah Akwu was the sole Nigerian qualifier for the Semis of the men's 400m, having finished ninth out of the 26 athletes that competed in the heats. He was second in Heat 2 with 46.88s as Botswana's Onakabets Nkobolo took the lead with 46.78s. In fact all three semis were won by Botswana; Pako Seribe sailed to victory in Heat 1 while African Record Holder, Isaac Makwala sealed the deal in Heat 3 with the fastest time of 45.87s. A Botswana 1-2-3 would not be out of place going by this scenario.
Unfortunately, one of Nigeria's new American recruits, Robert Simmons was disqualified for a false start in his 2nd race for Team Nigeria, after also not having completed his heat at the Commonwealth Games, where he pulled up injured after 200 metres. He's not had the best start to his Nigeria career, and some might say that he has not justified his inclusion in the team, after not having competed in the Nigerian Trials in Calabar in June. Current Nigerian Champion Isah Salihu finished 4th is his heat in 47.12s, and 17th in the final rankings, thereby narrowly missing out on the last fastest losers' spot in the Semis.
Queen Obisesan missed out a place on the podium as she finished fourth in the women's hammer throw with 59.99m while Stephen Mozia also experienced the same dilemma in the men's shot put event with 17.65m. The second Nigerian interest in the shot put, Augustine Nwoye took seventh position with 16.90m in his debut at the African Championships.