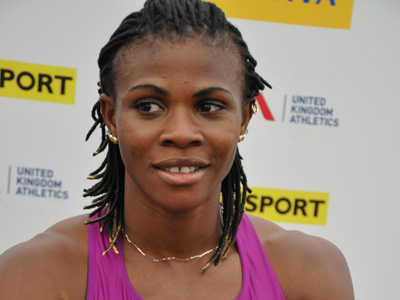 Having stamped her mark as the athlete to beat in the sprints on the home front, Africa's record holder over 100m, Blessing Okagbare will take on the world's best as she competes first in the 100m at the Diamond League in Lausanne, Switzerland on July 3, and then the 200m in Paris, France two days later, after missing the last few Diamond League events
Blessing is the only Nigerian interest in both meets and whilst athletics fans may be wondering how she hopes to successfully dominate in both sprints on the world stage, the 25-year old has made no secret of the fact that she is concentrating on the sprints this season. Two weeks ago, she won the 100m for the sixth consecutive time at the national trials in Calabar, where she returned a time of 11.06s, and then won the 200m in 22.62s, while opting out of the long jump, which happens to be the event that brought her into limelight, having won a bronze medal at the 2008 Olympic Games in Beijing as an 18-year old. She has already stated that she may not compete in the jumps at the forthcoming Commonwealth Games in Glasgow, though she had been tipped to win easily since her fiercest rival, USA's Brittney Reese would not be competing in the games.
A total of 17 Olympic and world champions will be part of the line-up for the 39th edition of the IAAF Diamond League in Lausanne. The Women's 100m field at the Athlessima Lausanne on Thursday will be a tight one, following the return of Jamaica's Veronica Campbell-Brown, who was recently cleared of doping charges by the Court of Arbitration for Sport after failing a drug test in May 2013. Campbell-Brown has a Personal Best of 10.76s, a Season's best of 10.86s and clocked 10.96s to win the Jamaican trials over the weekend.
Murielle Ahouré, Cote d'Ivoire's 100m World Silver Medallist, is also on the start-list, as is USA's Tori Bowie Torie who will not be resting on her oars, the long umper come sprinter having won three straight Diamond League races (200m in Eugene, 100m in Rome and New York). Campbell-Brown, Bowie and Trinidad and Tobago's Michelle-Lee Ahye have all done sub-11s this season, so Blessing will have her work cut out for her to win this race and will likely need go under 11 seconds  for the first time this season to claim the victory!  Even USA's English Gardner, Okagbare's training partner who beat her in the World Championship 100m finals last year, has also run faster than Blessing this year, in 11.01s!
Nigerian-born Qatari sprinter, Femi Ogunode will also be in action at the Pontaise Stadium in Lausanne, where he will compete in the 200m against the likes of Jamaica's Olympic Silver Medallist over the distance, Yohan Blake, who returns to the track where he set his 100m PB of 9.69s in 2011. Ogunode has one of the fastest Season's Bests (20.06s) amongst the pack, as only Jamaica's Nickel Ashmeade (19.95s) and Alonso Edward of Panama (19.81s) have run faster this year.Other notable athletes featuring in the race are former European Champion, Christophe Lemaitre of France, and Gambian-born Jaysuma Saidy Ndure of Norway.
Last but certainly not least, the men's 100m promises to be an explosive event as American sprinter, Tyson Gay makes a controversially early return after completing a 12-month backdated suspension for testing positive for an anabolic steroid – a punishment that many in the Athletics world viewed as far too lenient for the crime. The former World Champion who has a lifetime best of 9.69s will face a stiff challenge from his compatriot, Justin Gatlin, the second fastest man this season with a time of 9.86s. Two other Americans, Micheal Rodgers and Ryan Bailey, 38-year old former World Champion, Kim Collins, and Jamaica's Kemar Bailey-Cole also feature in the race – it will be interesting to see the reaction from fans and athletes alike if Tyson Gay wins in a very fast time!
For Nigerian viewers, SuperSport 9 (DSTV Channel 209) will show the Lausanne Diamond League meet LIVE from 7 – 9pm Nigerian time on Thursday (July 3). Blessing Okagbare goes in the women's 100 metres at 7.28pm – Don't miss it! 
2014 IAAF Diamond League calendar
Doha, QAT – 9 May
Shanghai, CHN – 18 May
Eugene, USA – 31 May
Rome, ITA – 5 Jun
Oslo, NOR – 11 Jun
New York, USA – 14 Jun
Lausanne, SUI – 3 Jul
Paris, FRA – 5 Jul
Glasgow, GBR – 11-12 Jul
Monaco, MON – 18 Jul
Stockholm, SWE – 21 Aug
Birmingham, GBR – 24 Aug
Zurich, SUI – 28 Aug
Brussels, BEL – 5 Sep