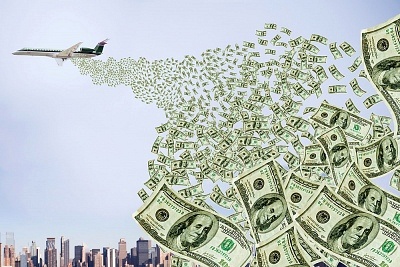 If reports coming out of Nigeria today are to be believed, then it would appear the Federal Government of Nigeria has followed the actions of their Ghanaian counterparts last week, by sending a whopping $3.85 million on a plane to Brazil today for the appearance fees of the Super Eagles' players at the ongoing World Cup, in the custody of none other than Nigerian Sports Minister Dr Tamuno Danagogo. The players reportedly boycotted training at their base in Campinas on Thursday before flying to Brasilia for their 2nd Round tie against France, and it would appear that their stance has led to this outcome.
This would appear to be ominous for the Super Eagles, as such appearance fee and bonus rows tend to come to the fore, just as they did with Ghana, when there is a chance that the team could be exiting the tournament – essentially the players fear (presumably from past experience) that once their tournament is over and they leave Brazil, that they may struggle to receive the fees and bonuses that are rightfully theirs. 
It goes without saying that Nigeria is certainly in with a shout of defeating Les Bleus tomorrow, but if that turns out unfortunately not to be the case, then the players have a right to the guarantee that they will be paid what is due to them. It would seem that this guarantee has come in the form of President Goodluck Jonathan sending a plane of money all the way to Brazil! It begs the obvious question – can't this money just be deposited directly into the players' bank accounts?
Until Africa improves the level of administration for their football teams, such problems look set to continue for World Cups to come – it seems that we do not realise that we continue to shoot ourselves in the foot, by not providing world class administration, and still expect the the team's performance to be world class, and have any chance of ever winning the World Cup or progressing to the latter stages.
A potential solution for the future could be FIFA arranging to pay the players directly rather than through their National Federations – indeed, this was a possibility that was mooted by FIFA General Secretary Jerome Valcke, as he weighed in on Ghana's bonus row a couple of days ago! Until then it would seem that each player will likely have to make do with carrying over $100,000 in cash out of Brazil when their tournament is over!
The biggest winners in this whole mess? Surprisingly, Brazilian immigration, which is set for a windfall of over a million dollars (from the $3m Ghana and $3.85m Nigeria bounty combined), if reports that they will levy a tax of up to 17% on all the monies brought into Brazil are true!