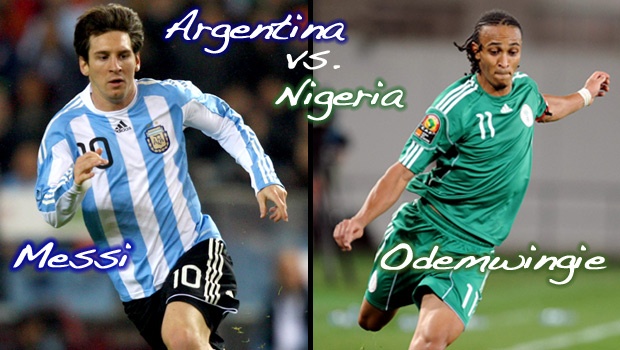 Two weeks ago, following the completion of Nigeria's World Cup friendlies, we brought you the aptly titled "Can the Super Eagles fly against Argentina at the World Cup?" where we assessed the Super Eagles' World Cup chances, and we told Nigerians everywhere to KEEP CALM, following that string of unimpressive friendly performances. And calmness was certainly needed, after a goalless draw against Iran in the first game that had many a Super Eagles fan resigning the team to doom against the supposed might of Bosnia! In truth, fortune certainly favoured Nigeria in that match which could have easily ended 1-0 in Bosnia's favour, if those two calls in the first half had gone differently – Dzeko's wrongly ruled offside goal, and Emenike's challenge on the Bosnian defender that led to Odemwingie's goal, which we could not have had serious complaints if it had been called as a foul!
All that said, a win against Bosnia was always going to knock them out and put the Super Eagles in a prime position to qualify for the knockout rounds. Indeed, statisticians on various websites have given Nigeria some 85% probability of qualifying for the 2nd round ahead of Iran. Incidentally, Iran will also be seeking their first World Cup win in 16 years against the demoralised Bosnians, and only their second World Cup win EVER to sneak into the 2nd round for their first time ever, ahead of the Super Eagles. On paper, Iran should not beat the Bosnians, but stranger things have happened, and the manner in which they nearly held the mighty Argies to a goalless draw will give them all the belief they need to go and get the result they need against Bosnia!
As such, despite Nigeria's seemingly high probability of making the Second Round for the first time since France '98, our progression may well hinge on the Super Eagles making a little history of their own, and doing something that no other Nigerian team has succeeded in doing at the World Cup – Avoiding defeat against Argentina! Indeed, Nigeria has lost 3 out of 3 against our World Cup nemesis Argentina, and has not scored in 262 minutes of World Cup against the South Americans, since Samson Siasia's 8th minute goal against them at USA '94! That remains Nigeria's only World Cup goal against them!
In those matches Nigerians have always taken solace in the fact that Argentina's margin of victory was only by one goal, but if that were to happen again, we could well see the drawing of lots to determine who goes through with them to the next round – if Nigeria loses and Iran wins by one-goal margins, with Iran scoring exactly one goal more than Nigeria (e.g. 0-1, 1-0 or 1-2, 2-1, etc) then lots will be drawn to determine which team will finish second in the group and face the unenviable task of meeting a French side that has already scored 8 goals in just 2 matches in Brazil! And Nigeria is no stranger to losing one-nil to the Argies…
On the flip side, history beckons for Stephen Keshi if he can become the first Super Eagles manager to take even a point from Argentina at the World Cup. One would also presume that Nigeria is long overdue a result against La Albiceleste (The White and Sky Blue). They have not particularly lit up Brazil 2014 yet, with laboured victories against Bosnia and Iran, and it seems like they are lost for ideas outside the brilliance of Lionel Messi – if the Super Eagles can shackle him and prevent him from scoring (which thanks to the brilliance of Vincent "Enyeamagnet" they managed to do in 2010), then we have every chance of taking something from the game! Super Eagles captain Jospeh Yobo will become Nigeria's first centenary player with his 100th cap if he suits up against Argentina, and he will be hoping that it is third time lucky, as he is the only surviving player from the teams that lost narrowly against them in both 2002 and 2010!
Having secured qualification already, Argentina will not be going all out for the win against Nigeria. Could we perhaps see a shock result – Nigeria defeating Argentina at the World Cup? As with USA finally beating Ghana at the third attempt, it has to happen one day, and with Super Eagles in the ascendancy, and gaining in confidence after a good performance against Bosnia, Nigeria has never had a better chance to "smash and grab" against Argentina! To date, our only victory of note against Argentina was the historic 3-2 victory in the GOLD medal game at the Atlanta '96 Olympics. It's time to invoke the spirit of  that 'Dream Team' because something tells us that more than one goal will be needed to take victory tomorrow against Argentina!
This could very well turn out to be an AWESOME World Cup for Africa, as there is a very real possibility that more than ONE African team will make the 2nd Round of the World Cup for the first time ever, strengthening the perennial argument for more than 5 African slots at the mundial. Apart from Nigeria, A draw for Algeria against Russia should be enough to see them through, and barring a disaster of 'Kaitastrophic' proportions against Greece (any Nigerian who saw the last World Cup should understand what that means!), Cote d'Ivoire should go through to the 2nd round for the 1st time in their history!