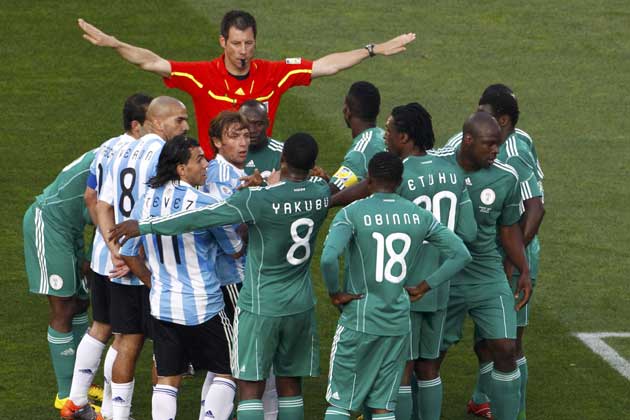 Now that the series of pre-World Cup friendlies for the Super Eagles are over, it's time to answer the question on every Nigerians lips: How well can they do at the the Big Dance? The Super Eagles are taking less than flattering form into the World Cup starting on Thursday – after an encouraging 2-2 draw with Scotland and a lacklustre goalless draw with Greece, The Eagles wrapped up their pre-World Cup friendlies with an uninspiring 2-1 loss to USA, in a performance that is already sending some Super Eagles fans into panic, and forcing others to adjust their expectations of the team – can we even make it out of the group? Should the less than stellar pre-World Cup form be a source of worry?
Well, yes and no, but more no than yes…yes, it is true that there is a gulf in class between Nigeria's starting eleven and some of the bench players – strength in depth is needed to go beyond the World Cup Quarter-Finals, if the team can even make it that far. It is also true that the squad continues to be hampered by injuries to 1st team players – both Ahmed Musa and Kenneth Omeruo sat out the USA game due to injury concerns, while 1st-choice left back Uwa Echiejile has been ruled out altogether after pulling up with a muscle injury against Greece.
The only consolation Nigeria fans will be able to take from the loss of Echiejile is the return of CHAN MVP, Ejike Uzoenyi, to the team. Despite not being a like-for-like swap (a left-sided attacking midfielder replacing a left back), if Uzoenyi could re-enact any of the form that saw him score 3 incredible goals at this year's CHAN, then he could prove to be a super-sub that might be able to produce something out of nothing for Nigeria! It remains to be seen whether he will even get a chance, as it would seem he is currently below the likes of Moses, Musa and even Babatunde and Uchebo in the pecking order on the wings!
So why should we not be TOO worried about Nigeria's less than ideal build up to Brazil? Well, first of all, it is important to note that goal of friendlies is not necessarily to win them – Coach Stephen Keshi would have been more concerned about making sure his players stay injury-free. Only the match against Greece gave us any insight into what Keshi's starting eleven at the World Cup is going to be. The Scotland match was a last chance for the fringe players to impress, while the USA match will have helped Keshi answer any lingering questions he may have had – can Yobo still lead this team from the start of matches, or can Ameobi lead the line alone upfront? The answer to both those questions based on the USA game would likely be NO, so barring injury, expect Omeruo to return to the starting line-up against Iran, while Emenike's lively cameo against USA showed that he is still Nigeria's No. 1 forward!
What's most important for Nigerians and the team right now is to KEEP CALM. Just like at the African Cup of Nations last year, the Eagles seem to play best when the least is expected of them, when their backs are against the wall. Let's also not forget that we have had far worse World Cup preparations in the past – in 1998, after losing consecutive friendlies to Germany, Yugoslavia and Holland to a total aggregate score of 9-1, we went on to beat Spain and Bulgaria in our first two World Cup matches and top our group. It was only when the team became overconfident and were already looking forward to a possible quarter-final clash against Brazil, that they were unceremoniously thrashed by Denmark in the 2nd Round!
This time around, they will know that the first game against Iran is a must-win game, to have any chance of progression to the second round, and they will get that job done. Bosnia in contrast has had a very strong build-up, including friendly victories against Cote d'Ivoire and Mexico, so there is no chance that Keshi and his team will underestimate them – avoiding defeat in that game will be critical for our chances for 2nd round progression. Going into the 3rd game against Argentina without needing a result would be ideal, but a lot will depend on if Argentina still needs a result by then to progress – ideally they will not and rest some key players!
Nigeria has played Argentina in 3 of the 4 World Cups that the Super Eagles have appeared in, losing narrowly each time (2-1, to Claudio Cannigia goals at USA '94, 1-0 to a Gabriel Batistuta header at Japan/Korea '02, and 1-0 to a Gabriel Heinze header at South Africa 2010). Nigeria is well overdue a shock win against our old foes at the World Cup! So, can Nigeria beat the likes of Argentina and indeed the hosts Brazil, or is that just a pipe dream? Where will our support come from in Brazil? Here's what Brazilian and Argentinian fans had to say about Nigeria's chances, in Salvador just before World Cup Draw was made there in December – this video also features former Nigeria International Richard Owubokiri, who lives in Salvador – Enjoy!
If this is any indication of the reception that the Super Eagles should expect in Brazil, then we can count on some "home" support for the team even if there aren't many Nigerians who can make the trip to Brazil to watch the matches lives – it's just a pity that regardless of our progression, Nigeria will NOT play in the North-East of Brazil, particularly Salvador, where the links to Nigerian cuisine and culture and indeed the Yoruba language are incredibly apparent!