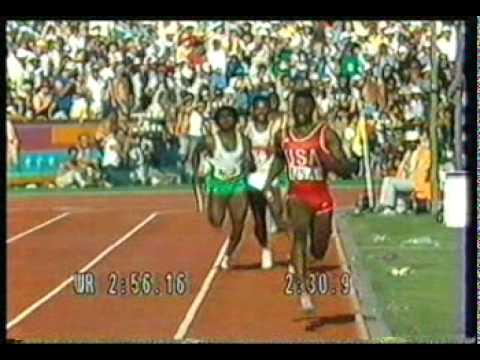 Nigeria's first global Relay medal, indeed the nation's first ever medal in Athletics at the Olympics, came at the Los Angeles 1984 Games in the men's 4×400 metres. Sunday Uti and Innocent Egbunike, arguably Nigeria's best quarter-milers of that generation, had both already featured in the individual 400m final at the same games. They ran the 1st and final legs respectively for the 4x400m Bronze-medal run, and were joined by Moses Ugbesien and Rotimi Peters on the 2nd & 3rd legs – their medal winning time of 2:59.32 was an African Record which would stand for the next 16 years!
As we spend the next 10 days reminiscing on ALL of Nigeria's Relay Medals in Olympic & World Championship history, perhaps the most interesting footnote from most of the videos is how we experience the Nigerian story through the commentary of other countries following their own athletes. The above video is clearly focused on Team GB, while the below video of exactly the same race is covered through the eyes of Team USA! Later on in this series we'll also see commentary from Australia and even Canada, as we celebrate Nigeria's "Perfect 10" Global RELAY Medals!
The World Relays is a new annual competition (the 1st edition being held in The Bahamas on May 24th/25th), where the world's best Track & Field nations will compete over 10 different events – 4x100m, 4x200m, 4x400m, 4x800m & 4x1500m (both men and  women). There is a total prize fund of $1.4  million up for grabs, and for the 4x100m & 4x400m, the 2014 World Relays will serve as the qualifiers for the 2015 World Championships (as will the 2015 World Relays for the 2016 Olympics). For viewers in Nigeria and Africa, the World Relays will show LIVE on SuperSports on May 24th/25th – more details on that soon!