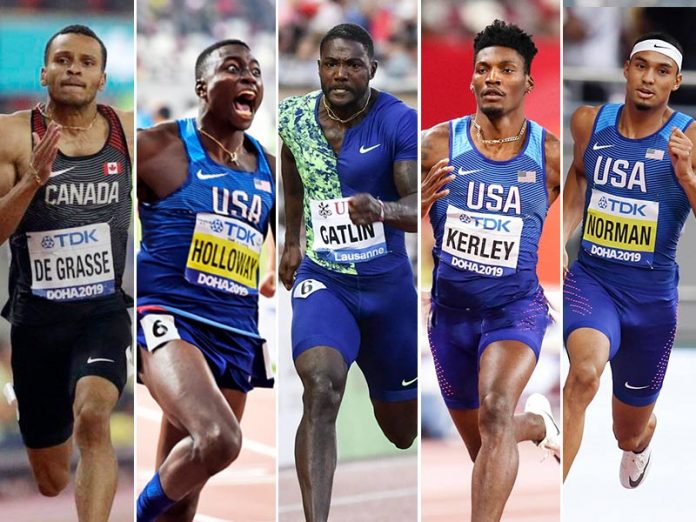 Two years post Usain Bolt's retirement, Athletics fans may not have to wait for so long to find a replacement as the outgone season has proven that there are so many outstanding Male sprinters who could take up the mantle from the Jamaican.
They may not have put up World Record (WR) performances at the moment, but Athletics is not devoid of the glamour many envisaged Bolt would depart with.
So who are our Top 10 Male sprinters in the world this year? Let's bring you the first part of the story, and we do hope that you would agree with us that these athletes have had a stellar season.
10) Fred Kerley
In a season where many considered him the second favourite to his fellow countryman Michael Norman, it must have been very assuaging for Fred Kerley to have finished the year with a World Championships medal.
Since turning pro in 2017 after winning the NCAA Championships with a time of 44.10s, Kerley has shown enough promise that he could be the next 400m big star.
Coming from that lofty height of the next rated quartermiler from the United States, it surely wouldn't have been very easy seeing Norman suddenly climb up the ladder and getting most of the accolades. This is not a comparison between Kerley and Norman, but pointing out how hard the former worked to gain his way back into recognition.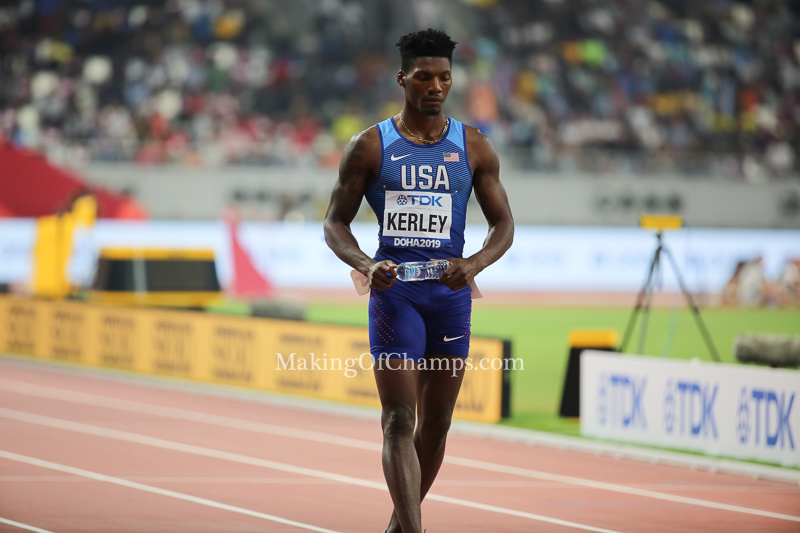 Although Kerley won all the four Diamond League (DL) races he competed in last year, there was a feeling that he hadn't quite lived up to expectations. He was out to prove doubters wrong, and when he started competing in 2019, he made sure he stormed to victory at the Shanghai DL in May with a then Season's Best (SB) of 44.81s.
Kerley carried that form to the Racers Grand Prix in Jamaica, improving on his SB to post the fastest time in the 400m heats to win in 44.49s. However, the real challenge came at the USA National Championships, and that would be a true test as to whether he could even conquer on home soil in order to have an idea of what to expect at the World Championships.
Not only did he successfully retain his 400m National title, he did that running a lifetime's best of 43.64s, and he had a great topping to go with the win, beating Norman who finished 2nd in the race.
That time from Kerley saw him move up to 8th place on the all-time 400m list, making it only the second time in his career that he would be going under 44s since he first did it at the NCAA (43.70s) in 2017.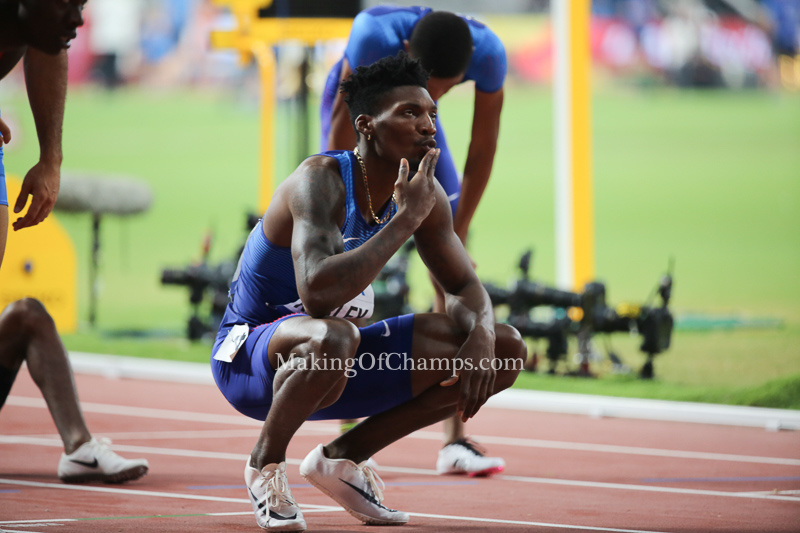 This performance enhanced his confidence and at least laid off the aspersions cast on his abilities to match up with the best. It installed him as one of the favourites going to the Worlds in Doha. Kerley came through the rounds and got on the podium in the men's 400m, settling for Bronze with a time of 44.17s.
Although he went on to help USA claim GOLD in the men's 4x400m, it wasn't hard guessing which medal had more prominence for him: "It's a blessing just to receive the medal. 2017 I came in empty handed in the individual, so it is a blessing to have my first individual medal."
Kerley had an impressive win percentage (50%) in the ten 400m races he competed in this year, and in the races he didn't win, he did not finish lower 3rd. Kerley's scorecard is : five wins, three 2nd place finishes and two 3rd place finishes.
The men's 400m is going to be stacked next year, and Kerley is already looking forward to fast times: "Something is gonna drop" he said.
 9) Michael Norman
From one quartermiler, we move to another, and it may not come as a surprise seeing that Norman is following Kerley in our rankings. Both athletes have lit up the 400m event this year with spectacular times, and the pair look like they will be among Wayde Van Niekerk's major challengers at the Olympics.
In his first 400m race this year, Norman posted an astronomical 43.45s to win at the Mt Sac Relays in California, an astounding way to start the season. That time was jolting, taking him up to joint 4th on the all-time list alongside Jeremy Wariner.
It was something that made him an instant favourite in all the 400m races he entered in for this year. Norman was so good that out of the nine 400m races he participated in this year, he won seven of those.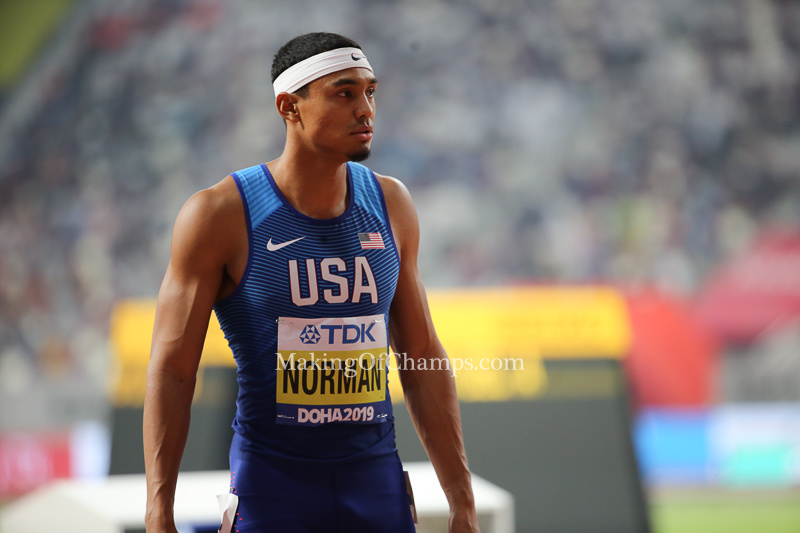 Norman this year went under 44s on two occasions, including when he finished 2nd to Kerley at the USA National Championships, clocking a time of 43.79s. He went on to win the DL Trophy in Brussels, crossing the line in 44.26s.
However, the World Championships did not go as planned for Norman who shockingly finishing 7th in his semifinal heat in 45.94s, although that was largely due to an injury. It is noteworthy that Norman, instead of opting for a Did Not Finish (DNF), made sure he finished the race.
"My body gave me a warning sign; I just had to listen to my body and make the executive choice to slow down instead of risking a serious injury. It's real disappointing to train for three hundred and thirty days and jog at the semis" Norman said after the race.
This year, Norman has proven that he can be an excellent 200m sprinter as well, twice going under 20s in the two races he competed in.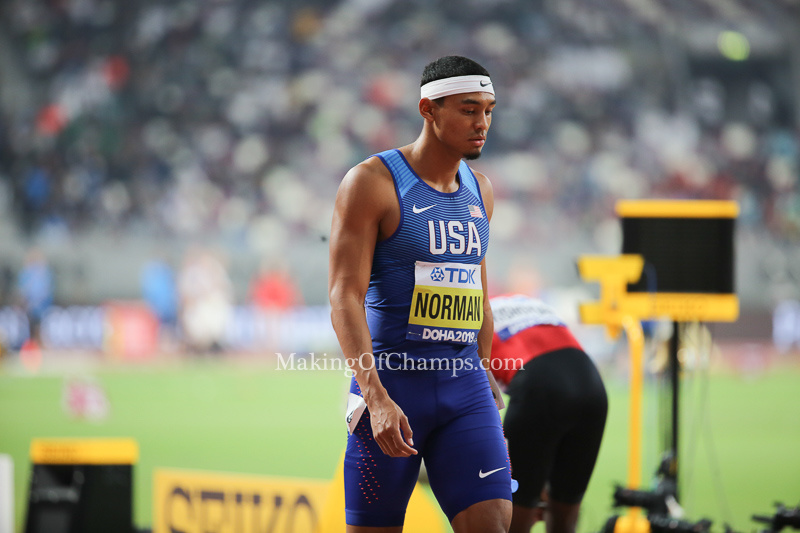 Norman's standout 200m race this season has to be that epic race in the Eternal City, running the race of his life to hold off a resurgent Noah Lyles who tried to claw the victory from him at the Golden Gala in Rome. Norman was equal to the task, taking the win in a PB of 19.70s while Lyles came in 2nd in 19.72s.
While the 400m remains his forte, it's quite obvious that he can easily excel in the 200m as well should he be fit enough to double at a major competition.
 8) Justin Gatlin
Just in case you have forgotten, let's remind you how old Justin Gatlin is this year. The American turned 37 in February and will be 38 in two months – just a few months to the Tokyo 2020 Olympics!
Sixteen years after claiming the Olympic title in Athens, he will be returning to that same stage again to challenge for the top honour. His longevity is quite stunning, especially as he is still regarded as a major contender.
Gatlin was a party-pooper for Usain Bolt, denying him a scripted farewell that would have seen the Jamaican retire with a GOLD medal. Two years after that shock win in London, it would not have been out of place to think Gatlin would toe that retirement path as he was 35 at the time.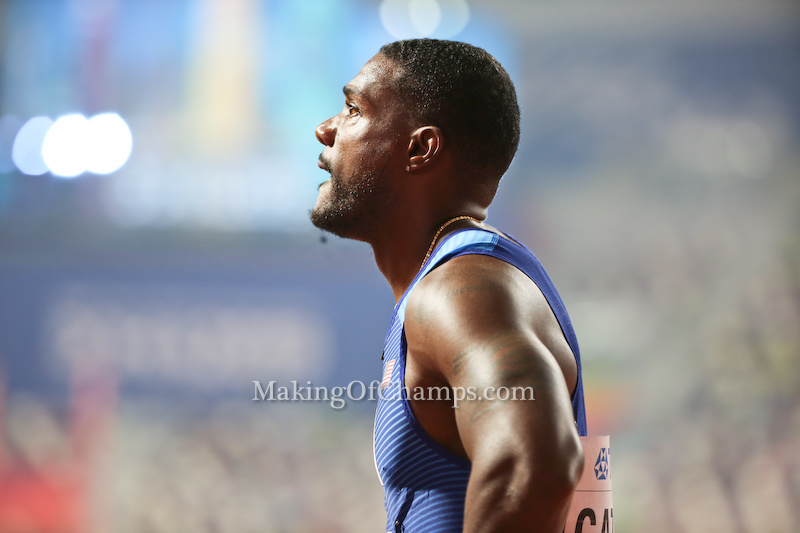 However, Gatlin is still going on strongly and evenly matched up with the younger athletes whom you would expect to beat him.
The former World Champion opened up his 2019 season at the Seiko Golden Grand Prix in Japan, and although it was a respectable field, he did power on to victory in a flat 10.00s. Not bad for a season opener.
He had to wait for a month to get his first sub 10s of the season, finishing 2nd to Christian Coleman at the Prefontaine Classic in 9.87s, with the former running away a clear winner in 9.81s. It surely assuaged him to know he could challenge his much younger opponents.
Although he Did Not Start (DNS) in the final of the men's 100m at the USA National Championships, Gatlin's place on the team to Doha was assured by virtue of being the defending champion.
Coleman deservedly gets the plaudits for winning his first 100m World title, but what a performance from Gatlin to hang on to his compatriot who was pulling away, to clinch the Silver medal, getting to the line in 9.89s.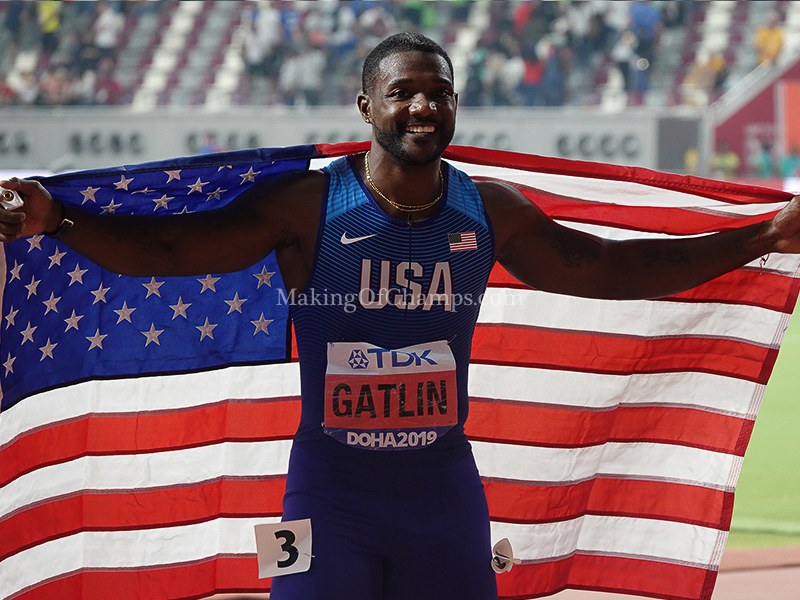 Out of fourteen 100m races this year, Gatlin won six of them, and interestingly, he went under 10s in five of them. Apparently, age has no bearing on him, and to frequently churn out those times is quite remarkable.
While USA visibly struggled in the heats of the men's 4x100m, the flawless baton exchange in the final between Coleman and Gatlin set the wheels in motions for them to blow their opponents away and claim GOLD in a World Leading (WL) time of 37.10s.
Don't bet against Gatlin getting on the podium in Japan next year, and even though he might be 38 then, age doesn't seem to be slowing him down.
7) Grant Holloway
You won't find a better definition of a breakout athlete than the story of Grant Holloway. There's hardly anyone who would debate that, as there are so many arguments to defend Holloway's instantaneous rise to stardom in just a year.
For someone who started his season in January, and to end it in October as a World Champion, it takes some grit and dedication to pull off. In fact, if there's an award for who has had the longest season, it probably would go to Holloway.
Holloway dominated the NCAA circuits, which started with the indoors, winning all the six 60m races and eight 60m Hurdles races that he competed in from January to March. That is a total of 14 races that he was undefeated in.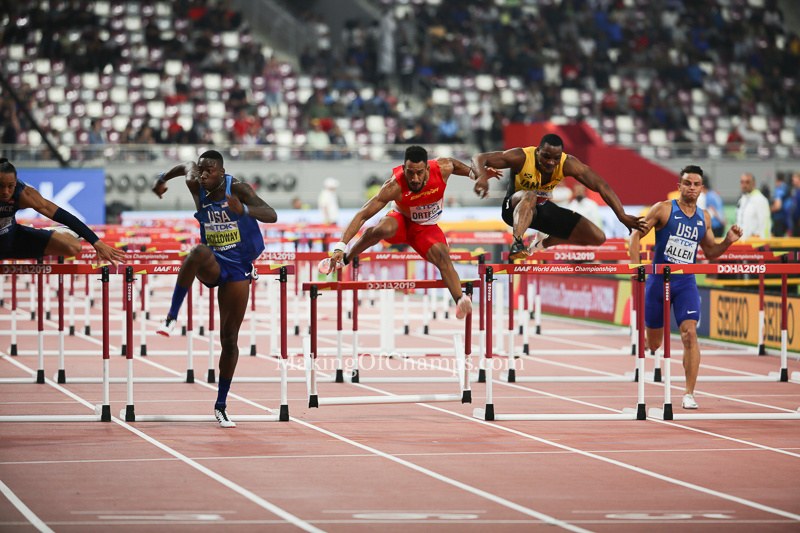 Let's also factor in that Holloway does multiple events, competing in three Long Jump events at the Indoors this year. He won the Long Jump in Fayeteville in 8.02m, finished 2nd at the SEC Indoor championships, and 3rd at the NCAA Indoor Championships final.
That 3rd placement in the Long Jump saw Holloway win three individual medals at the NCAA Indoor Championships, having clinched GOLD in both the 60m and 60m Hurdles.
It was at the Outdoor circuits that the 22-year-old showed that he had come of age, dominating all the 110m Hurdles races he competed in for the University of Florida.
As expected, Holloway clinched the NCAA title in Texas, going under 13s in the 110m Hurdles for the first time in his career. From the regional finals, Holloway did not lose any race getting to the National finals where he put up a show to take the win in a lifetime's best of 12.98s.
Going pro after conquering the NCAA was the next logical step, but the transition was expected to take some time for him to adjust to. Not for Holloway who maintained his winning streak at the Gyulai István Memorial, which he won in 13.16s.
Ordinarily, one would expect a burnout from an athlete whose body has been subjected to a lot of competitions that started since January. Inspite of the great season the American had, Sergey Shubenkov, Omar McLeod and Orlando Ortega would be first choices when selecting athletes that were the major contenders for GOLD at the World Championships.
Holloway changed the tide to his favour, coming through the rounds with victories and winning his semifinal heat in 13.10s. While the world was fixated on what was happening between McLeod and Ortega to Holloway's left, he calmly focused on his own race, cleanly coming through the barriers to win the title in 13.10s.
To cap a long season that spanned almost 10 months with victory against some of the world's best, really takes some nerves to pull off.
For proper context on how sapping Holloway's season has been, he competed in 17 110m Hurdles races in 2019 and won 13 of them….dominance!
 6. Andre De Grasse
Finished? Canada's Andre De Grasse this year proved that he is definitely far from being a finished athlete, and can still challenge for laurels at the biggest stage.
Blighted by so many injuries in the last two years, which robbed him of the chance to make a go as the next poster boy of Athletics, not much has been seen of De Grasse since the glamorous photo-ops display in his 200m semis with Bolt at the 2016 Rio Olympics.
De Grasse was so good in 2016 that he posted a PB of 19.80s to finish 2nd to Bolt in their 200m semis in Rio, going on to clinch Silver. It was the sort of performance he was expected to build on. However, a hamstring injury on the eve of the 2017 World Championships saw him withdrawing from London.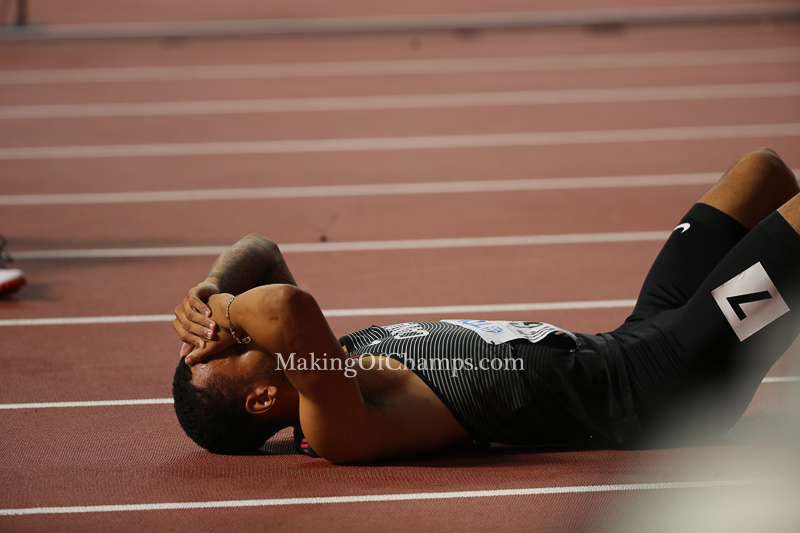 Subsequent comebacks were delayed as he tried making a full recovery in 2018. In fact last year, he only raced a combined seven times in three events (100m, 200m and 4x100m) as he was out of form.
So when 2019 rolled in, De Grasse was by no means one of the favourites to flourish. Even he himself would have been hoping to just get back into shape and then hope for the best.
Commencing his season at the Nanjing World Challenge in May, De Grasse ran a then SB of 10.09s to finish 2nd in the men's 100m, going on to win five days later at the Taiwan Open Athletics with a time of 10.11s.
He posted his first sub 10s of the season at the London DL, finishing 5th in 9.99s. The position didn't matter, he was getting into the flow and his best form was coming back.
Although he lost the Canadian 100m title, finishing 2nd in 10.03s, he had clocked 9.98s to win his semifinal heat earlier that day. Weeks to the World Championships, De Grasse clocked 9.97s in Berlin and he surely started dreaming en route Doha.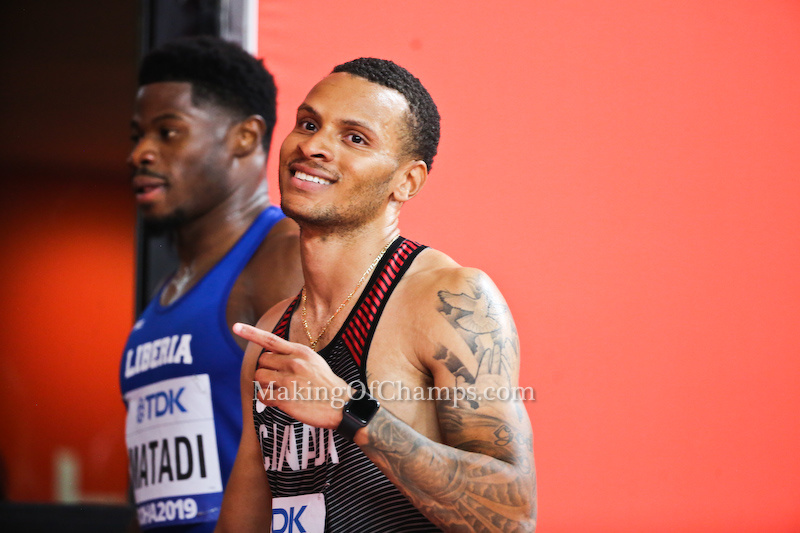 De Grasse completed the comeback, pulling away from Yohan Blake to secure Bronze in the men's 100m, racing to a new PB of 9.90s and winning his second Bronze medal at the World Championships in four years.
The 200m is an event we all expect De Grasse to excel more in, so to achieve such a feat in the 100m showed that he is back to his best.
Noah Lyles has been untouchable in the 200m this year, which meant that every other spot was available for grabs. With the 100m Bronze secured, De Grasse had a chance to leave Doha with another medal.
Lyles put all his eggs in the 200m basket and it paid off with a win in 19.83s. De Grasse wasn't blown away by the American as he held on to Silver in 19.95s, over Ecuador's Alex Quinonez who was 3rd in 19.97s.
Two World Champs medals after being away for almost two years is by no means an easy haul on his return from injury. Watch out for a fully fit De Grasse, and if he stays healthy going into the Olympics, who says he cannot change the colours of his medals to GOLD in Tokyo?