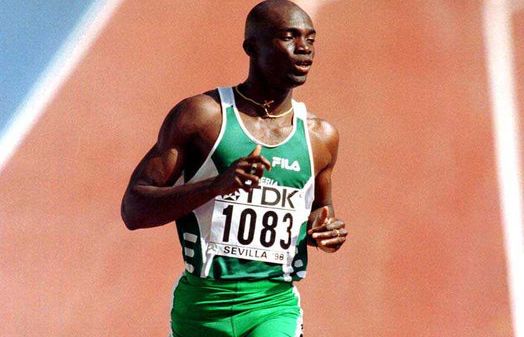 With Francis Obikwelu's promising and consistent performance as a junior, it was no surprise that he claimed his first individual global medal at senior level three years after winning the sprint double at the 1996 World Junior Championships in Sydney, Australia.
Obikwelu's 200m Bronze medal at the 1999 became Nigeria's 5th World Championships medal and also the third individual medal won by a Nigerian. Obikwelu's performance also brought to an end the 15-year medal-winning performances at the World Championships by Nigerian male athletes as no man has recorded a podium performance since then.
The 1999 season was one to remember for Obikwelu as he recorded tremendous performances in his 200m races all year round. Coming into the season, he had a Personal Best (PB) of 20.17s but lowered it to 20.05s at the Athens Tsikliitria Meet, the same capital he won his first World Championships medal in the men's 4×100m two years ago.
Obikwelu's 20.05s ranked 7th place globally heading to the World Championships. He also won the sprint double at the Nigerian Trials.
At the World Championships, Obikwelu won his heat but finished 2nd in the quarterfinals behind then African Record Holder Frankie Fredericks. However, lightning struck twice and Obikwelu was once again drafted into the same heat as Fredericks in the semi-finals.
Obikwelu got out to a brilliant start and as always, attacked the curve. Once that phase was cleared, there was no catching the Nigerian in the home straight as he was about 10m clear of the rest of the field. He crossed the line in a then World Lead (WL), National Record (NR) and PB of 19.84s (the only sub-20 of his career) while Fredericks was tied in 3rd with Kevin Little in 20.10s.
In the final, Obikwelu was up against one of the favourites, Maurice Greene who was on his way to completing a sprint double after winning the 100m some days ago. At the sound of the gun, the duo took off. Obikwelu was running a well-controlled race until he came up short in the bend and Greene capitalized on the stagger and found an extra gear, clocking 19.90s to complete the double. Obikwelu was edged out of the Silver by Claudinei da Silva of Brazil (20.00s) as he settled for Bronze in 20.11s.
Obikwelu's World Lead of 19.84 was not surpassed by anyone in the 1999 season, which made him the second and last Nigerian male athlete to hold an outdoor WL. The first was Chidi Imoh who ran a WL of 10.00s in the men's 100m in 1986 . Obikwelu is also the only Nigerian male athlete to medal in the short sprints (100m or 200m) at World or Olympic level. He held the 200m NR until 2019 when Divine Oduduru bettered it.
As the countdown to the 40th anniversary of the World Athletics Championships, along with the 2023 edition, set to hold in Budapest, Hungary, from August 19th to 27th, begins, we will highlight Nigeria's medals won at the World Championships, which first started as a quadrennial event, but became a biennial one after the third edition held in Tokyo in 1991. Nigeria has won a total of 11 medals: two of them in the relays and nine from individual events