The moment a Nigerian footballer is equated with the legendary Diego Maradona, obviously for football reasons, that person must have attained a heroic status exclusively reserved for players who transcended the pitch into the hearts of football fans. Victor Osimhen did what very few footballers have been able to do, figuratively carrying a city by himself into Eldorado.
For 33 years, the city of Naples yearned for a messiah; Napoli Football Club, which is the symbol of the city, have tethered between being a force in the league, or sometimes being seemingly content with maintaining an average outlook. Since the last time they returned from relegation in 2001, they have somewhat been stable, recruited well, and project the epitome of a well-run club. However, winning the Serie A title has been elusive as it looked like a tall order.
So when Osimhen left a city delirious on May 4th, 2023 – people roaring with loud cheers and wide grins after he found the back of the net against Udinese – he ignited an explosive celebration that stretched into the wee hours of the next day.
Napoli fans are ready to celebrate their first Serie A title in 33 years 🎉 pic.twitter.com/mIzbzMCLtU

— ESPN FC (@ESPNFC) April 30, 2023
Interestingly, Osimhen may not have really taken in the significance of his heroism, but it is a story generations would recycle and be proud to recount to generations yet to be born, that they were there when Napoli clinched their third ever Scudetto. This is a story that would be told with Osimhen as the main protagonist, just as Maradona was in 1990.
Former Inter Milan player, Mario Balotelli, who understands what Italian football is and portends for the fans, summed it up when he pointed to Osimhen on an Instagram Live video after Napoli's triumph, saying that it would take 10 years for Osimhen to really appreciate what he has done for the city of Naples.
Football fans are miserly with their affection, nonetheless to a foreigner who was not even born in their city and lacked their identity. However, in less than two years, a Nigerian has come to be revered in Italy, a hero everyone adores, with his murals festooning some corners of Naples. It is something that fills Osimhen with great pride; he is connected to the Partenopei, and it has been a perfect match and symbiotic relationship since he joined from Lille in 2020.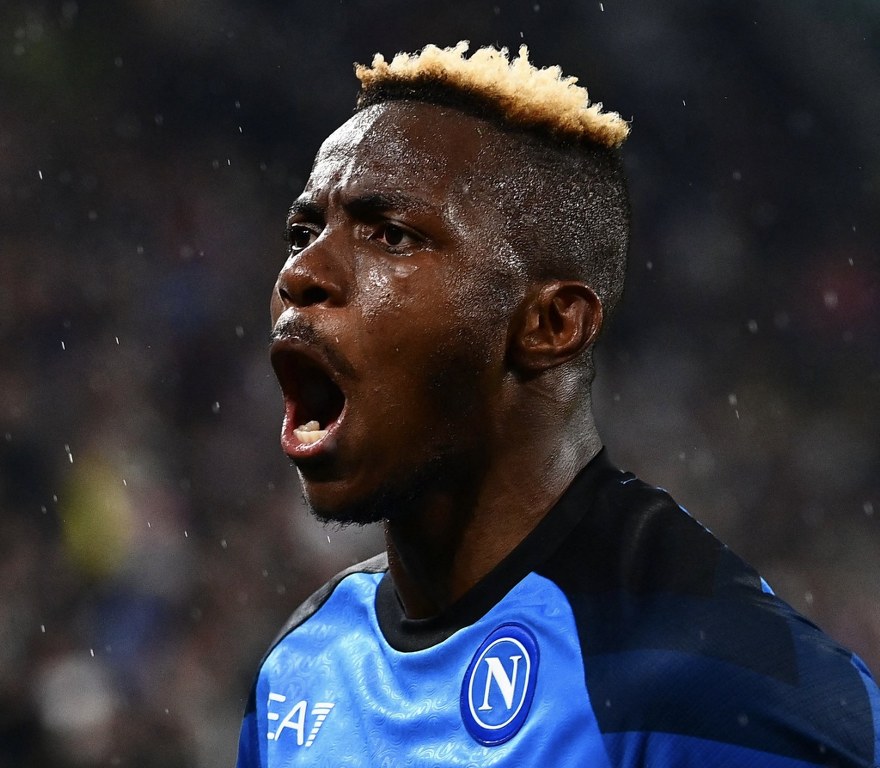 A lot of people batted an eyelid when Napoli took a leap of faith, shelling out a humungous €68 million for the transfer of Osimhen from the French League, which could eventually rise to over €80 million, because it's a no-brainer that other parts of his add-ons would surely be actualized. Some people in Naples would have had clay feet warming up to the Nigerian when in his first game in the Serie A, he got a red card after just 22 minutes against Venezia.
The truth is that the club president, Aurelio De Laurentiis took a big risk in agreeing to pay that whopping amount for Osimhen. The Nigerian striker had only played one season in France, and it's not as though Osimhen had obliterated the Ligue 1 goals record; he had scored 13 goals in 27 appearances. There was an element of a gamble in paying Lille over €60million to pry him away.
Going by today's market rates and how Osimhen's value has skyrocketed, Napoli have a gem whom if they decide to sell, there would be a scramble for. Clubs will not shrug to pay over €100million to land Osimhen; he is surely in huge demand!
Napoli could have won the title at the Diego Maradona Stadium against Salernitana, but a late Boulaye Dia's exquisite curler, thawed the ice on the former's champagne. There was a form of poetic element to that dampening draw at home. Napoli had done the hard work of beating Juventus away, leaving it very late into stoppage time, and they got a taste of what they had handed teams this season, succumbing to a draw that made them wait an additional four days for their coronation.
One could see the drive pushing Osimhen. He would have felt that he could have stopped Boulaye Dia when the Senegalese got the ball on the right flank, swiveling to his left and dribbling past Osimhen, then with a great technique, found the top corner to equalize for his team. So when Napoli found themselves chasing the game and needing just a draw, Osimhen was not going to endure more torturous days to wait for the Scudetto; he took the initiative and carried the team.
Osimhen attacked the first ball from a corner kick but missed out to his Korean teammate Kim Min-jae, and after the ball had revolved in Udinese's box, resulting in Khvicha Kvaratskhelia's shot being saved, by sheer providence, the rebound fell to Osimhen who through a sea of five defenders, found the net. The way Osimhen celebrated, the passion he exuded while racing into the away stands, watching that connection between him and the fans was simply mind-blowing.
🇳🇬🫡 The goal that did it. That moment. Victor Osimhen officially writes himself in Napoli history. pic.twitter.com/FFIpHndzA2

— EuroFoot (@eurofootcom) May 5, 2023
A point was enough to win the Scudetto; that was all they needed. A Nigerian footballer who had hustled on the streets of Lagos to make ends meet, had cemented his place in Napoli's folklore. Now his name will be sung for ages.
There's a tingling video of Napoli fans bellowing Osimhen's name in ecstasy, watching the game on screens at the Diego Maradona Stadium. Osimhen can't even get that kind of hero-worship in his home country, but it's simply mind-blowing that he is so adored in a country he has barely lived in for three years.
Se cae el Maradona… pic.twitter.com/N7OxVDmDz3

— Pipe Olcina (@PipeOlcina17) May 4, 2023
"It's not the right time to discuss my future. I just want to enjoy this incredible title. I can't wait to return to Napoli and hug the fans. I'm so happy for them." Osimhen said after the game. There's an iconic image of Osimhen being serenaded and feted by the fans after the game. They love him, and he reciprocates their devotion.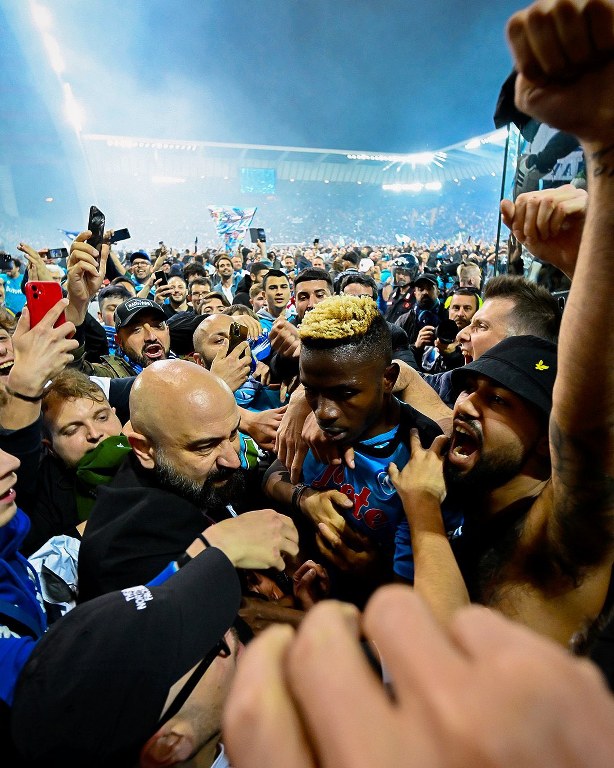 The importance of Osimhen to this Napoli side can been felt whenever he misses a game. His combative attacking ability was severely missed when Napoli lost the first leg of their Champions League match away to Milan, and when he returned for the reverse fixture, he scored his side's only goal, but it was too late to nudge them into the semifinals.
Victor Ikpeba is arguably one of two other Nigerian footballers who might have impacted an European city the way Osimhen has done. Ikpeba netted 55 goals in 170 appearances for Monaco, and was the second highest goal-scorer in the 1995/1996 French Ligue 1 season to help his side win the title.
While it could be up for a debate and never to detract from his achievements, what Ikpeba did with Monaco is 'subjectively' not up to the scale of what Osimhen has done. Yes, Ikpeba may have been christened the 'Prince of Monaco', and he was outstanding for the club playing for Arsene Wenger, but Osimhen massively improved on the former's conquest.
This was Victor Osimhen and his now late dad at the Lagos airport on their way to Wolfsburg in January 2016. He struggled in Germany , was loaned out to Belgium, sold to Charleroi, moved to Lille before an African record transfer to Napoli. Today he handed Napoli the Scudetto. https://t.co/Jqo2foXq3v

— Lolade Adewuyi (@Jololade) May 4, 2023
Rashidi Yekini of blessed memory, blazed the trail and is the pioneer of Nigerian footballers who impacted a city. In Portugal, Yekini transformed the fortunes of Vitória Setúbal with his goal-scoring heroics that earned them promotion into the topflight Primera Liga. In four years, he scored an astonishing 91 goals in 114 games. Both Yekini and Ikpeba will be proud on the marker Osimhen has laid down for other Nigerian footballers who want to become club and city icons.
Not only did Osimhen's goal hand Napoli the title; he also became the highest goal-scoring African footballer in a single season, surpassing the great Samuel Eto'o after netting his 22nd of the season, and is now well on course to win the Paolo Rossi Award.
Excited Nigerian fans have joked and mooted about the Ballon D'or award. It's certainly a long shot at the moment, but the low hanging fruit for him will be winning the African Footballer of the Year Award, and he could become the fifth Nigerian to win the coveted award since Kanu Nwankwo won it in 1999.
Italy is a deeply racist country, and even though the world ought to be evolving, in 2023 black players are still subjected to vile chants in the Serie A. With Osimhen's exploits, he is indirectly changing the worldview of some people in Naples, without even carrying the insignia: 'kick out racism.' Now young fans try mimicking him as the masked man, donning replicas of his mask to games. It's hard seeing how those ones would grow up to be racists, knowing that someone who won them their third scudetto is a black man.
Dear Napolitans, The Scudetto Has Been Delivered!!! Now We Feast!!!!🤍💙🤍💙
@sscnapoli pic.twitter.com/LVvRzUSeWg

— Victor Osimhen (@victorosimhen9) May 4, 2023
For whatever amount Napoli decide to sell Osimhen, it is going to be a profitable business for the club. They have spent huge fees in the past recruiting players, and selling for huge fees as well, but none is going to bring the returns they will generate from selling Osimhen.
Since the era of Maradona, the Gli Azzurri have seen great players pass through their club: Edison Cavani, Marek Hamski, Kalidou Koulibaly, Lorenzo Insigne, Gonzalo Higuaín, Ezequiel Lavezzi, Dries Mertens and many more. While they remain club heroes, but none of these ex players got to the hallowed conclave Osimhen has gotten to. He captured the Partenopei's hearts and flooded it with dopamine.
The little boy from the hood of Olusosun, a suburb in Ikeja, Lagos State, has been able to rewrite the history of Napoli Football Club, miles away from where he was born. It would be surprising to see if Osimhen would ever pay for anything again in the city of Naples. He has surely earned that free purchasing power.