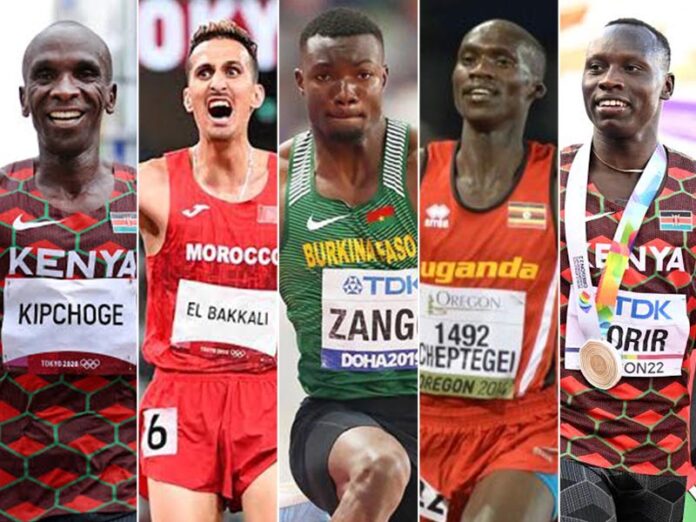 Africa is blessed with a special breed of athletes that continue to showcase the continent's potential at the highest levels in Track and Field. We started the countdown on our list of Africa's Top 10 Male Athletes in 2022 in Part 1 of this series. In this concluding piece, we now highlight the achievements of our Top 5 African Male Athletes for the outgone year.
5. Hugues Fabrice Zango
Inspite of the political tensions and uprising in his country, Burkina Faso's Hugues Fabrice Zango has remained a symbol of hope and continues to set new records for both country and continent. 2022 was no different as the 29-year-old made his mark once again by attaining Africa's best ever position in the Triple jump at the World Championships or Olympics after winning Silver at the World Championships in Oregon.
Since winning a Bronze medal with a new African Record of 17.66m in Doha in 2019 – Burkina Faso's first ever World Championships medal – and then leaping to the indoor Triple jump World Record (WR) of 18.07m, which made him the first-ever African WR holder in a jumping event, Zango has remained at the top of his game and a global contender in his specialist event.
Considering the level of dedication and commitment it takes to remain one of the best athletes in the world, what makes Zango's exploits even more amazing are his feats off the field. After getting a degree in Engineering, the jumper went on to pursue a Master's program in France and recently completed his doctoral studies, also in France.
This season, Zango shrugged off an injury he copped in February to retain his title from the Asaba 2018 African Championships, taking GOLD with a Season's Best (SB) of 17.34m in Mauritius. The Tokyo Olympics Bronze medallist finished 4th at the Wanda Diamond League in Paris, then  made his second World Championships appearance in Oregon and improved his SB to 17.55m to win Silver – Africa's best ever position in the Triple jump at the World Championships or Olympics. This cements his position as only the second African after Nigeria's Ajayi Agbebabku (Helsinki 1983) to win a medal in the Triple Jump in World Championships history.
Zango competed in five more meetings after the World Championships, winning only the Memorial Borisa Hanžekovićain in Zagreb with a mark of 17.07m. That was his last competition of the year.
He was also appointed a Goodwill Ambassador for Children's Rights in Burkina Faso, joining hundreds of athletes, artists, and personalities around the world who use their talents to promote children's rights.
As the 2023 World Championships in Budapest beckons, the Burkinabe will gun for GOLD, having already clinched Bronze and Silver respectively at the biennial championships.