9. Muzala Samukonga
Zambia's Muzala Samukonga is Africa's new kid on the block in the 400m! One can hardly believe that the teenager who was running 49s in the 400m only two years ago, is now the reigning African and Commonwealth Games Champion! The 19-year-old's transformation has been so dramatic that it would scarcely be surprising to discover that he's still trying to come to terms with his newfound fame and fortune.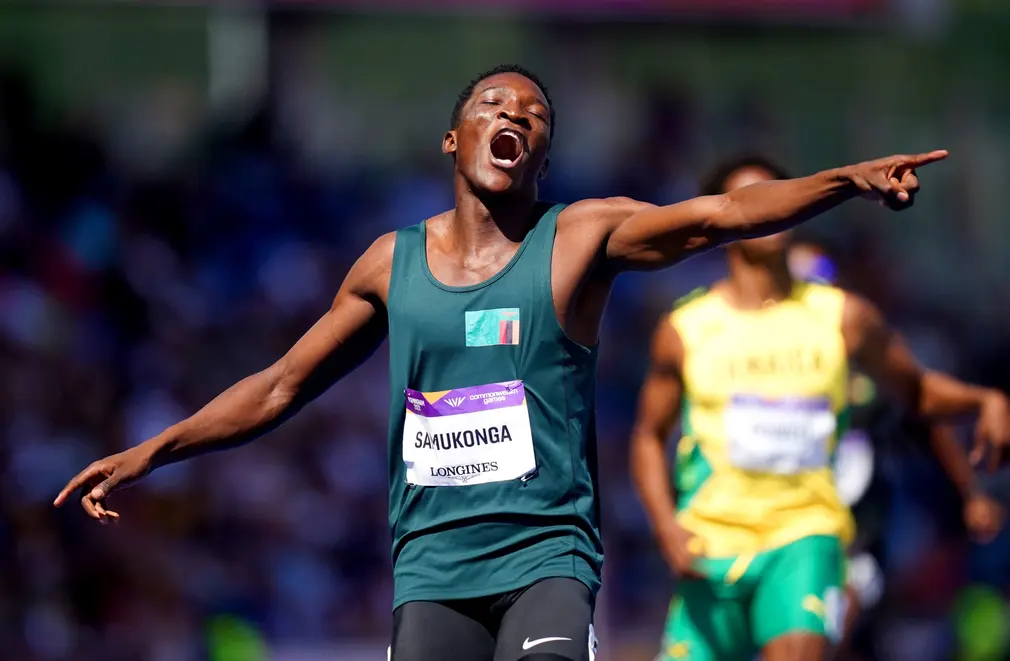 Samukonga's first major competition outside of Zambia was the 2021 World U20 Championships in Nairobi where he finished 5th in the final with a then Personal Best (PB) of 45.89s, his first time of breaking the 46s barrier. He improved on his PB at the All Comers Meet in Zambia in February this year, clocking 45.74s. A month later, he again bettered the mark with a new lifetime best of 45.65s posted in Gaborone, Botswana.
In May, Samukonga raced to a new 200m PB of 20.48s at the SWAN Insurance International All Comers in Lusaka. That would be his only 200m of the season. However, he also set a new PB of 45.21s on the same day, signaling his readiness for the African Championships in Mauritius.
Drawn in the same heat with Botswana's Bayapo Ndori, Samukonga bidded his time, settling for 2nd in 45.48s. He executed the same game plan in the semis where he once again finished 2nd, this time behind Tunisia's Mohamed Farres Glassi. In the final, Ndori took the lead but as they approached the home straight, the Zambian pulled through from behind to pip the Batswana on the line, bringing an end to Botswana's 10-year dominance in the event at the African Championships.
Samukonga hit the track in exhaustion after his memorable feat, an action that would somewhat become a trademark in subsequent races. Two days later, he led the Zambian men's 4x400m team to Silver behind Botswana. The quartermiler put up a decent showing at his maiden World Championships in Oregon, finishing 2nd to USA's Michael Cherry in his heat. He placed 3rd in his semifinal race behind Kirani James and Ndori, narrowly missing one on a spot in the final with his overall 9th place. Nevertheless, he left with a new PB of 45.02s.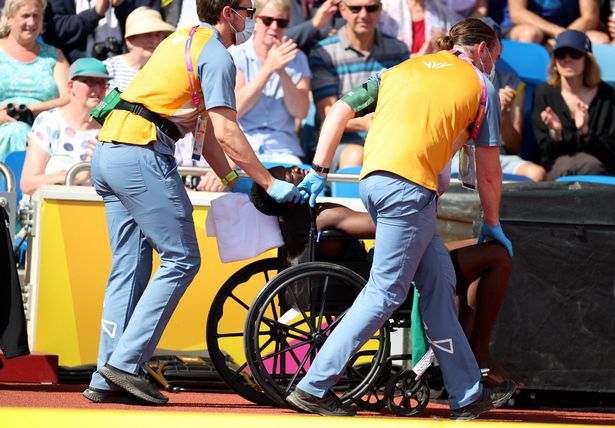 He regrouped for the Commonwealth Games and in his very first race, went out so hard that he broke 45s for the first time in his career, clocking a time of 44.89s. However, he had to be wheeled off the track with concerns as to whether he would be able to compete in the semis because of how exhausted he was after the race. Fortunately, he made a return to the semis but played it cool this time around, just doing enough to finish 2nd.
Drawn in Lane 8 in the final, Samukonga played catch-up with homeboy and favourite Matthew Hudson-Smith for the better part of the race. However, with about 100m to go, the 19-year-old kicked in strongly with an electric finish to overtake the latter just before the line to win Zambia's first ever 400m GOLD at the Games and the country's only GOLD at the 2022 edition. Not only did he strike GOLD; his winning time of 44.66s was a new National Record (NR), breaking Samuel Matete's former NR of 44.88s set in 1991, long before Samukonga was born.
The youngster could scarcely believe his good fortune! He collapsed as reality dawned on him. He then picked himself up in a bid to collect the Zambian flag but tripped again. He eventually collected the flag and began his celebration but shortly afterwards, began to throw up. He would have to be wheeled away from the track AGAIN. Inspite of all these hurdles, Samukonga returned to the track later that day to lead the men's 4x400m team to a 5th place finish with an NR of 3:04.76s.
Samukonga was in tears during the medal ceremony, tears of joy no doubt. He received a hero's welcome on his return to Zambia and was subsequently showered his gifts and cash awards from the government and corporate bodies, including a house. He was also named the Zambian Male Sports Personality of the Year. One can only imagine Samukonga's exploits next season.