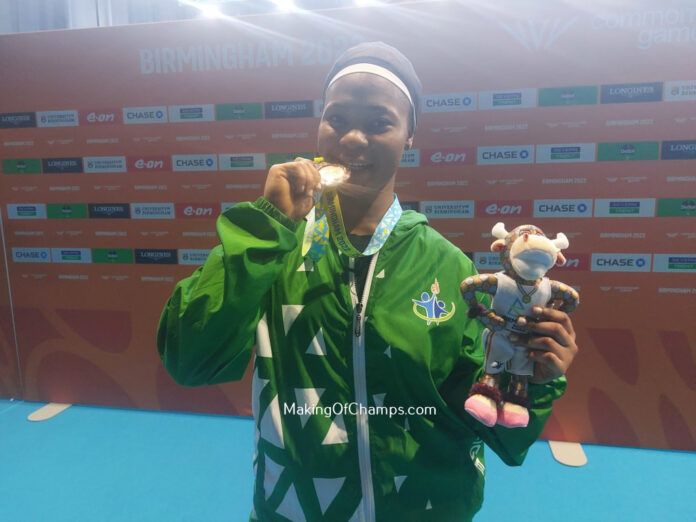 Team Nigeria had a mixed Day 4 at the ongoing Commonwealth Games in Birmingham, winning one one medal out of the two finals they contested in, and missing out on a chance of advancing to the next stage of the other events they competed in.
Having won two medals on Day 3, Nigerian hoped to build on that with more laurels going into their respective competitions on Monday, however it did not go to plan. but they will return to action on Tuesday looking for a much better medal returns.
Islamiyat Adebukola Yusuf won Nigeria's 4th medal at the Championships clinching Bronze in women's weightlifting 64kg event, after she lifted a combined total of 212kg from both the Snatch, Clean & Jerk categories.
As at the time she won the medal, Nigeria had competed in six weightlifting events, and with Yusuf's medal, the country was able to win medals in more than 60% of the events they entered weightlifters for.
In the Men's -66kg elimination Round 16 Judo event, Edwin Peter did not advance to the quarterfinals of this event, losing by Ippon ( when an opponent's back is thrown to the mat with considerable force and speed) to Northern Ireland's Nathon Burns.
Meanwhile in women's 71kg Weightlifting event, Joy Eze missed a chance to challenge for a medal, after not getting a mark in the Clean & Jerk. Eze was in 2nd place after the Snatch, lifting a weight of 100kg. However she did not lift all 3 attempts of 125kg in the Clean & Jerk, which saw her not having a go at a medal position.
In the Boxing event, Nigeria's Innocent Ehwarieme lost his Round 16 Light Heavyweight bout to England's Aaron Bowen. The English boxer won the contest 5-0 (Win by points) and advanced to the quarterfinals.
While in the men's Table Tennis team event, Nigeria missed out on a place in the final and a chance to contest for GOLD, losing 3-0 in the semifinal against India who were much better on the day. India won the Doubles 3-0, the first Singles match 3-1 & the second Singles 3-1 to progress to the final. Nigeria will play England in the 3rd place match tomorrow.