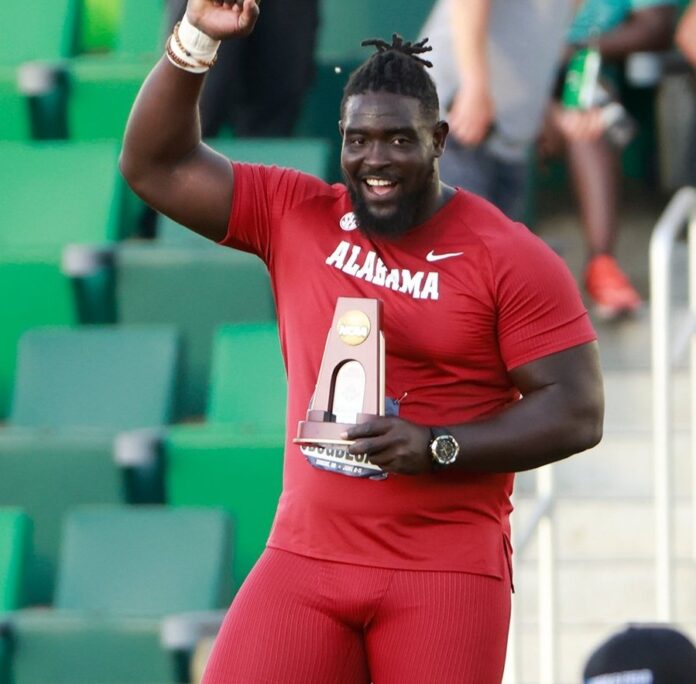 Every year of the past four that Isaac Odugbesan competed as an athlete in the NCAA, he went one better than he did the previous year and in 2022, he did not fall short as he for the first time not only qualified for the NCAA finals, but he also finished on top of the podium, throwing 20.48m to finish 3rd in the men's Shot Put for his school, University of Alabama – their best finish in the event since 1980!
Adrian Piperi earned a clear win over the rest of the field, hurling a best of 21.52m ahead of Turner Washington who managed 21.05m in 2nd place.
Another Nigerian who competed in a final was National Record (NR) holder in the men's Javelin, Chinecherem Prosper Nnamdi who managed a respectable 5th place finish in the event with a mark of 78.61m. Marc Minichello needed a Personal Best (PB) of 81.17m to take the win ahead of Ethan Dabbs (79.68m) and Tzuriel Pedrigo (78.90m).
Of the three Nigerians that made it to the semifinals of the men's 100m, Favour Ashe will be the only Nigerian man in the 100m final in Eugene as he earned an impressive win in the third semi, running a time of 10.15s (-0.1) ahead of Javonte Harding who ran 10.23s, narrowly holding off a strong Alaba Akintola for the second automatic spot as the MTSU athlete came in 3rd with 10.25s.
Having narrowly missed out in qualification for the 100m final as he finished 6th in his race, Udodi Onwuzurike bounced back, securing a berth through to the final of the men's 200m with a time of 20.24s (-0.3), enough for 2nd in his semi, just behind Eric Harrison who ran a Personal Best (PB) of 20.18s. Alaba Akintola was also drawn in that heat and finished 5th with 20.44s.
Although he ran up on a few hurdles, National Record holder Nathaniel Ezekiel qualified automatically for the men's 400mH final, running a time of 49.44s to finish 2nd behind defending champion, LSU's Sean Burrell who seems to be rounding into form at the right time with a Season's Best (SB) of 49.19s.
Bashiru Abdullahi also gave a good account of himself, bowing out of the men's 110mH as he clocked a time of 13.69s in his race, won by NCAA Leader Trey Cunningham in 13.21s (0.4).
Dubem Amene placed 7th in the third semifinal of the men's 400m with a time of 46.68s, won by Elija Godwin in 45.47s.
The women's events will take centre stage today at the Hayward Field in Eugene, Oregon with Nigerian athletes running for top honours in the 100m, 200m, 400m, Long Jump and the relays.