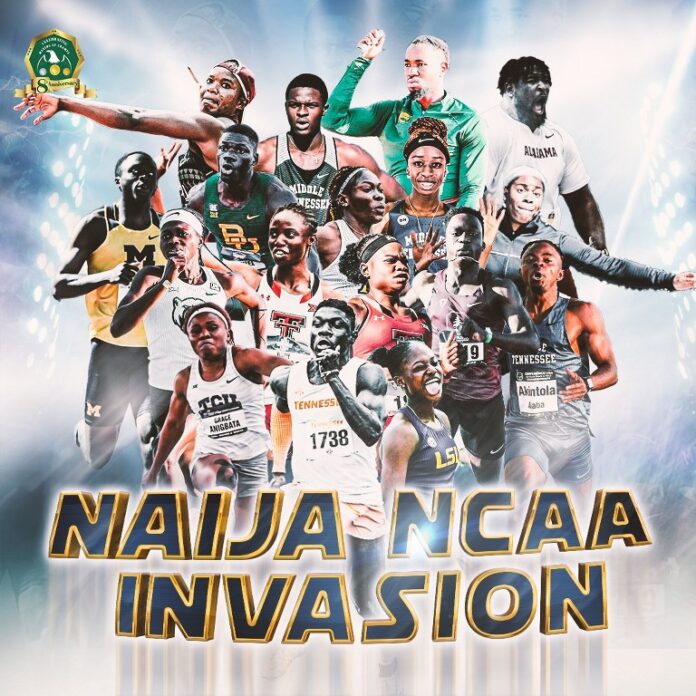 In 1982 when Innocent Egbunike led the first wave of Nigerian athletes who sojourned to the United States for college scholarships, it was just a handful of athletes who migrated abroad to combine Education and Athletics. Forty years later, there's a deluge of Nigerian talents dominating National Collegiate Athletic Association (NCAA) Track and Field.
At the end of the NCAA prelims in Eastern and Western conferences, a remarkable 17 Nigerians qualified to represent their schools at the NCAA Championships in Eugene from June 8-11. What has stood out, is that most of them are Freshers, only being in the US for less than six months, but have started leaving indelible footprints for their schools.
Nigeria is the only nationality behind USA, with the largest number of athletes who will contest for top honours in the NCAA, and it's telling how they have broken the ceiling to have so many athletes in the top division.
As many as 26 Nigerian athletes combined, competed in the two conferences, with the Eastern conference in Bloomington accounting for 17. While in the West, 9 Nigerians competed in Fayetteville, Arkansas. This is excluding a torrent of athletes with Nigerian roots who could still declare for the country, like the younger brother of Nigerian Shot Put Record holder Chukwuebuka Enekwechi, whose sibling Chukwusom could end up toeing his path.
Although born in the United States, Chukwusom who is a sophomore and competes for Eastern Michigan University, like many others in the NCAA, all have deep Nigerian ancestry and are eligible to compete for two countries. Although some of them are inclined to rep USA considering the allure, some of them still readily have Nigeria as their first choice, because there's a nexus with motherland.
Being a country with nomadic citizens, it is not surprising that the offspring of Nigerian immigrants who moved to the United States in the 90s, are now propping up in American Sports, dominating some of their categories.
In 2020, Nigerians celebrated effusively when eight players got drafted into the NBA, the first time the country was having such number in the annual draft. Two were born in Nigeria, while the other six were born in USA to Nigerian parents.
NCAA Track and Field is now having its Nigerian renaissance in the American Collegiate system, and it's not just down to athletes born in the US with Nigerian heritage flying the country's colours, athletes now move from different parts of Nigeria and instantly fit into the system like a hand to a glove.
This season, Favour Ofili has been the poster girl for Louisiana State University (LSU), dominating and obliterating school records with aplomb. Ofili moved from Onicha-Ugbo, Delta State to Baton Rouge towards the end of 2020 and has developed a somewhat cult following at LSU.
Temporarily switching events and competing in the shorter sprints, Ofili punched above her weight, and in April became the first Nigerian woman to run under 22s in the 200m. At the Tom Jones Invitational, she did not only run a new Nigerian record of 21.96s, it was also a college record which shot her up to reckoning.
💫 STAR. GIRL. 💫@FavOfili wins the 100 meters with a facility record time of 10.93!!! @tionna_brown_ gets four more big points for the Tigers with a 11.45 to place fifth!

📈 https://t.co/s0ZTKriVvg
📺 SEC Network#GeauxTigers pic.twitter.com/6T0TIWDeRq

— LSU Track & Field (@LSUTrackField) May 14, 2022
For someone who had run a handful of 100m races before 2022, she has excelled so well going 3rd in the Nigerian all-time 100m list running an impressive 10.93s, becoming only the 5th Nigerian woman to run under 11s. In eight 100m races so far in 2022, the slowest she has run is 11.29s, and it was into a headwind of -1.4.
After easily booking two tickets to Eugene, she will be going to her second Nationals as a favourite to clinch the double. However American favourite, Abby Steiner has been running very well for University of Kentucky, and has 100m & 200m Personal Bests of 10.92s & 22.01s, a major contender for those honours. Ofili does have the edge, having beaten Steiner twice over when they met at the South Eastern Conference.
Two freshmen who could both spring up a surprise in the 100m: Alaba Akintola and Favour Ashe must be finding it too easy after making the NCAA Championships on their first attempt. Surprisingly they both have identical 100m PBs of 10.04s and hit automatic World Championships qualification. In Bloomington, they easily qualified for the NCAA, winning two rounds each to join Udodi Onwuzurike from the Western conference in the 24 slots.
Ashe only turned 20 in April, and has been performing remarkably for someone his age. Just two weeks after arriving the US, he stormed to a 60m PB of 6.58s; pertinently that was his first ever outing at an indoor circuit, and he would go on to cap his indoor season with a Bronze medal in Birmingham at the NCAA indoor Championships. He improved to 6.51s, going joint 4th in the Nigerian all time list.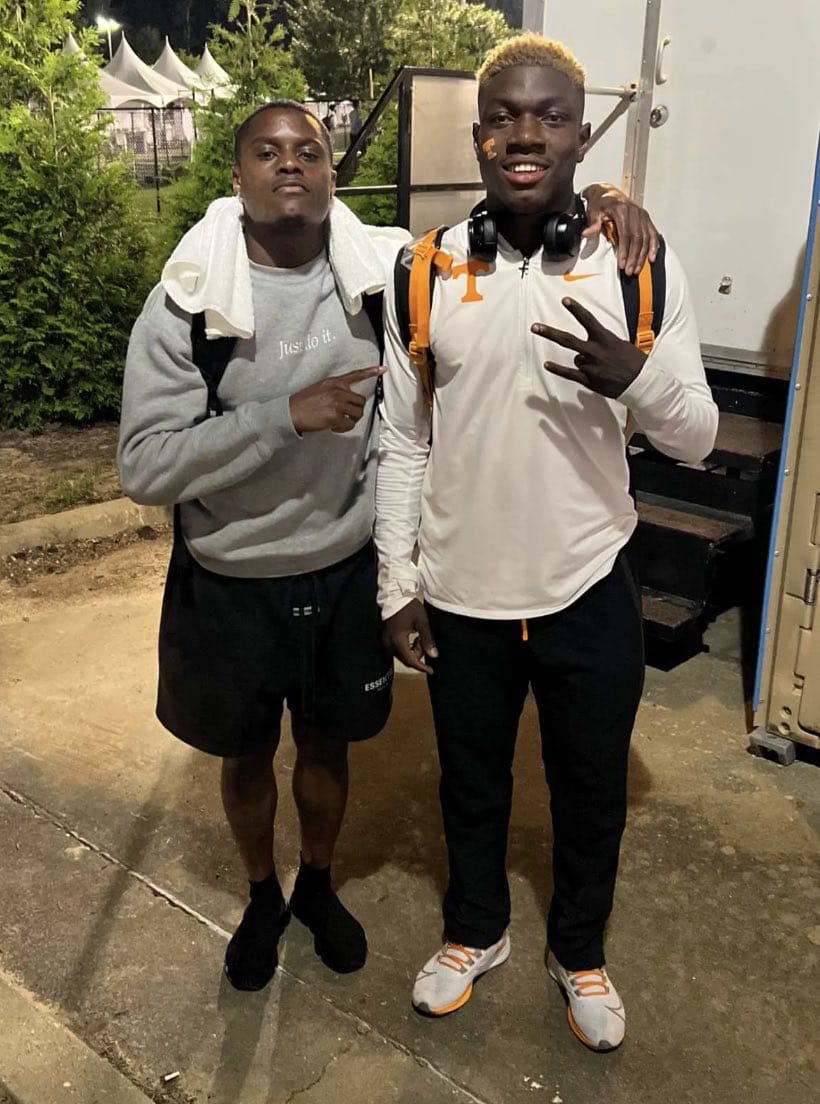 The University of Tennessee (UT) athlete adores Christian Coleman and Justin Gatlin, alums of his school, setting his sights on taking down their records and has already achieved one. Ashe's PB of 10.04s helped him break Gatlin's school record of 10.08s, and there's every possibility he could take down Coleman's College Record of 9.82s. This season, Ashe became the first Nigerian athlete below 9.8s in all conditions, posting a wind-aided 9.79s (+3.0) at the LSU Invitational.
Being one of the Nigerian athletes in an Ivy league school, Onwuzuruike is doing remarkable things at Stanford University. He is currently the fastest Nigerian athlete this season with 10.03s, a Nigerian 100m Junior Record and qualifying for his first NCAA Championships.
Stanford freshman Udodi Onwuzurike ran 10.03 in the 100 to win his section at the NCAA West Prelims on Friday and shatter his own school record. #GoStanford#GoStanford pic.twitter.com/9VHGwleBMc

— StanfordXCTF (@StanfordXCTF) May 28, 2022
The World Junior 200m champion, broke his school's record in Arkansas, running a new PB of 20.08s to qualify for the NCAA doubles. Onwuzuruike is currently the fastest Nigerian athlete in the 100m and 200m in 2022, and he is poised to run his first sub 20s.
Grace Nwokocha (NC A&T) and Rosemary Chukwuma (Texas Tech) were the other athletes who also secured qualifications in two individual events. Chukwuma has been a bit unlucky with the wind this season, still waiting for her first legal sub 11s, but she has proven that she's a contender, running 10.82s (+2.6) the fastest time in both conferences (all conditions). On her part, Nwokocha is hitting form at the right time, running 11.08s in the East.
"Train hard and get the results"

Let's 𝒈𝒆𝒕 𝒕𝒐 𝒌𝒏𝒐𝒘 @ChukwumaRosema1 🇳🇬🍚🎶#WreckEm pic.twitter.com/xmaPTdFPSD

— Texas Tech Track & Field (@TexasTechTF) May 30, 2022
For the first time in the NCAA history, Nigeria could have three men and women in the finals of 100m & 200m events in both categories, if they all make it out from the semifinals.
Meanwhile, the Baylor University contingent spearheaded by Chinencherem Nnamdi will add more flair to the Nigerian colour in Eugene. Nnamdi broke Pius Bazighe's Javelin National Record (NR), becoming only the second Nigerian athlete to throw over 80m, throwing an NR of 81.22m.
Meet Record No. 1⃣

Nathaniel Ezekiel (400mH)- 48.42#SicEm 🐻 pic.twitter.com/2HMbQJdxym

— Baylor Track & Field (@BaylorTrack) May 20, 2022
At Baylor, another Nigerian Record had tumbled this season through Ezekiel Nathaniel who broke Henry Amike's longstanding record of 48.50s, becoming only the 4th Nigerian to run sub 49s and setting a new NR of 48.42s. Nathaniel comes from a family where four siblings are athletes, and three have already represented Nigeria, but he now seems like the one who could last the haul.
Completing the Baylor trident is Imaobong Nse-Uko, who recently became the first Nigerian quarter-miler to qualify for the 2022 World Championships. She might have struggled through the rounds to make it to the NCAA Championships in the 400m, but she is surely one with a chance to make a good impression in Eugene.
In the men's High Jump, Best Erhire will lead Nigeria's charge in the field events having qualified from the Eastern Conference joint 1st with an equal SB of 2.18m. In 2021, he missed out on qualification in his first year, but returned in 2022 a much experienced athlete.
Qualification secured: 🇳🇬Best Erhire has secured his ticket in men's High Jump to #NCAATF Champs, jumping a 1st attempt clearance to match his SB of 2.18m. Erhire finished joint 1st alongside Shaun Miller who had an identical series like him. This will be his 1st Nationals in 🇺🇸 pic.twitter.com/uMWQhwpQn4

— Making of Champions (@MakingOfChamps) May 27, 2022
There's at least two Nigerian athletes in women's Triple Jump, and they are top challengers. National Record holder, Ruth Usoro is going up against African Games and multiple National champion, Grace Anigbata who will look to be back to her best. The last time Anigbata jumped over 14m was in 2018, but since then Usoro had come out of her shadows and set an NR of 14.50m in 2021.
Taking a cursory look at the start-list of athletes who competed in women's Triple Jump in the West: Ginnie Okafor, Oreoluwa Adamson, Nicole Ume-ezeoke, Tosin Alao, Grace Anigbata, Ruth Usoro, Onaara Obamuwagun, Busola Akinduro; it could be mistaken to be a start-list of women's Triple Jump at the Nigerian Championships.
Nigeria's excellence has a spread across events and not limited to sprinting, bringing to the fore Isaac Odugbesan who finished from the Eastern conference as the best Shot Putter. He threw a PB and Meet Record of 20.85m for his school Alabama to win the event. In fact, Odugbesan had the best mark across both conferences, going to Eugene as the firm favourite.
What this crop of Nigerian athletes are doing now, some people set the pace for them to come and dominate where training conditions are favourable. Egbunike when he left Onitsha, South Eastern Nigeria in the early 80s for Azusa Pacific University, helped his school to three consecutive team titles in the NAIA Meet (1983-85). During his time at college, he was an eight-time NAIA champion across different events.
The Ezinwa brothers, Chidi Imoh, Olapade Adeniken were some of those influenced by Egbunike's trailblazing, grabbing Collegiate scholarships. Now in 2022, Nigeria has almost 100 athletes across different divisions in the USA, and it could get to a stage where that number would swell to even 200 and above.
In 2019 when Divine Oduduru clinched the NCAA double: Bashiru Abdullahi, Abike Egbeniyi, Annette Echikunwoke, Ashley Anumba, Sade Olatoye, Dotun Ogundeji were the other Nigerians at that championships. Now there are 17 of them who qualified for the 2022 edition, a big leap from four years ago.
Naija to the world: for the first time in history, Nigeria🇳🇬will have 17 athletes competing in the NCAA Track & Field Championships👏, 2nd behind USA🇺🇸 with more indigenous athletes. Nigeria is gradually becoming an Athletics powerhouse…taking over✊#NaijaNoDeyCarryLast pic.twitter.com/HSW9hd3d2H

— Making of Champions (@MakingOfChamps) May 31, 2022