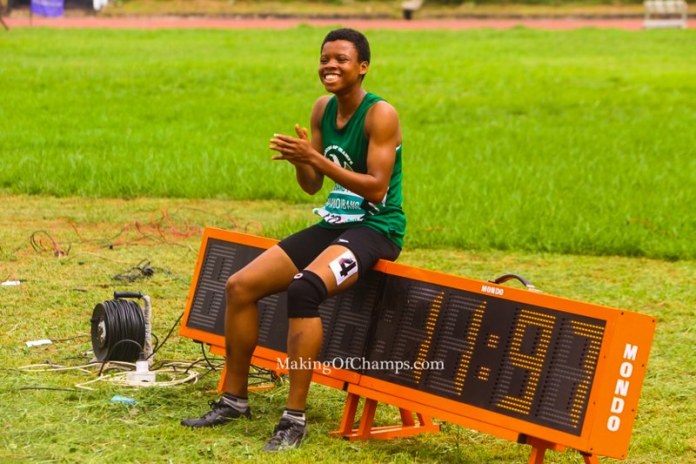 Making of Champions Track Club prodigy Maria Umoibang has secured the first sponsorship of her Athletics career courtesy of oil and gas company Niger Delta (ND) Western who have decided to throw their weight behind the talented teenager following her string of impressive performances over the past season, including breaking the 12s barrier in the 100m several times during the 2021 Athletics season!
ND Western Limited is an independent Nigerian oil and gas company which aims to be a world class Energy Company of choice in Africa, whilst delivering value to its people and shareholders by providing clean energy through sustainable and strategic partnerships in the communities it operates in.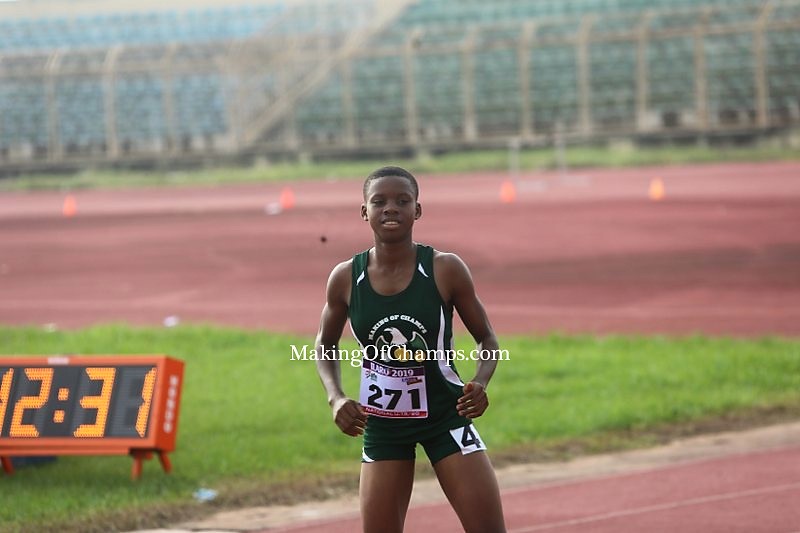 This sponsorship is a dream come true for the 17-year-old who is in her final year in secondary school as it covers her training, physio support, apparel, gym, travel to competitions, supplementary and dietary support and tuition whilst helping her to prepare for her senior secondary school examinations and qualification for the World U20 Championships holding in Cali in August.
This is a step in the right direction for Umoibang who is following in the footsteps of her older sister, Mercy, on all fronts. The older Umoibang was sponsored by Niger Delta Exploration and Production (NDEP) Plc for four years and with their support, graduated from Princeton College in Surulere in 2020 and qualified for the World U-20 Championships in Nairobi, positioning her for a full scholarship in the US where she would be competing in the National Collegiate Athletic Association (NCAA) circuit.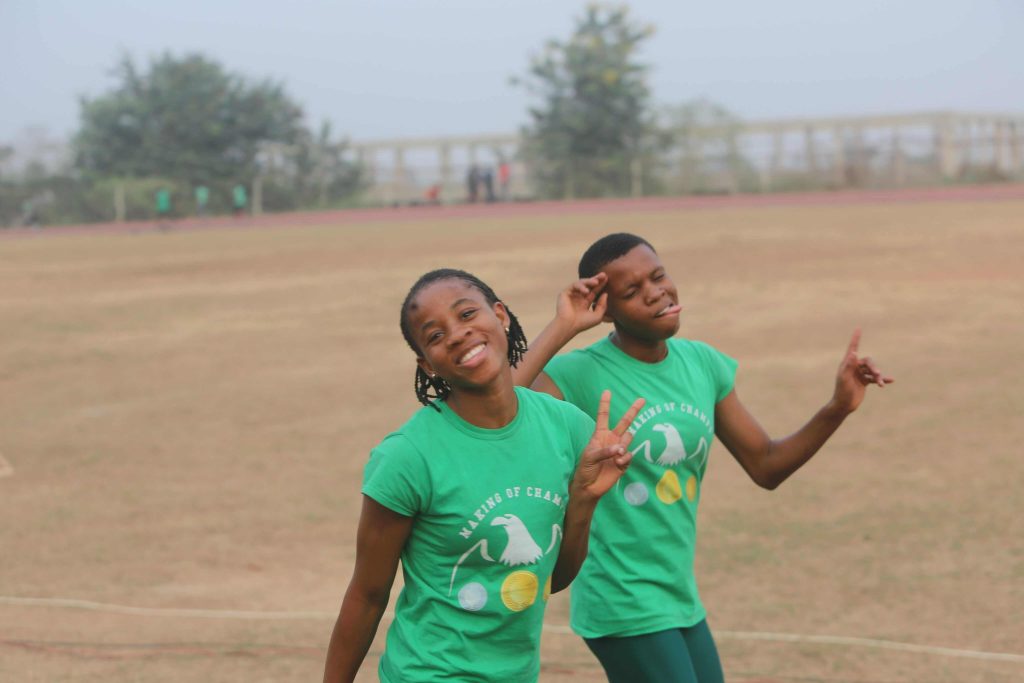 Four years ago, Maria was content just to accompany her sister for her training sessions at the Teslim Balogun Stadium in Lagos, but her decision to join her in training, which made them the only set of siblings at the club, has definitely yielded positive results as the younger Umoibang is now carving a niche for herself in the shorter sprints and stepping out of the shadow of her older sister.
The younger Umoibang has since come a long way from her humble beginnings when she represented MoC for the first time at the 2018 National U-18 Trials. As a 13-year-old, she ran in the 100m heats but by the next edition of the competition in 2019, she won her heat, finished 2nd in her semifinal race, demonstrating that she had made a lot of progress in less than one year. She also made her debut appearance at a senior competition that same year when she competed in the 100m and 200m at the MoC Grand Prix.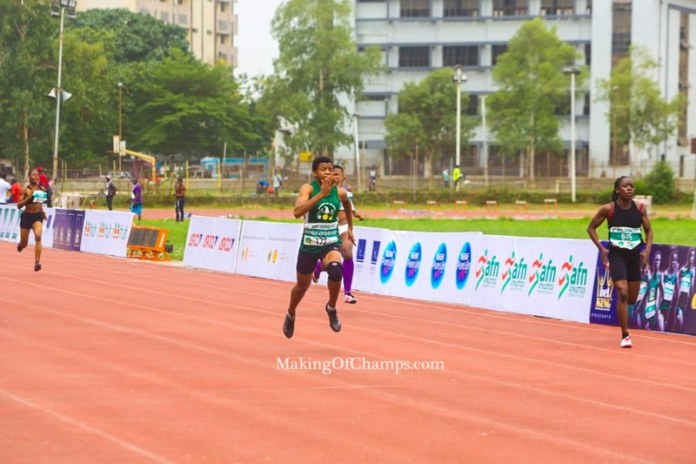 Because of the outbreak of the coronavirus and subsequent lockdown, Umoibang was unable to compete in 2020. Nevertheless, she returned with a bang in 2021 which turned out to be her best season yet.
She opened her season at the 2nd AFN All Comers Meet in Akure in March and stormed to a new Personal Best (PB) of 12.06s whilst running in the heats. Her next outing was at the MoC Grand Prix in March where Maria put up a spectacular performance, going under 12s for the first time in her career to win her 100m heat with a new lifetime best of 11.99s.
She smashed that time while racing in the semis later that day and qualified for the World U20 Championships in the process as she clocked a new time 11.84s and finished 3rd in her race. Drawn in the B Final, Maria bettered her time to 11.81s, a testament to her dedication and focus no doubt.
Following her outstanding displays, Umoibang made her maiden appearance at the Nigerian Olympic Trials held in June in Lagos. The teenager gave a good account of herself and raced to 2nd place in her heat with a time of 11.82s. in the semis, she was inspired to a 3rd place finish with a new PB of 11.73s which ranked her as the 30th fastest Youth (U18) Girl globally in 2021, while her wind-aided 11.59s (+2.7m/s) to finish 7th in a stacked women's 100m final that was won by Blessing Okagbare, placed her as the 20th fastest Youth Girl globally under all conditions in 2021!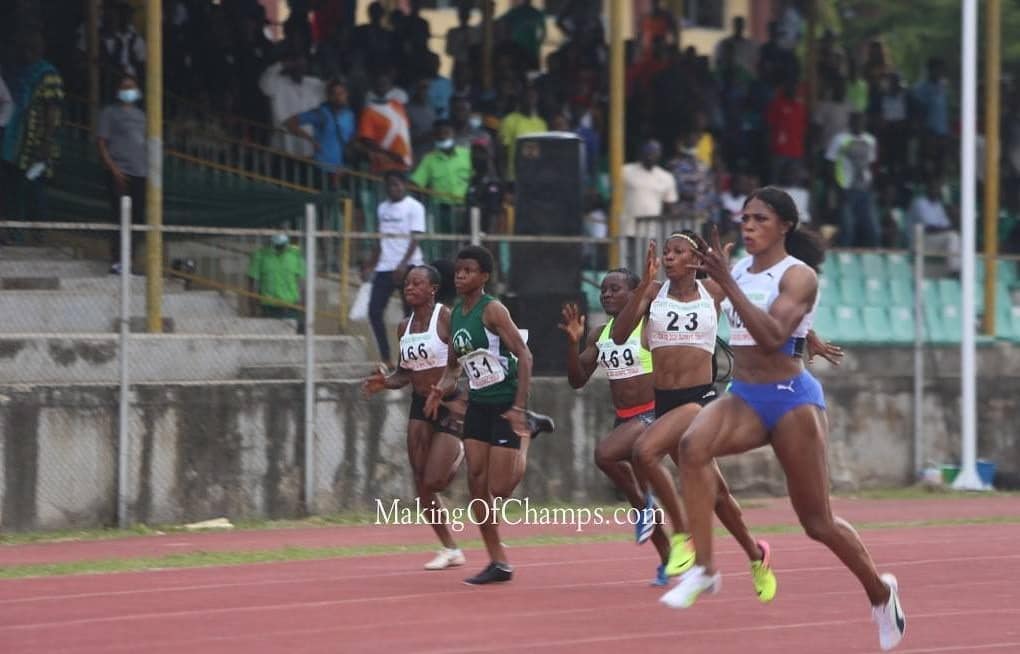 Her potential was not lost on the country's Athletics officials who drafted her into one of the women's 4x100m relay teams seeking qualification for the Tokyo Olympics, thus making the Nigerian team for the first time in her career.
After the Nigerian Olympic Trials, the then 16-year-old went on to also qualify in the 200m for the World U20 Championships, storming to a new PB of 24.31s to win the women's 200m at the Paga/MoC Relays held at the end of June, surpassing the Entry Standard of 24.35s. In 2021 alone she exceeded the 11.85s qualifying standard for 100m at the 2021 World U20 Championships a total of five times, only missing out on Nigeria's final team for the event in Kenya because of her NECO Exams.
Representing Nigeria is a burning desire in Maria's heart, so as the 2022 Athletics season commences, the teenager will set her sights once more on qualifying for this year's World U20 Championships in Cali and making the senior team in the 4x100m! With ND Western's timely sponsorship, the sky is only the starting point for Maria Umoibang.