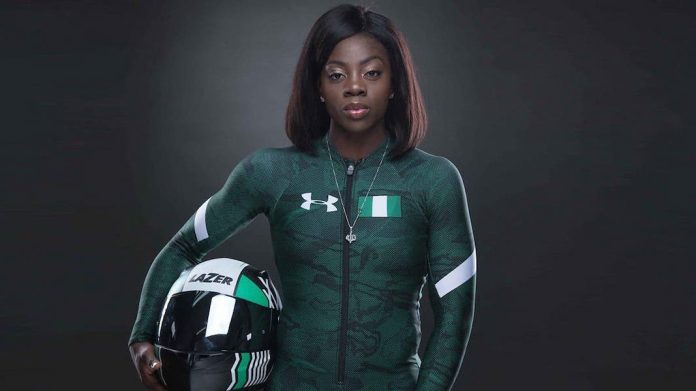 If Seun Adigun had opted to discreetly go into the quiet life of retirement, after all her Nigerian fans would always be deferential whenever she crosses their paths; what will never be in doubt, is her revered status as the first Nigerian to galvanize a team of four athletes who made an unprecedented history representing the country at its first ever Winter Olympics.
Now Adigun is taking it a step further, personally overseeing the transition from her time, and ushering in a new set of athletes to take up the mantle where her race ended. Having retired at 32, reaching a ceiling where heroes become legends, she took up an equally daunting role as the Technical Director of Bobsled & Skeleton Federation of Nigeria (BSFN) formed in 2018, with an immediate purview of churning out the next prospective Winter Olympians.
Unlike in 2017, when the tendrils of Nigeria's Winter Olympics prospects was gaining roots, this time around an open trial was held to unearth new talents. Three years ago, the four athletes who made it to Pyeongchang, South Korea were almost handpicked and crafted into a unit, with history the main driving incentive. They were already active athletes competing, and someone like Ngozi Onwumere was known by Athletics buffs in the country, following her exploits at the 2015 African Games when she won GOLD (women's 4x100m) and Silver (200m just behind Ivory Coast's Marie Josee Ta Lou) in Congo Brazzaville.
But now, there was a different approach. Almost 100 athletes thronged the National Stadium hoping to toe the paths of the maiden Bobsled team. Seeing a trailblazer like Adigun leading the selection process was enough PR to get athletes come and trial out, at least they know she wasn't selling them a fantasy.
From privately sourced sleds all assembled in Lagos, to the ambience of a Winter track recreated at the National Stadium, Nigeria was able to hold its first ever Winter Games trials, making the most of their limitations to engineer their paths towards producing another team that would compete in a second consecutive Winter Olympics. The Nigerian trials was held in an open park where no ounce of snow had ever fallen before, rather they competed with makeshift vessels cobbled together in Lagos by a welder.
"What I am very pleased with, is the fact that we were able to successfully have an Olympic trials for Winter in Nigeria on ground. That was the first time that has ever happened in the country, and it's an honour that we were the first ones to be able to take that on. It was important for us to try and create a structure," Adigun explained on how they were able to hold a National Trials on concrete floor.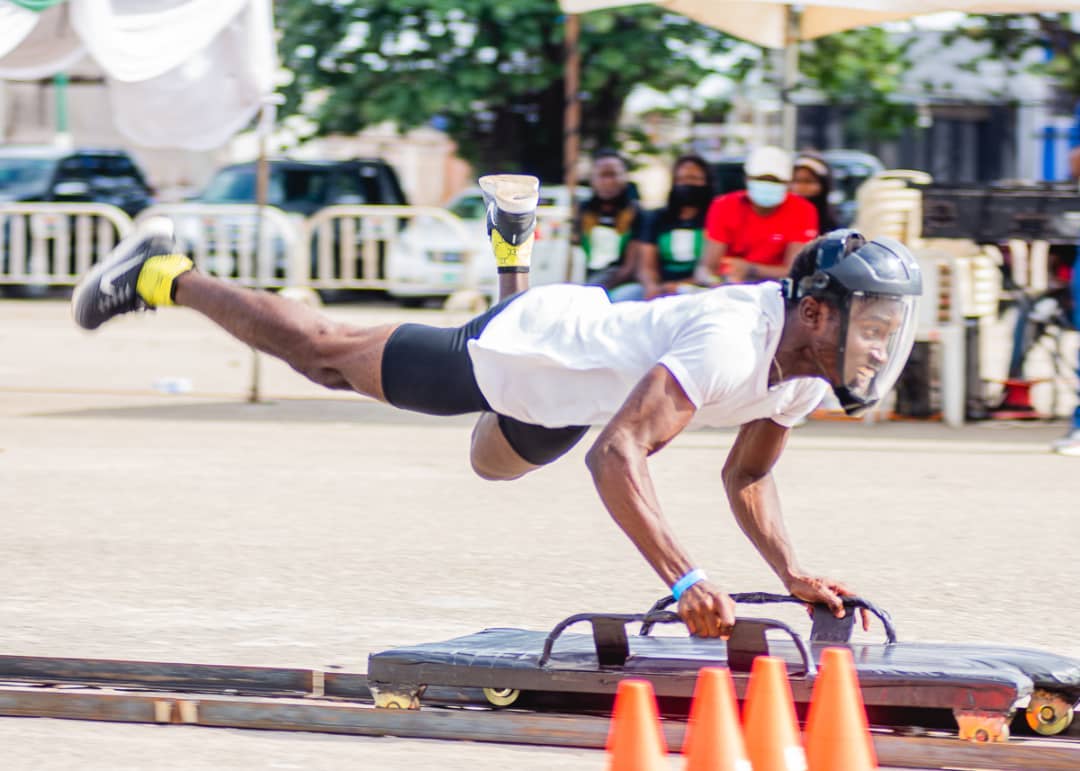 She further explained how the BSFN was able to put together some of the equipment they used for the trials: "We built them from scratch. We used the tools that we have, and the resources that we have in Nigeria and we built it, and I think that's the beauty of what we are trying to do: it's to teach ourselves that we can do anything, we can achieve the impossible. It doesn't really matter that we don't have winter in our country.  We can improvise, and we can be innovative, and we can create a lane for ourselves to still be successful and it doesn't just have to apply to the sport. It applies to anything in life, where Nigeria sometimes, the only thing that we have to hold on to is hope. But this, gives us a little bit more than hope, it gives us opportunities."
Eventually 12 athletes from different sporting backgrounds but predominantly Track and Field, made the cut after a grueling process where they proved their mettle. The team and its coaches will depart for a training camp in Europe, taking part in competitions and hoping to meet qualification standards.
Should Nigeria secure qualification in the Bobsled, Skeleton and the inaugural women's only Monobob event, a final Nigerian team will then be announced in January to represent the country in China.
"All the athletes who participated, gave us an opportunity to objectively select the athletes who were then penciled for training camps. These training camps are really the Olympic qualifiers. It's our opportunity to try and qualify as many athletes as we can to the Olympics. If we compete in these races and execute effectively, we have a good chance of trying to compete."
Nigeria does not want to bask in the euphoria of just one appearance, rather they are now striving to be a mainstay at the Winter Olympics, even though the country has searing temperatures generally over 27°C. For example Jos, Plateau state the coolest area in Nigeria, has temperatures varying between 21°C and 27°C. Other hotter regions could sometimes get to 35°C.
Weather is not a limiting factor to Nigeria's Bobsled team, it even instills an "I-can-do" belief in the athletes. What was paramount for the Nigerian selectors is a commingle of speed and endurance, the basic rudiments the selectors are first looking out for.
It must be said that some of these athletes already have a Bobsled experience and have passed the newbie stage having been in a monitored pool of athletes with huge potentials since 2019, just before the pandemic disrupted global sports. But this is a whole different level.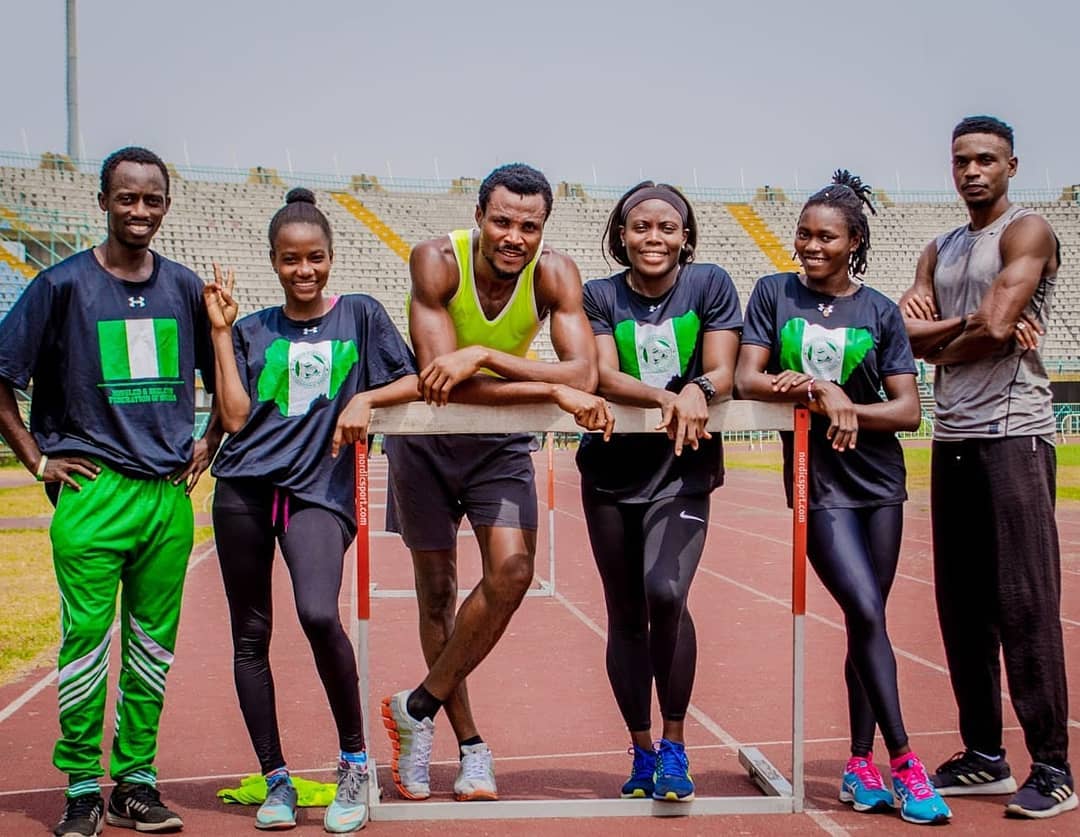 "That team was selected, they have been training in Nigeria on the wooden sleds that we built a couple of years ago. They trained on those sleds for about a year and a half, and unfortunately the pandemic stopped us from being able to take them on ice earlier. But they were still persistent, they were very resilient, and these athletes continued to show up for every single training session and continued to develop themselves in the sport of Bobsled and Skeleton." Adigun offered more insight.
"It was always a part of the plan to take athletes from Nigeria and put them on ice with our other athletes who have been on ice as well in the diaspora, but we needed the world to see, and Nigeria to see as well that this was bigger than just Nigerians in the diaspora."
Winter Olympics qualification is on the horizon for Team Nigeria, and there's a reserved spot on Nigeria's qualification-seeking team for Simidele Adeagbo who is gunning for her second Winter Olympics on the bounce in Skeleton and Monobob. Adeagbo is the only member from the famous quartet of 2018 still part of the present National team, topping the list of five female athletes comprising of four other upstarts: Alawode Sekinat Abiola, Kika Iyabo (Bobsled Brakewoman), Perpetua Nwanna (Driver) and Lawal Folawiyo Khadijat (Skeleton).
Ugochukwu Dickson, Mbakwe Chinonso, Subair Yaya (Bobsled Brakeman), Yusuf Hammed (Bobsled Driver), Otukoya Kehinde and Akinbo Emmanuel (Skeleton), were the six athletes selected in the men's team.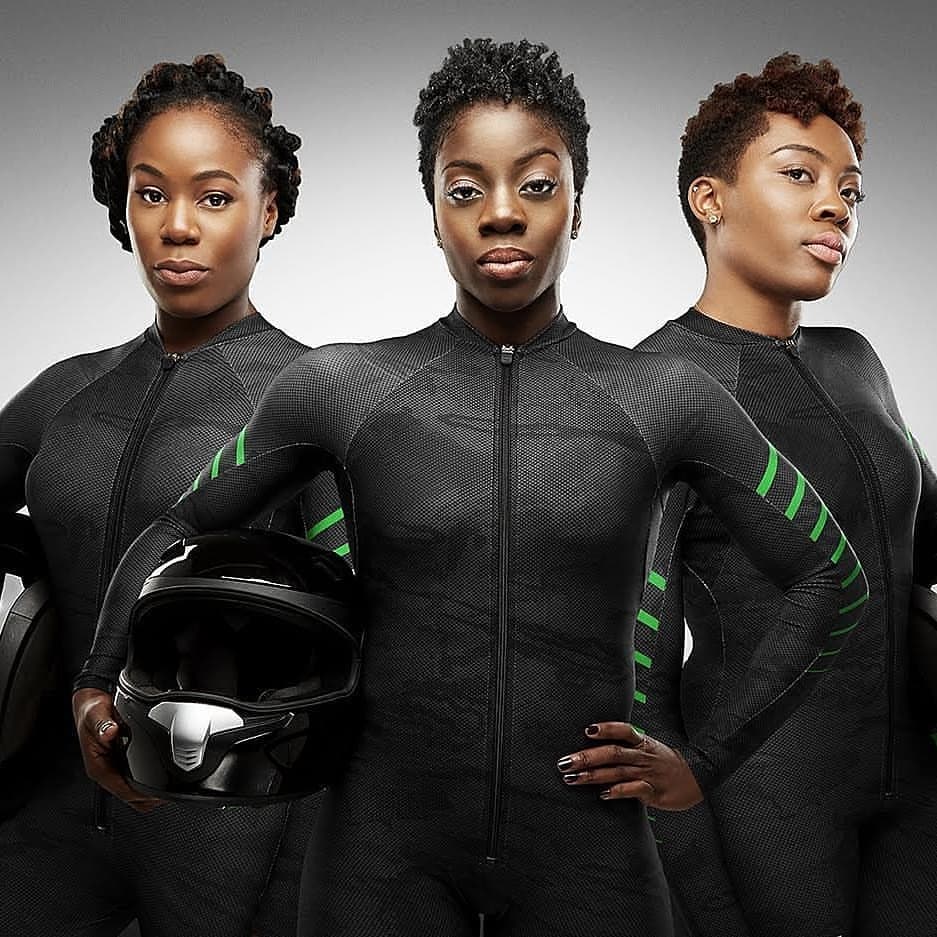 Before settling for a role in administration, Adigun almost yielded to the allure of attempting another Winter Games, and when she didn't wilt to that prospect as appealing as it was, her retirement all but closed the chapter of the first Nigerian Bobsled team.
"I did give it a thought (retirement). But you know, I knew that my role was much bigger than me in the driver's seat. I knew that I would make a much bigger impact and help more people if I stepped out of the driver's seat, and to be honest I think that it's something I want to leave for the next generation to be able to develop, and they can now be taught better than me to better than I was."
"Simidele was a Skeleton athlete which is an individual sport, and the three of us were Bobsled athletes. Because I was the driver, my brakeman also, they didn't decide to move into the Driver's seat. They also decided to move on to the next phase of their lives and careers as well."
When the first Bobsled trial was held in 2019, the turnout was a bit impressive, but the National trials two years after, grew exponentially. There were a lot of factors responsible for that. Six athletes who made the cut from 2019, was all the gospel Bobsled needed. Hammed, Dickson, Abiola, Folawiyo, Nwanna and Emmanuel travelled to Pyeongchang, and competed for the first time on ice. It drew other interests, and after the trials, four more promising athletes were added to that team.
Adigun isn't just juggling roles as the National Team Technical Director, she also has the unilateral role as the team's mentor even though it's an unassigned portfolio. All these athletes look up to her in many ways as their leading beacon in the sport.
The BSFN has evolved into a big entity, and now attracting brands across the globe to cue into the Federation's vision. With Adigun's influence and connection, she was able to attract a partnership with an American black-owned clothing line "Actively Black" who will be kitting Nigeria next year in Beijing.
Nigeria launched the new gears distinctively called "The Black Ice" which underlines the country's perseverance and breaking barriers spirit competing at a Winter Olympics, where a handful of African countries have been privileged to tread on.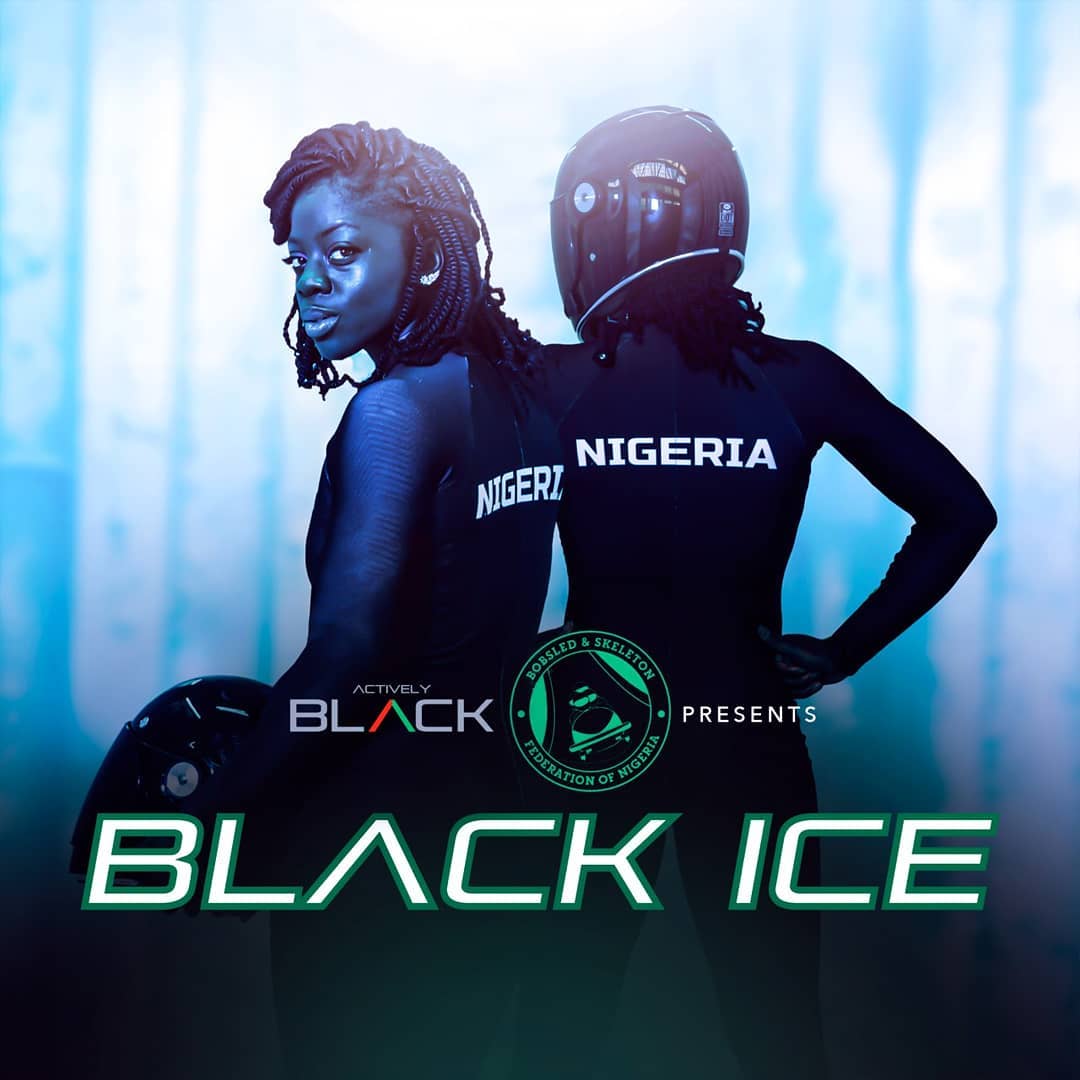 "With the Black Ice partnership, it's really something special. I think it really shows the beauty when we come together as a community, and by we, I mean Africans. Whether we are based in the diaspora, or whether we are based on the continent. There's black owned business, small business that's based in the United States that's sponsoring an African Nation to the Winter Olympics."
"I think it's just really a story of two underdogs, trying to take on something bigger than themselves, that people continuously remind them that they shouldn't be doing, and they can't do, and now showing that we can do it. We can do anything that we put our mind to. It's a story of resilience, perseverance, community, commitment, love, and we hope that's what this translates to.
In the women's Skeleton, Nigeria is chasing qualification in the 25 remaining slots out of the 50 available in the sport, and a lot will be dependent on how they maximize the camping phase in Europe this month, before the arduous qualification part.
For someone who has competed at both the summer and winter Games, Adigun tried to show some fealty to both Olympics, although she outlined the peculiarities of both. In the 2012, she competed in the 100m Hurdles at the London Olympics, and then made history when she completed the Olympic set in South Korea.
"They both have their pluses: the summer is significantly warmer, so I will choose that one for the warmth and the village is much bigger. Everybody is mostly in the same village, it's just a lot more fun. Whereas in the Winter Games, most teams are split up in two or three different villages, up and down the mountain, based on the sport that you do."
"So it's a lot smaller, it's also a lot colder. But the Olympics and its energy and everything that it is, whether it's the summer or winter, it's amazing in both. For me my experiences were equally as rich, because the first time I went to the Olympics, it was the summer. So I was taking everything in, there was so much nostalgia. And then second time I went, it was the winter. It was a historic run, which ultimately made me the first and only African to compete at both the summer and Winter Olympics, so I am very grateful."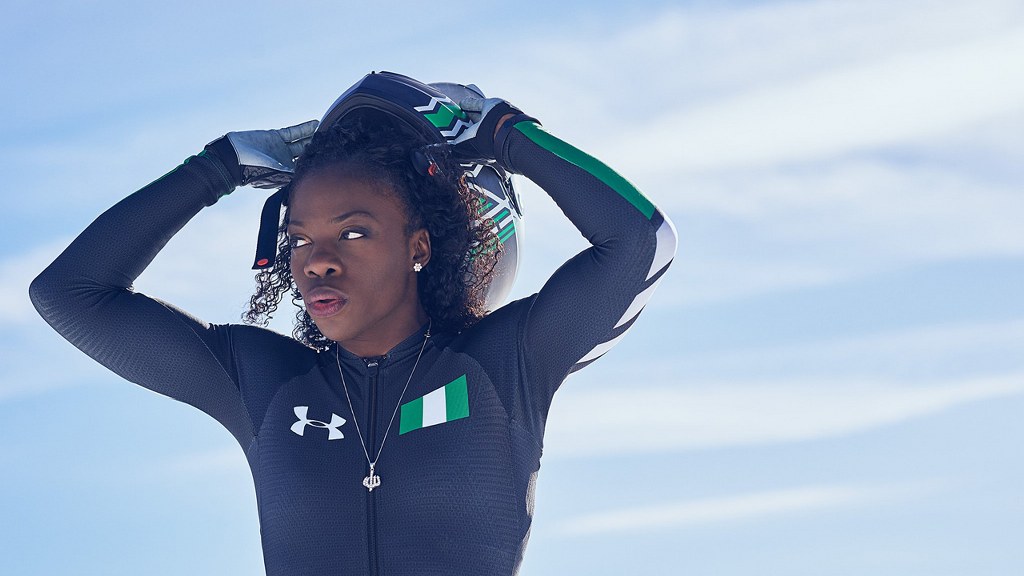 At the moment, the 2018 feat would seem like a one-off, destiny probably played a part on its actualization, but the amount of work Adigun is putting behind the scenes to ensure it becomes a norm for a Sub-Saharan country like Nigeria to regularly qualify for Winter Games is unprecedented and quite laudable.
No one can fault Adigun on how much she is endeared to her country. In the height of Covid-19, she rallied some Nigerian athletes in an initiative called "Dr Seun-cares" to feed at least 1000 families, mainly in Lagos. They pooled together resources and bought relief materials for vulnerable families.
"I am actually very passionate about Nigeria, it is where I am from. Ultimately, who is going to be the ones to help us change our country if we aren't the ones to do it? This is not even about the change, it's about advancing our country to the top, and putting it on the status that it so well deserves to be in this world."
And she sums up what has been her driving force, propelling her to leave a lasting Bobsled legacy in Nigeria, especially as her own athletic ride has ended: "not only can we represent Nigeria from the diaspora, we can also represent Nigeria from the soil itself in the Winter sports.