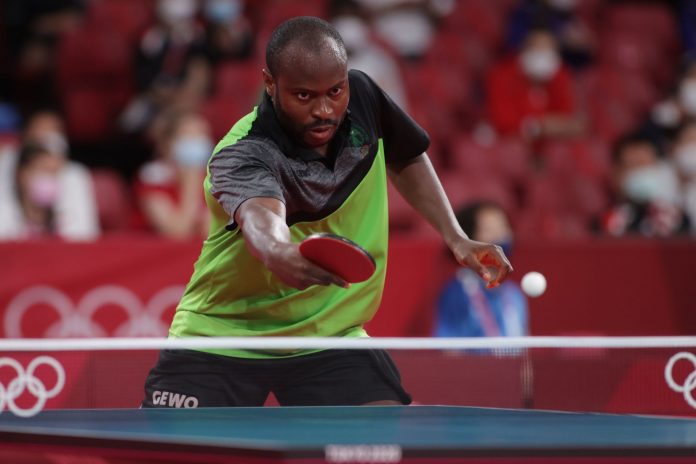 Even Quadri Aruna would not have possibly foreseen this outcome, but a surprising 4-2  (15-13, 9-11, 6-11, 11-7, 7-11, 5-11) defeat to Gustavo Tsuboi of Brazil, handed the seeded Nigerian a rare defeat as he bows out from Tokyo 2020 Olympics.
The 15th seed started strongly, snatching the first game 15-13 in an intense first game battle, but he was immediately pegged back by Tsuboi, who won the 2nd game to tie the scores at 1-1 before consolidating in the 3rd game to take the lead 2-1.
Coming back up from a game deficit was never out of the question for Aruna and when the Team Nigeria captain fought his way back to even the games at 2-2, winning 4 consecutive points and claiming the 4th by 11-7, it felt as though a lead might be on the horizon.
That's more like it!

A rush of points from Aruna had him in the lead at 8-4 but Tsuboi came up with some surprises of his own before Aruna got 3 points down the stretch to close out the 4th game for 11-7.

2-2

— Making of Champions (@MakingOfChamps) July 27, 2021
Unfortunately, it was the Brazilian who would account for the 4th game 11-7, the 5th game also came very swiftly. Down by 5 points and facing a possible early exit from the Olympics, Aruna was only able to muster 2 additional points which wasn't enough as Tsuboi ran away winning the match 4-2.
Although the Brazilian fought hard and showed no fear whatsoever, it was obvious Aruna wasn't playing his best game as he had so many unforced errors that's uncharacteristic of the Nigerian.
Aruna owns the record of being the only African player to ever reach an Olympic Quarter final in the table tennis event, and was the last Nigerian standing in the draws following previous exits of Olufunke Oshonaike, Olajide Omotayo and Edem Offiong.