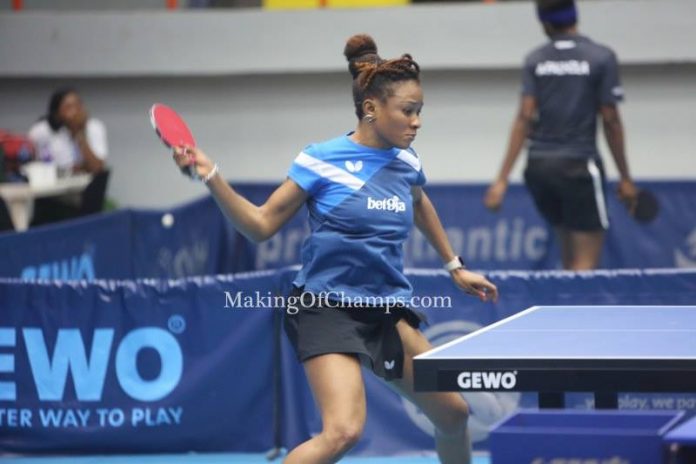 It wasn't the kind of record breaking outing Funke Oshonaike would have wished for at the Tokyo 2020 Olympics, losing 4-1 in her preliminary round match to USA's Juan Liu in the women's Table Tennis Singles.
Oshonaike became the first African woman to qualify for seven Olympic Games, in fact the first woman in Table Tennis to achieve that, going into the history books since she made her Olympics debut at the 1996 Atlanta Games.
While Oshonaike did put up a fight in the first game (11-7), Liu made light work of the second and third games winning them (11-3, 11-4) to go 3-0 up. However Oshonaike wasn't going to roll over like that without a fight, taking the 4th game 13-11, before Liu wrapped up the win with 5th game (11-4).
"I just lost, I'm supposed to be kind of sad, but I'm happy that we can be here at the Olympics. This is the spirit of the Games, you lose or win but we are all Olympians" Oshonaike told the Olympics channel after the match.
Oshonaike's role model status in Africa transcends her sport, and her longevity in Table Tennis inspires many younger players who would want to emulate what she has been able to achieve in more than 20years that she has been around.
Meanwhile in the Rowing event, Nigeria's Esther Toko did not progress to the quarterfinals of the women's Singles Sculls event, having finished 4th in heat 2 of the Repechage clocking a time of 9:07.54.
Toko needed to at least finish in the top 2 of her heat to get a passage to the quarterfinal round, but this would be a valuable experience for the young Nigerian Rower who is competing in her first Olympics, and should return for Paris 2024.
Many thanks to Paga for being the official sponsor of Making of Champions coverage of the Tokyo Olympics.