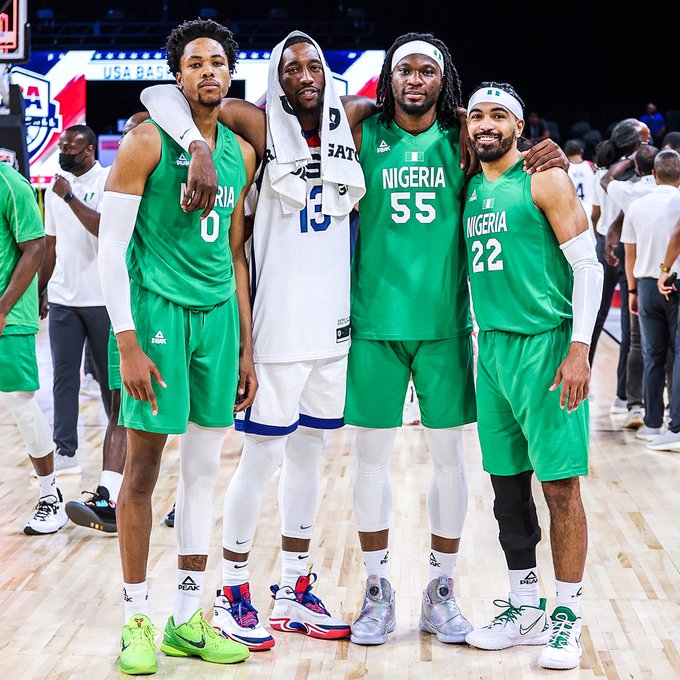 It was billed as an exhibition game, but the closing seconds of the friendly game between the United States and Nigeria's D'Tigers in Las Vegas, was anything but a warm-up match. The grit, the hard work for the ball, made it look like an Olympic final as neither team wanted to leave the Michelob Ultra Arena as the losers.
Nigeria caused a big upset, becoming the first African country to hand USA a rare defeat in a Basketball match, beating their opposition by 90-87 points, in what was a thrilling team effort from coach Mike Brown's side, securing victory over a US team that had NBA stars like: Kevin Durant, Damian Lillard, Bam Adebayo & Jayson Tatum on the court.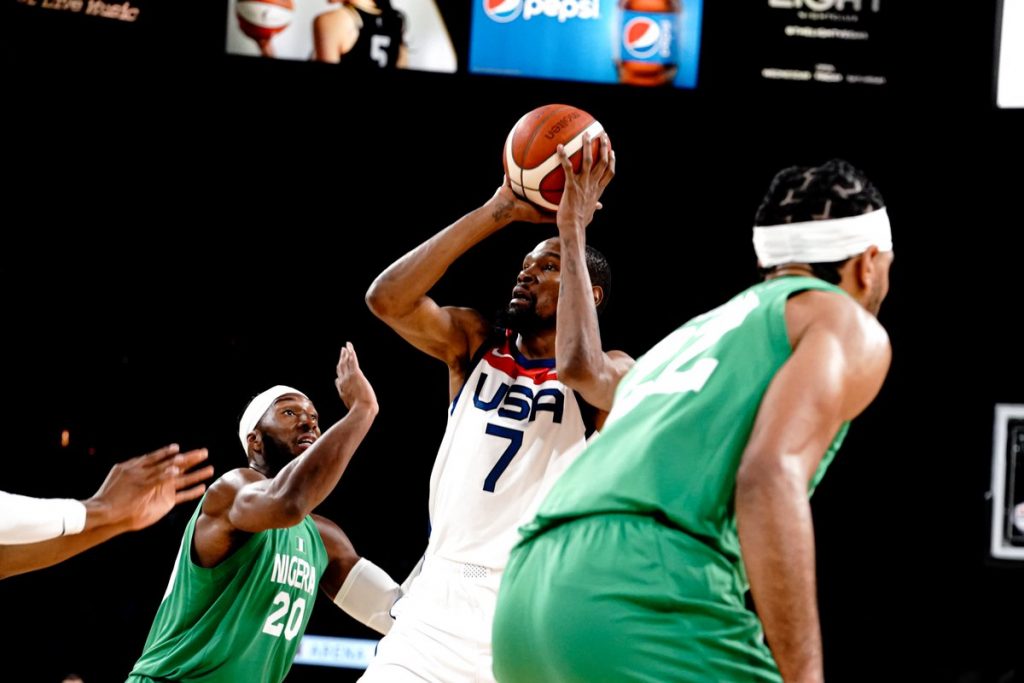 There was a lot at stake for Nigeria, particularly as echoes of the 2012 drubbing that saw USA make history when they won by the highest points ever at the Olympics, winning 156-73 in London still reverberates. Almost all the present D'Tigers players were not on the team then, but it was obvious these current crop had that game on their minds.
From the jump-off, Nigeria showed intent and what worked for Nigeria was its near perfect outside shooting that was finding the bucket. Bam Adebayo slammed in two hammers for the US, but Nigeria went two up after 5mins to lead USA by 13-11.
Although the US gradually eased into the game to finish the 1st quarter leading by a point (23-22), Nigeria tried as much as they could to stay with them, going into the break trailing by just two points.
D'Tigers struggled a bit at the start of the third quarter, but when they found their shooting range, they went on a 9-0 run, and topscored the US by 25-21 in that quarter to go two points up heading into the fourth quarter. The US tried hard to claw their way back, but when Michael Gbinije found the paint with 4s on the shot-clock, in a defensive play by the US, D'Tigers went 8 up their biggest margin in the game.
Nigeria saw out the contest, and made history beating the United States for the first time ever, a real boost and rude awakening to other teams who might not consider them a huge medal prospect heading to Tokyo.
Gabe Nnamdi Vincent might not have seen a lot of action for the Miami Heat in the regular season, but he came clutch for Nigeria on the day, leading with a game-high 21pts and 6rebs. There were very impressive players all round for Nigeria: Ike Nwamu, Caleb Agada all made strong cases why they should be on the roster to Japan.
Overall Nigeria is stacked with talent, and from the evidence of what was witnessed in Vegas, they are not going to Japan to make up the numbers, they will definitely challenge for a medal.