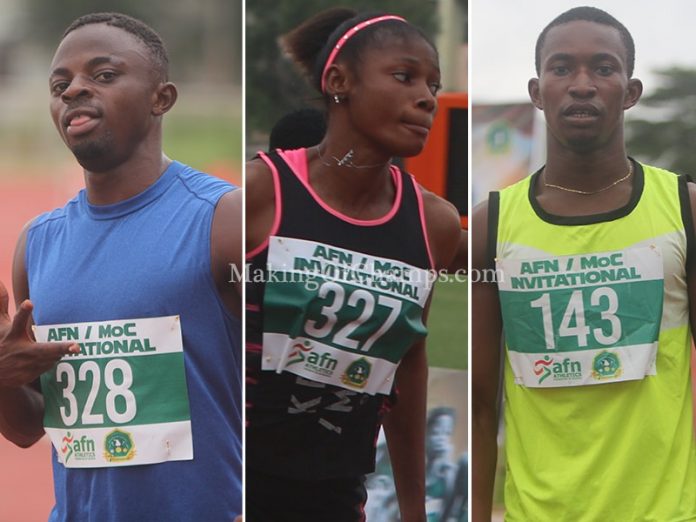 Athletes that showed up at the Yaba College of Technology Sports Complex in Lagos, braved the wet and cold conditions to compete at the inaugural AFN/MoC Invitational, and even if the times weren't as fast as they would have wanted, some of the participants had something to cheer about at the end of the day.
Although not initially listed for the competition, the pair of Alaba Akintola and Tima Godbless were flown down to Lagos from the Athletics Federation of Nigeria (AFN) camp in Abuja on the eve of the event to confirm their status among the fastest athletes in Nigeria currently.
Alaba, who is the reigning 200m National Sports Festival (NSF) Champion, easily won his heat in 10.49s, and then improved on his time, clocking 10.31s after the men's 100m Final A was retaken due to a technical hitch which led to the cancellation of the first race. Adekalu Fakorede posted the fastest time across all heats, winning Heat 1 with a new Personal Best of 10.38s, and then finished 2nd in the final in 10.45s while MoC's Gracious Ushie placed 3rd in 10.56s, having won his heat earlier in the day.
Having stumbled out of the blocks in the heats, Favour Ashe had no problems in the men's 100m Final B, coming through in a clear win of 10.34s. Emmanuel Arowolo just about edged Donald Nwamere (10.76s) to take 2nd place in the race in 10.67s.
In the women's 100m heats, NSF Bronze medallist, Tima Godbless was the woman to beat as she clocked the overall fastest time of 11.58s, before racing to victory in the final in 11.56s, finishing ahead of Praise Ofoku (11.71s), Ese Awusa (11.86s) and Agnes Osazuwa (11.92s).
Fakorede recorded the fastest time across all 200m heats in the men's event, returning a time of 21.38s to cross the line first as Arowolo followed in 21.79s, which was the third fastest time overall. Chidera Nnamani had the overall second fastest time of 21.65s with which he won his heat.
Ese Awusa stormed to a new PB of 24.32s in her fourth race of the day, making her the fastest woman across all 200m heats. Blessing Ovwighoadjebre won Heat 2 in 24.36s, which was the second fastest heat overall, while Funmilayo Adetutu was the winner in Heat 1 with 24.50s, the third fastest time overall!
Chidera Nnamani could hardly contain his joy as his consistency finally paid off, speeding to a new PB, the first sub 47s of his career! His time was the fastest across all the 400m heats, winning Heat 5 in a new Personal Best of 46.97s, and Segun Thovoethin 2nd in 47.28s while Oluwabamidele Olanipekun placed 3rd with a time of 47.69s.
Blessing Oladoye got a good start and held on to win Heat 1 in the women's 400m in a time of 54.62s, with her teammate Mercy Umoibang finishing 2nd in 56.40s, while Faith Dennis came in 3rd clocking a time of 56.94s. Ada Bright made a strong finish to win Heat 2 in  55.64s. Ella Onojuvwevwo was 2nd in 56.40s and Charity Agofure 3rd in 56.92s.
Oghenero Ezekiel Nathaniel emerged winner of the men's 800m where he ran a time of 1:57.56 to finish ahead of Goke Ogunseye in 1:58.35. Mary Osagie dominated the women's 800m final with a time of 2:15.12, with Agofure (2:15.58) and Esther Affigbo (2:20.63) following.
Meanwhile in the men's 110m Hurdles, Abejoye Oyeniyi continued his winning streak over his main rivals, rising the fastest over the barriers to win the race in a time of 13.97s to claim the win. Wisdom Musa finished 2nd in 14.29s, and Martins Ogieriakhi settled for 3rd place in 14.38s.
MoC's Miracle Thompson ran her second sub 14s ever in the women's 100m Hurdles, cleanly taking the barriers to emerge a clear winner in a time of 13.88s. Awusa finished 2nd in 14.30s, and Adaeze Nwokike came in 3rd clocking 14.40s.
Henry Okorie lived up to the favourite tag, posting the fastest time in the two finals of the men's 400m Hurdles, winning final A in a time of 52.02s. Ezekiel Nathaniel won final B in 53.23s to post the 2nd fastest time overall, while Gbenga Bakre was 3rd overall in 53.57s.
In the women's event, Abasiono Akpan who was one of the athletes flown from Abuja to Lagos, won the A Final with a time of 58.81s, with Comfort Ekanem (61.18s) and Adaeze Nwokike (62.55s) following as Temitope Adenuga was the woman to beat in the B Final where she clocked 63.32s.