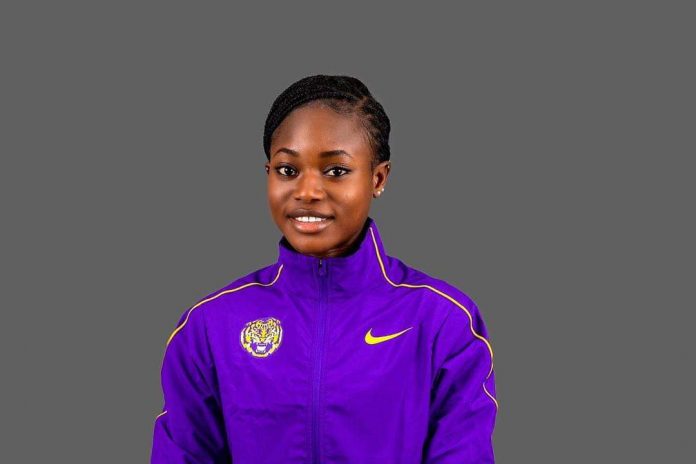 In just her second individual race of the season, Favour Ofili who seems to have settled down on the 200m, roared to a blazing 22.30s in the women's 200m at the Boots Garland Invitational, just denied a Personal Best (PB) with a marginally excessive wind of 2.6m/s. It is the fastest time all-conditions by a Nigerian and in the NCAA in 2021!
She was the only woman under 23 seconds as her teammate Symone Mason followed in 23.00s, while Cecilia Tamayo-Garza got 3rd in 23.16s and this came after she helped the LSU women's 4x100m team to the win at the same meet, running the 2nd leg.
MTSU freshman Amarachukwu Obi kept up her very impressive trajectory on the NCAA scene as she clocked an impressive PB of 23.02s to finish 2nd in the women's 200m (0.4) at the War Eagle Invitational, the 4th fastest time by a Nigerian this season over the distance.
She also won her heat and finished 2nd overall in the women's 400m in 54.38s while Glory Nyenke placed 3rd in her heat in 55.22s.
Esther Isa was also in very brilliant form in the women's High Jump at the War Eagle Invitational where she soared over 1.85m at the first time of asking to win the event, very well ahead of 2nd and 3rd-placed Asia Poe and Caroline Lawrence who both managed 1.76m.
Her teammate Erhire Best, went in the men's High Jump, clearing a best of 2.15m to finish 5th.
Onto the pro circuit, Blessing Okagbare competed in the women's 200m at the Tom Jones Memorial in Florida, her 2nd race and her first time over that distance this season where she finished 3rd in a Season's Best (SB) of 22.66s (+1.0m/s). Sha'Carri Richardson was the fastest in 22.11s, followed by Lynna Irby in 22.57s.
Divine Oduduru opened up his season at the same meet, clocking a time of 20.46s (0.9) to finish 4th in his heat of the men's 200m, won by Fred Kerley in 20.24s. Jereem Richards finished 2nd in 20.30s while Aaron Brown placed 3rd in 20.43s.