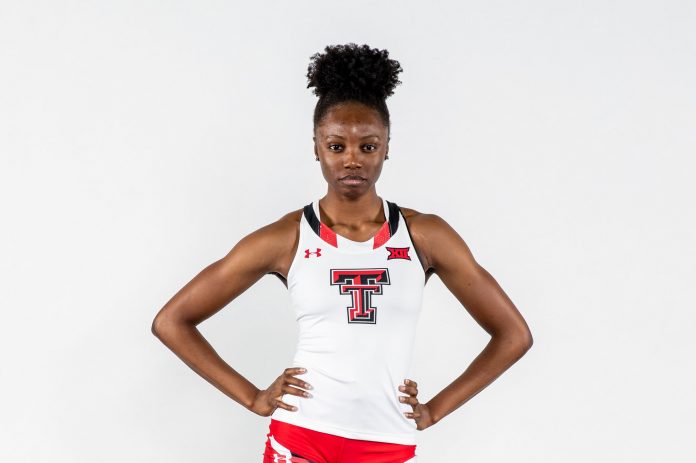 In an eventful weekend for Track & Field both on the home front and in the NCAA, Ruth Usoro's performance was notably the highlight by Nigerian athletes in the diaspora. The Texas Tech junior went out to a monstrous leap of 14.50m (2.0), breaking the Nigerian National Record (NR) in the women's Triple Jump at the Masked Rider Open in Lubbock, Texas!
She needed just 4 jumps to prove herself in the event in which she excelled indoors, having jumped an indoor NR of 14.32m and won the NCAA Indoor title.
Usoro's jump ranks number 1 in the NCAA this season, 2nd in the world this year, 2nd all-time in the NCAA and also takes her up to 5th on the African all-time toplist. She finished ahead of Tamara Myers who jumped 13.92m and Onaara Obamuwagan at 13.26m.
Meanwhile, her record-breaking performance came after she won the women's Long Jump with a leap of 6.61m (-0.9m/s), finishing ahead of her teammate Monae'Nichols who jumped 6.34m (0.4) while Joniar Thomas got 3rd with 6.16m (2.7).
At the Crimson Tide Invitational in Alabama, Mercy Abire soared to a new Personal Best (PB) of 6.42m (+1.7) to win the women's Long Jump. She was well in a league of her own as she took only one attempt and passed the rest while finishing ahead of Bria Matthews (6.36m) and Patricia Johnson (6.19m), both wind-aided marks.
Isaac Odugbesan competed in the men's Shot Put at the Crimson Tide Invitational in Alabama, throwing a mark of 19.12m for 2nd place. The event was won by Tyler Blalock with 19.79m while Rickssen Opont picked up 3rd at 18.50m.
Competing at the Tennessee Relays, Esther Isa won the women's High Jump with a 1.79m clearance and returned after for another win in the Triple Jump, going out to a Personal Best (PB) of 13.11m for the win.
Erhire Best competed in the men's Triple Jump where he leapt a PB of 15.35m to take 4th overall ahead of his teammate, Benjamin Onyekwelu at 14.30m, also a PB for the latter.
Amarachukwu Obi also got her first wind-legal mark down this season in the women's 200m (0.8) where she finished 2nd, running a Personal Best (PB) of 23.45s behind winner Caisja Chandler in 23.25s as Jada Chambers finished 3rd in 23.83s.
In other sprints action, Rosemary Chukwuma competed at the Masked Rider Open, running marginally wind-aided times of 11.38s (2.3) and 23.49s (2.1) in the 100m and 200m respectively, finishing behind pro athlete Jodie Williams on both occasions.