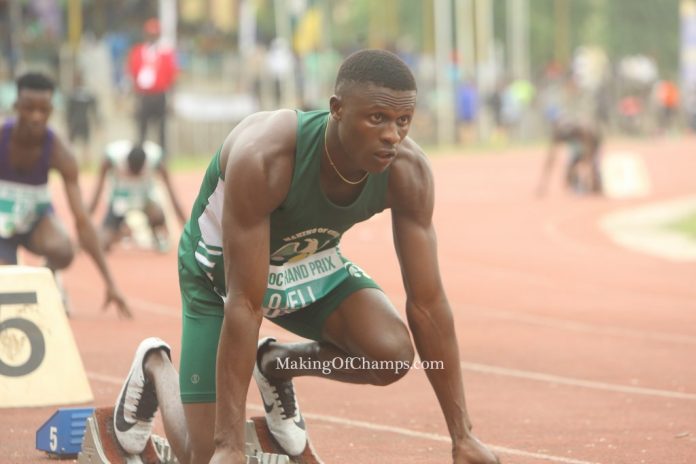 When Emmanuel Ojeli got off the bed on the second day of the BetKing 3rd MoC Grand Prix, he performed his regular rituals: pray, listen to some songs from his favourite gospel group, Hillsong United, but he uncharacteristically added one song to the playlist for that day, this time, Eminem's 2010 Grammy award-winning song, 'Not Afraid'.
Having run 47.28s on Tuesday to win his heat, it was not the first time Ojeli would be running a 47s in the first round, and somehow look less of a favourite going into the next round. But this is a terrain he is familiar with, always coming back in the next round to make those heats look like a training practice for him.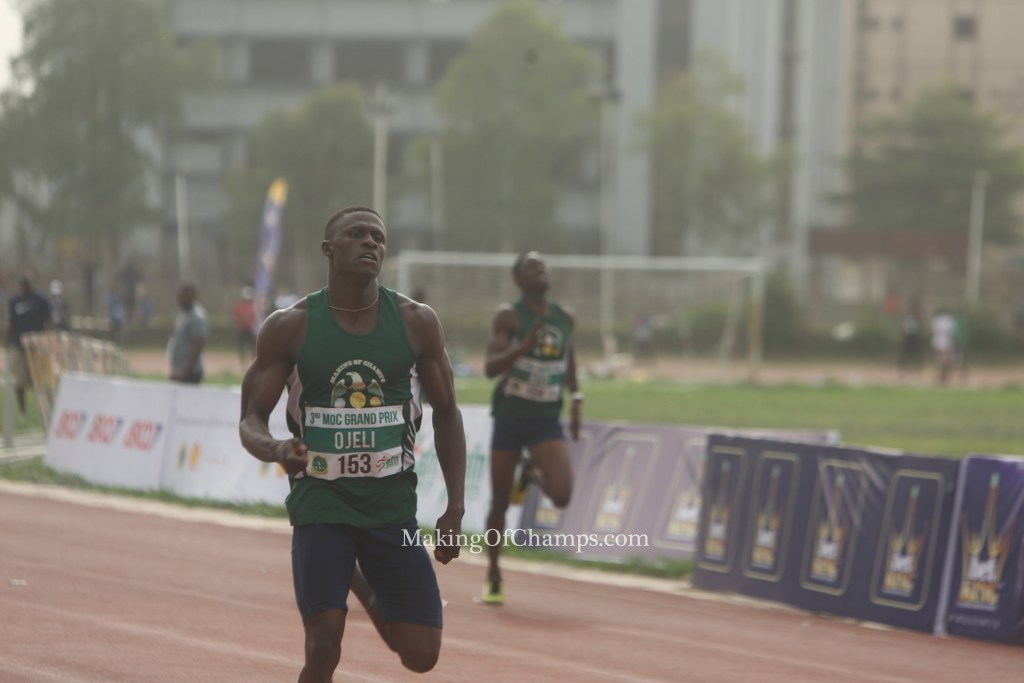 Never known to be feeble or duck a challenge, Ojeli somehow was not his usual intrepid effusing self, but he needed to lift himself up and not look like he was cracking under pressure even though it was bursting at its seams from inside. Retaining his MoC Grand Prix title was as important to him as running a very fast time, and his aim was to find a balance for both.
So when he came out for the 400m final A on Wednesday evening, he desperately wanted to improve on his Season's Best of 46.04s which he ran last month in Akure. However, seeing half of the field not starting left him dejected even before the gun had gone off.
Starting in lane 5 with no athlete in lane 6 to wage his stagger, and vacant lanes in 4 & 3 respectively who could have been hot on his heels, it was almost a solo race immediately he caught up with his former teammate, Daniel Atinaya in lane 7. Ojeli then made a push for the finish, crossing in 46.08s.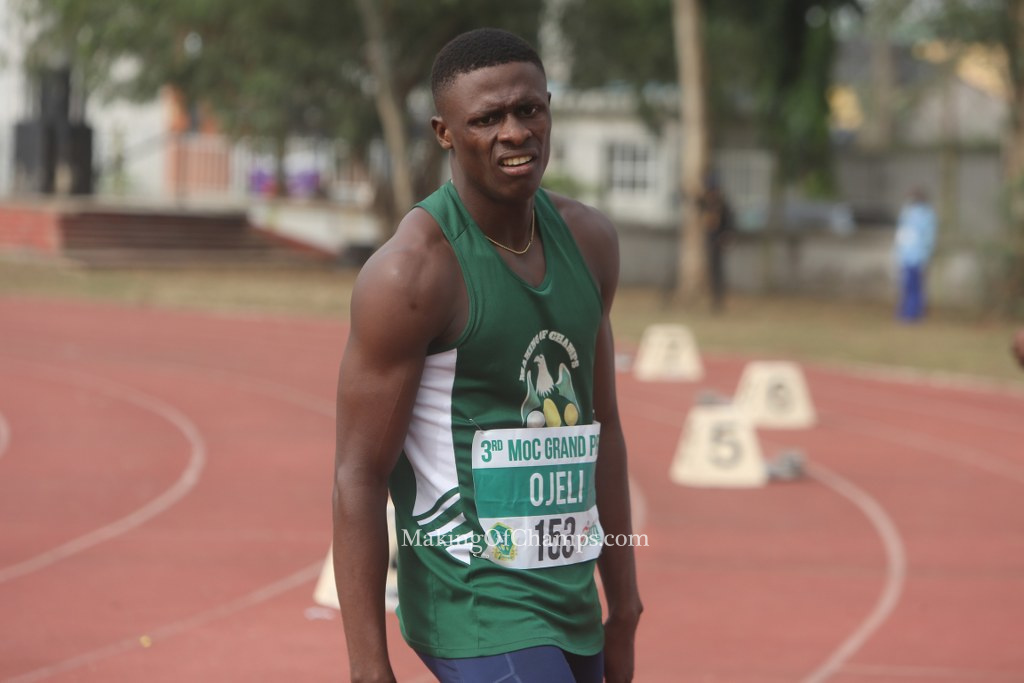 Ojeli in 2018 had finished 2nd in heat 4 of men's 400m and clocked 47.79s before running a then PB of 47.47s to win the final. By 2019, his progression was so rapid that he came to the Grand Prix with a PB of 45.91s, going on to set a Meet Record (MR ) of 46.25s. With his winning time of 46.08s, he has improved the MR from two year ago, en route retaining his title.
There's no doubt he would have run much faster if the field was complete. His demeanour after the race summed it up: the time may not have been what he aimed for, but he had beaten another rival, which enhanced and reinforced his position as the top quarter-miler in Nigeria.
Ojeli's teammate, Ayo Adeola, who was also in that race on Wednesday, strained hard ahead of Bamidele Ajayi to finish 3rd in 47.82s. Adeola has transitioned from running close to 54s in the 400m before joining the MoC Track Club in 2018, to now becoming a consistent 47s athlete.
Their teammate, John Clifford is one very much improved athlete in 2021. This season, he has been to three major competitions and has left all with new PBs. 48.48s in January, 47.41s in March and the newest PB. 47.14s to win the final B of men's 400m at the BetKing/3rd MoC Grand Prix.
For the other two PBs, this was the one he worked the hardest to achieve. Abdurahman Afeez had set the tempo, dragging everyone as he entered into the home straight, but Clifford knew the time was right to act. However, Sewakan Thovoethin acted even much quicker, and that was the tipping point Clifford needed to pedal even faster and get to the line first.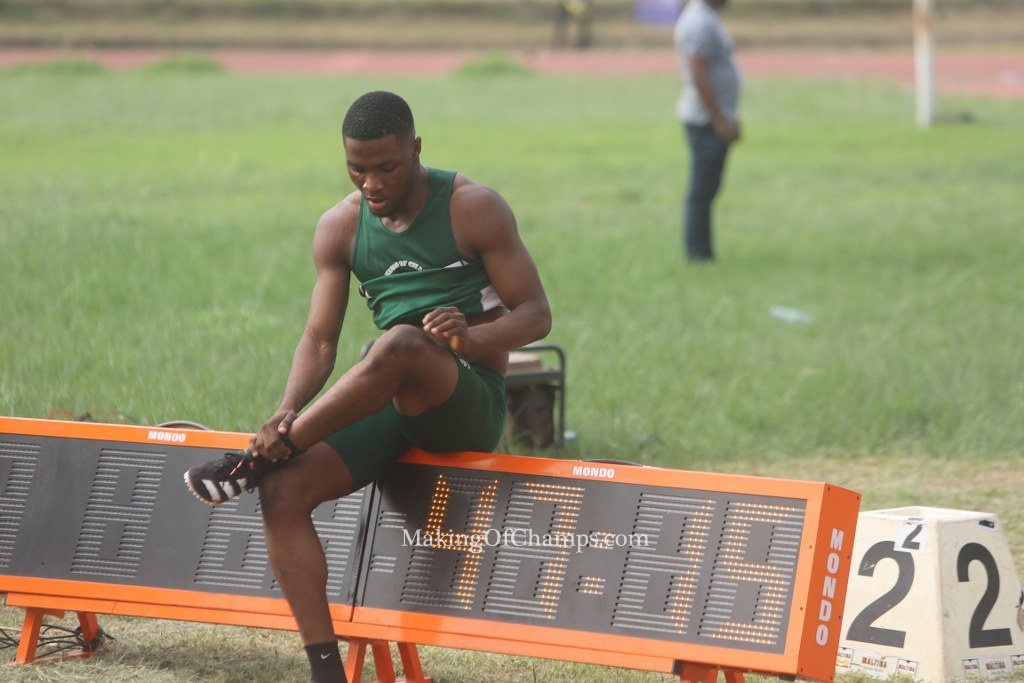 His reward? Seeing a new PB spiked an animated Clifford to cross his legs in candour as he sat on the Mondo timer.
Meanwhile, Segun Akhigbe who finished 5th in that race in 48.04s, joined his MoC teammate, Clifford to account for a new PB. Akhigbe is close to a sub 48s in the 400m, and would be inspired to see how close he is to it.
Overall, it was a good outing for MoC quarter-milers who will now shift attention to the National Sports Festival in Benin. If the reputation of past NSF competitions (rousing good performances) is to be relied on, we could be in for a treat in a few days.