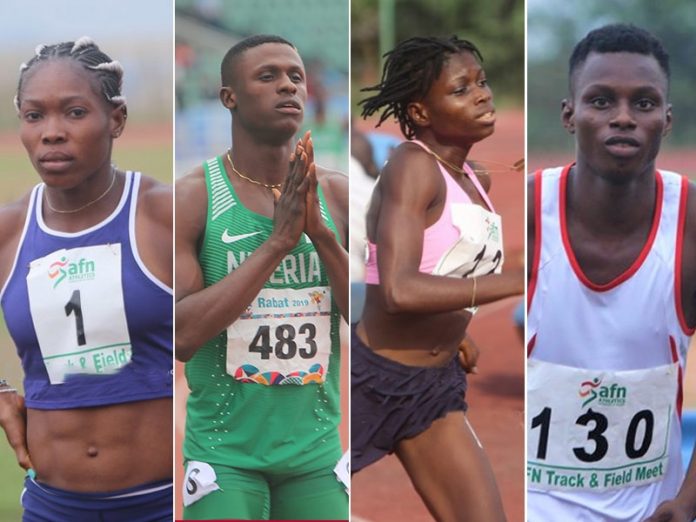 Grace Nwokocha opened her 2021 season with a bang as she emerged the standout performer at the 2nd Athletics Federation of Nigeria (AFN) All Comers held at the Federal University of Technology Akure (FUTA) Sports Complex on March 12 and 13, 2021.
There was no stopping the 2019 National Silver Medallist as she stormed to a Personal Best (PB) of 11.31s on Day 1 while snatching the win in her heat, then lowering her time to 11.23s to win the final on Day 2 ahead of MoC's Joy Udo-Gabriel (11.64s) and Praise Idamadudu (11.67s). At this rate, it's only a matter a of time before Nwokocha hits the required mark of 11.15s to qualify for this year's Tokyo Olympics!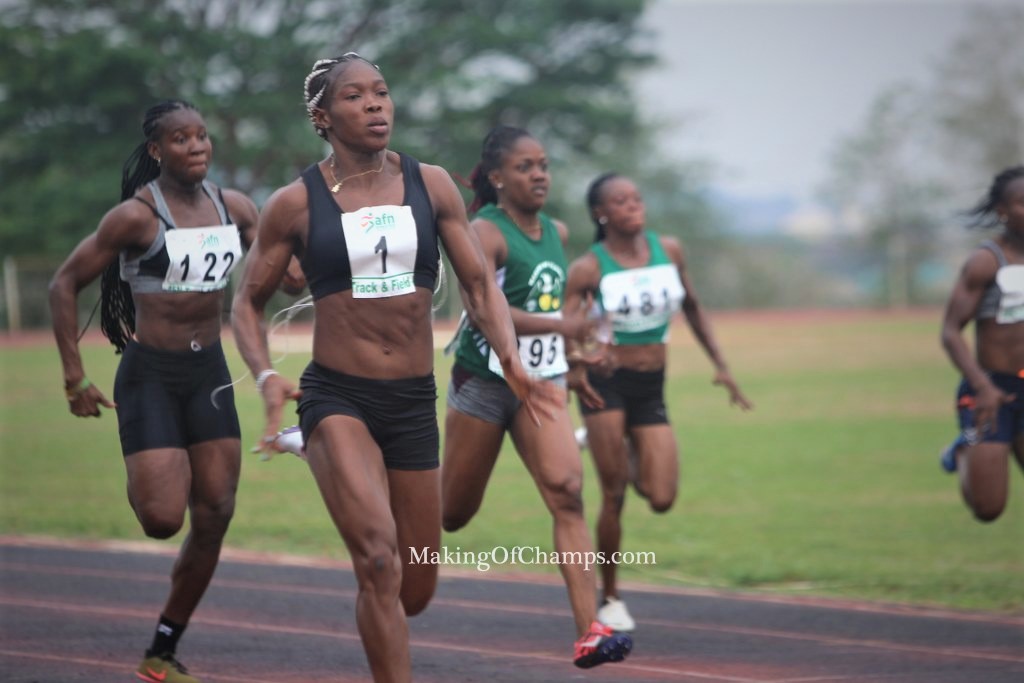 She went on to dominate the 200m standings as she smashed her second PB of the day, winning her race with an impressive time of 23.17s, shaving off almost 1s from her previous PB of 24.12s. Indeed she is not too far off from the Olympic Standard of 22.80s in the event! She was followed by Idamadudu (23.87s), Imaobong Nse Uko (23.89s), Praise Ofoku (24.39s) and Moyosore Badejo (24.51s) on the standings.
Enoch Adegoke maintained an unbeaten run in the men's 100m, winning his heat with a time of 10.46s and improving on his time in the semis, taking the win with the overall fastest time of 10.34s.
In the final, he took off with his trademark bullet start as Nicholas Fakorede tried to stay with him. Nevertheless, the former peeled away to win the men's final with a time of 10.36s (-1.4). Fakorede finished 2nd in 10.51s and MoC's duo of Jerry Jakpa and Favour Ashe placed 3rd and 4th respectively with identical times of 10.57s.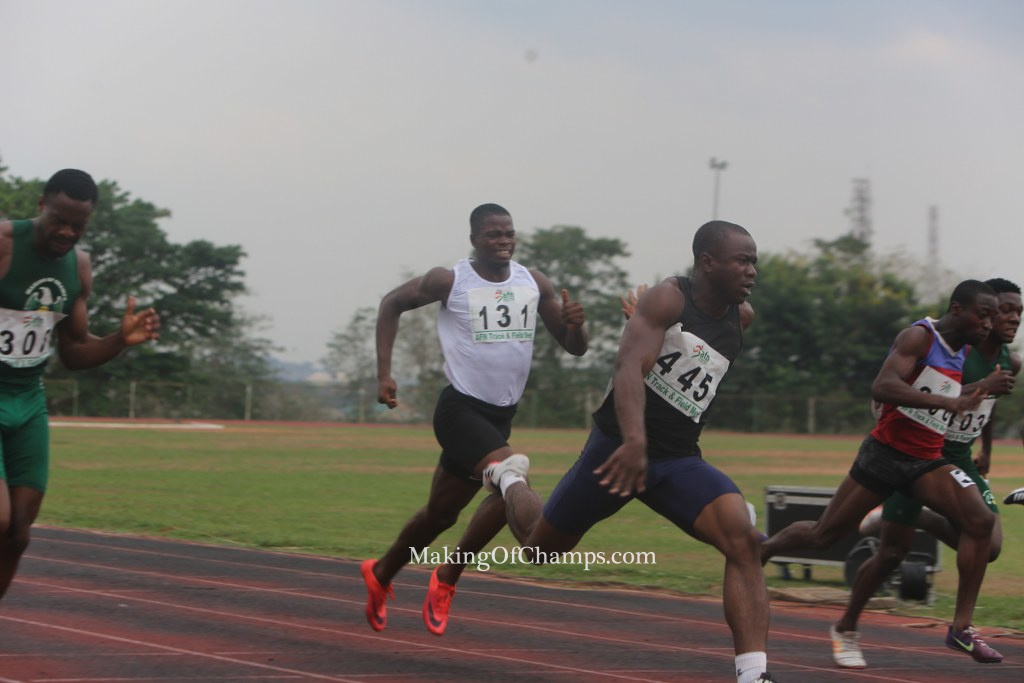 In the men's 200m, CFAS' Ayomide Oyetunji clocked the overall fastest time across all heats, storming to a PB of 21.21s which was more than one second faster than his previous lifetime best set during the National Championships in Kaduna in 2019! He had also set a PB of 10.48s in the 100m heats, erasing his former time of 10.68s set at the same National Championships.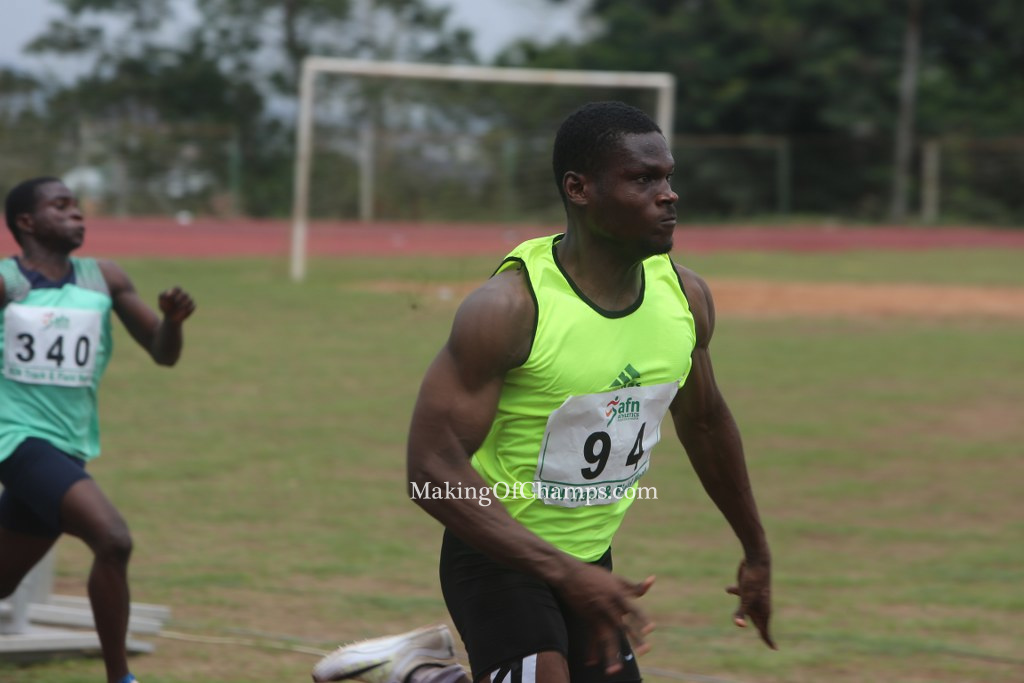 MoC's duo of Emmanuel Ojeli and Jakpa followed with times of 21.25s and 21.29s respectively in the 200m, while Alaba Akintola raced to a time of 21.41s as Adekalu completed the Top 5 rankings with his time of 21.55s.
Sensational quartermiler runner Imaobong Uko came close to running the first sub-52 race of her career as she bolted away from the chasing pack to win Final A of women's 400m, crossing the line in a new PB of 52.08s, having already set a new Season's Best (SB) of 52.70s the previous day while competing in the heats, to qualify for the World U20 Championships, with the entry standard pegged at 54.85s.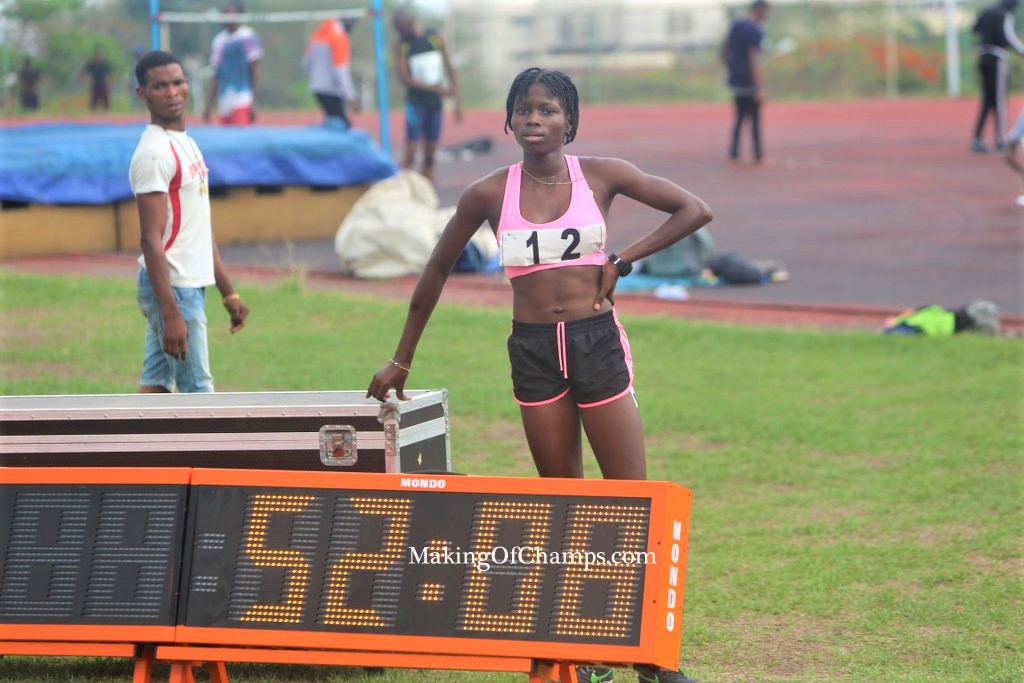 She was followed by Ondo's Opeyemi Oke (53.59s) who chalked off more than 2s from her previous PB, and Glory Patrick (53.69s) who narrowly missed equalling her PB of 53.61s set the day before. Winner of the women's 400m Hurdles Abasiono Akpan settled for 4th with a new PB of 53.71s.
Also securing qualification for the World U20 Championships is MoC's Mercy Umoibang who ran the race of her life to win the women's 400m Final B with a new PB of 54.66s, having gone under 56s for the first time a day before with her time of 55.85s. Teammate Blessing Oladoye was 2nd with 55.06s and Josephine Oloye 3rd with 55.26s.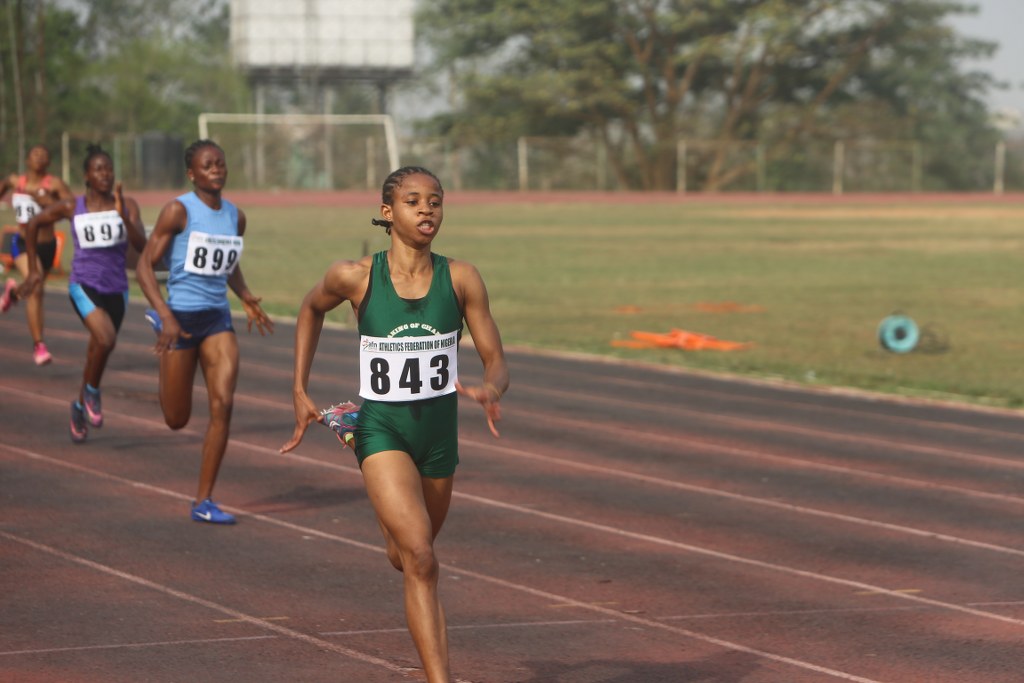 After narrowly qualifying for the 400m final on Day 1 of the competition with a time of 47.57s, Emmanuel Ojeli had a point to prove in the final. Starting from Lane 2 and having to chase Sikiru Adeyemi who was in Lane 4, MoC's Emmanuel Ojeli closed in on the former, then moved clear to win men's 400m Final A with an SB of 46.04s. Adeyemi who ran under 46s for the first time in his career the previous day, setting a new PB of 45.93s, was 2nd with 46.16s as Chidera Johnson settled for 3rd in 47.41s.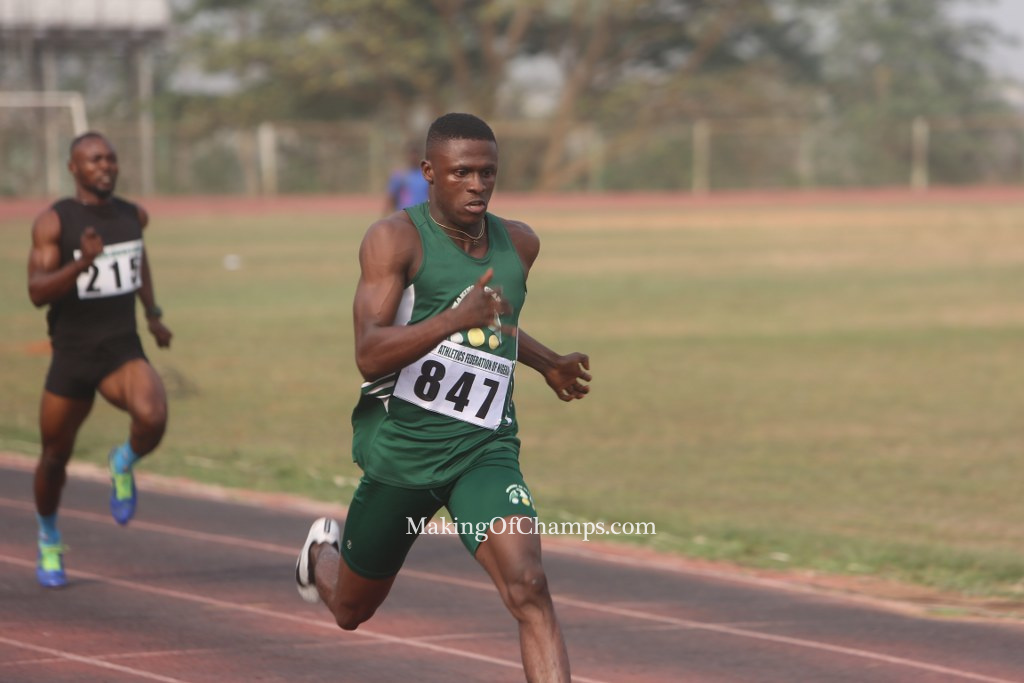 Sewekan Thovoethin (47.85s), Destiny Majemite (48.40s) and Gerald Odeka (48.50s) were the Top 3 finishers in the men's 400m B Final.
Nathaniel Ezekiel of the Nigerian Police upstaged Hamid Sambo to win the men's 800m in a time of 1:53.17, with the latter finishing 2nd in 1:53.52 as Ogunseye Adegoke placed 3rd with 1:54.27.
Ramot Abike Jimoh was the woman to beat in the 1500m where she returned a time of 4:49.46 to cross the line before FRSC's Chinonso Nwokeoji who clocked 5:03.93, while Favour Sehinde placed 3rd in a time of 5:21.61.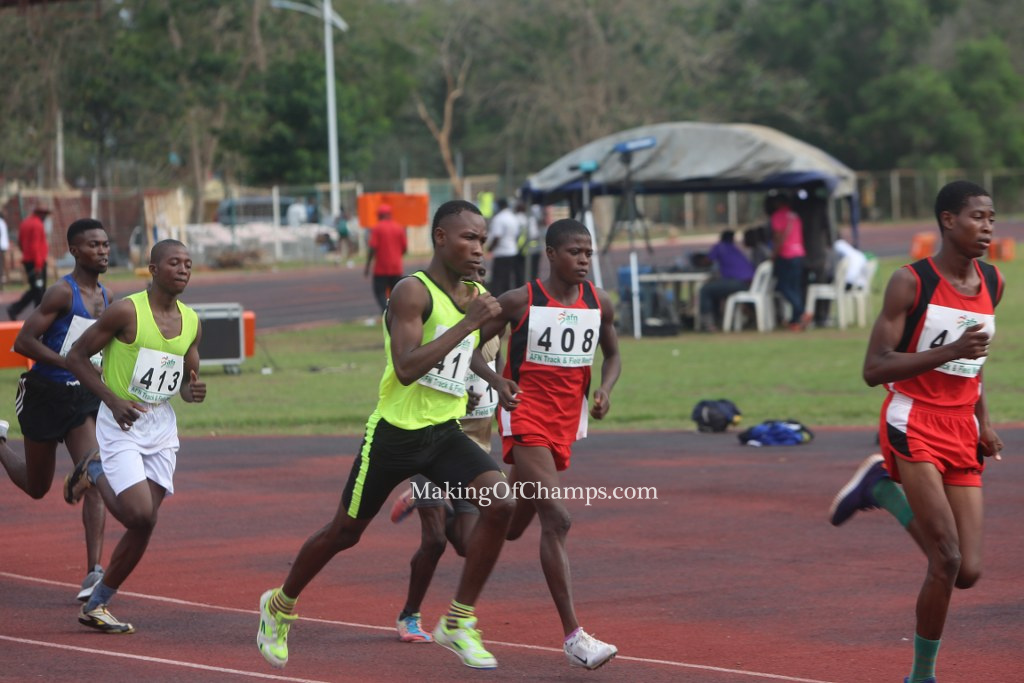 Sunday Oyebode was in a league of his own in the men's 10,000m, which he won by more than a minute over his closest challenger, Gbenga Fatoyinbo, with a time of 33:14.18. Fatoyinbo finished 2nd in 34:28.33 and Sunday Oladele 3rd in 34:28.48.
Jumps
After not having the High Jump event listed in the schedule at the last All Comers, David Aya finally had an opportunity to compete on Saturday, and he almost made a statement. Aya jumped 2.05m, and on his last attempt at 2.10m, he cleared the height, only for the excessive wind to bring down the bar while he was still on the landing foam, thus denying him the opportunity of equalling his PB of 2.10m set in Asaba last year. Joel Iheakolam and Cyprian Oyedele placed 2nd and 3rd respectively with 1.95m.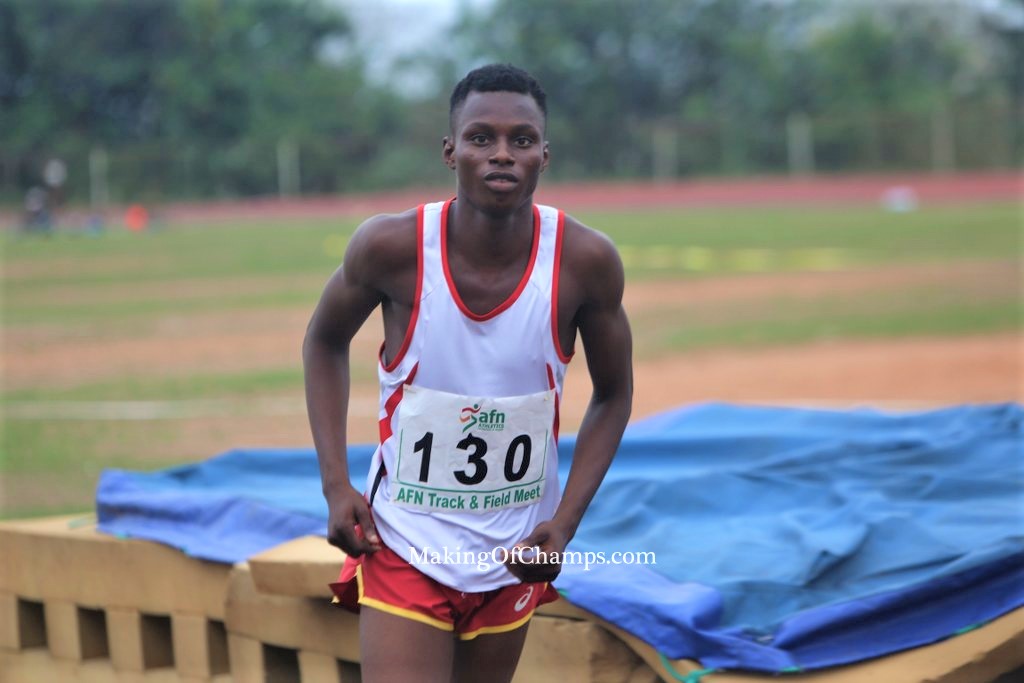 Ruth Agadama massively improved from her last Long Jump PB of 5.67m which she jumped in January, adding more than 50cm to reach a new lifetime best of 6.18m (+1.2) to win the event in Akure. Hope Idhe jumped 6.03m to finish 2nd and Alero Samson 3rd with 5.91m.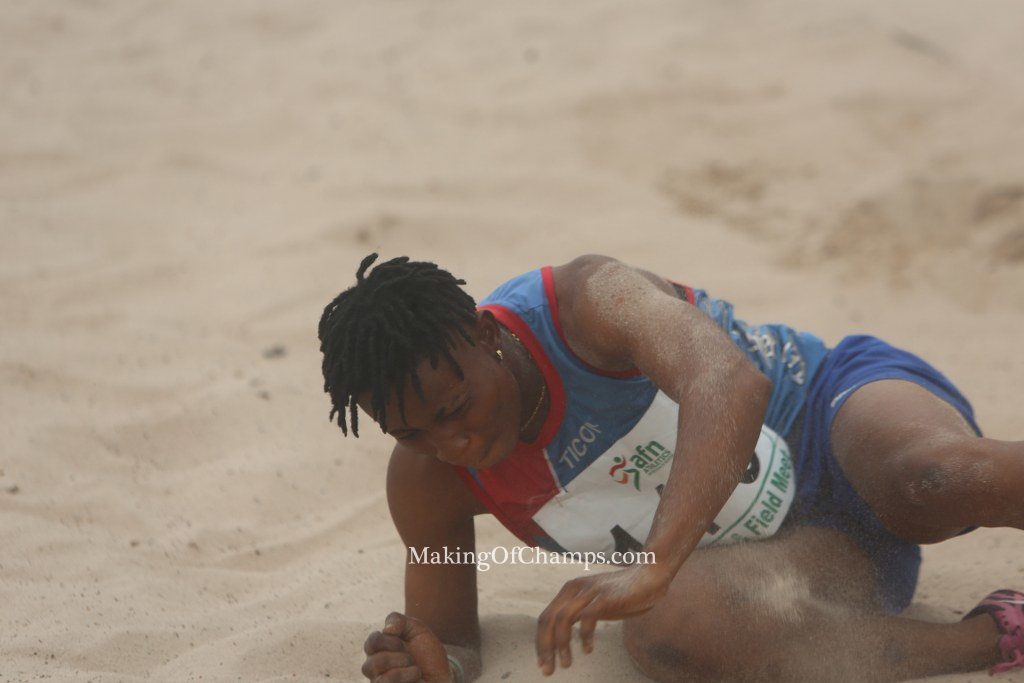 Zola Nzube only found out that there wouldn't be any Triple Jump event while already en route FUTA. Nzube had to settle for the Long Jump, which he won, leaping a distance of 7.43m (+0.6). Bode Akintokun finished 2nd with a mark of 7.40m and Destiny Udumebraye placed 3rd jumping 7.31m.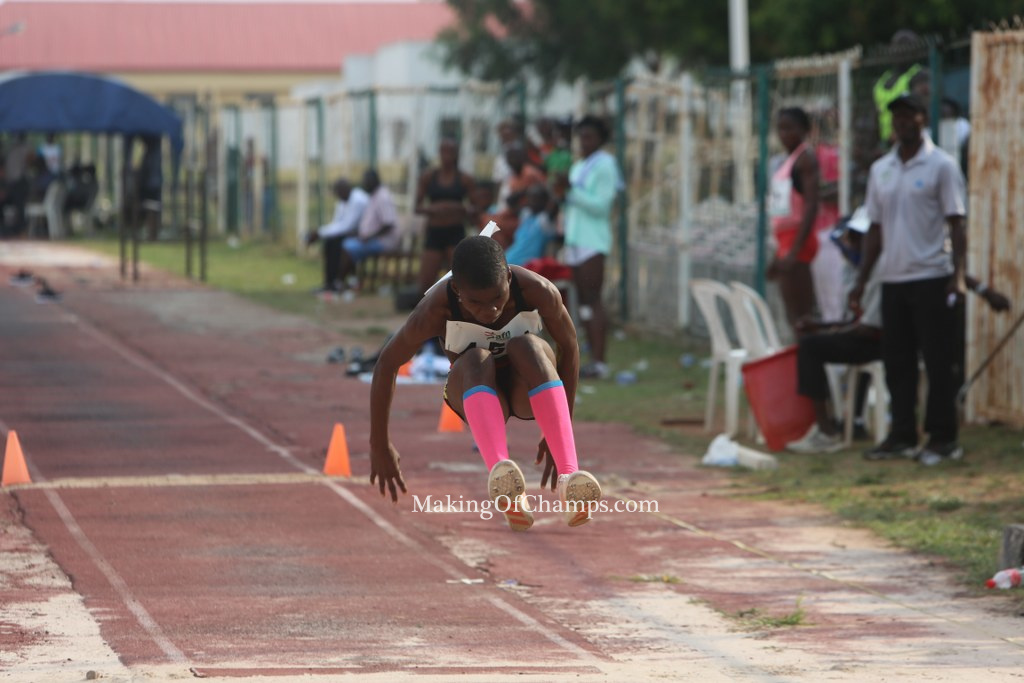 Mercy Honesty may have won the women's Triple Jump, leaping an SB of 12.76m to beat Blessing Ibukun who finished 2nd with 12.73m. However, the best moments of this event came whenever Fejiro Jona took a jump. Cheers from fans spurred her to jump a PB of 12.51m to finish 3rd.
Throws
Austin Nwoye clinched the double in men's Discus and Shot put events, opting to just make up the number in the latter and surprisingly winning it. Nwoye won the Discus throwing a mark of 51.54m, beating Vincent Ugwoke who threw 50.58m to finish 2nd and Adebayo Faforiji Adebayo 3rd with 43.82m.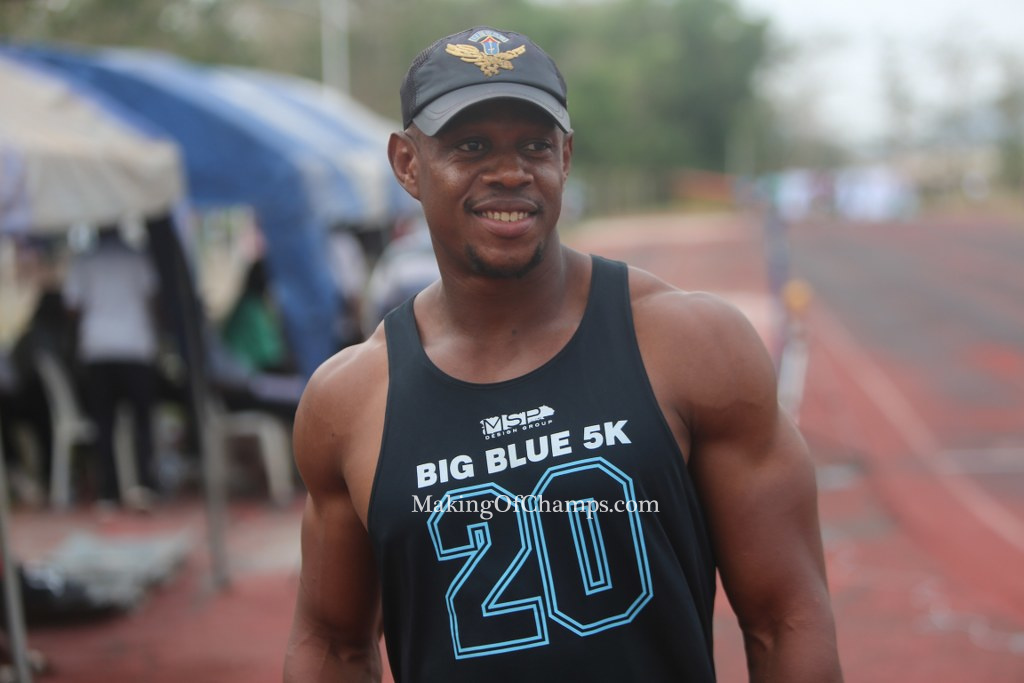 National Champion Adams Kure was the man to beat in the Javelin where his throw landed at 72.17m to give him the victory. Kingsley Igbinosun (57.57m) and Lawrence Onyejiaka (57.28m) settled for 2nd and 3rd.