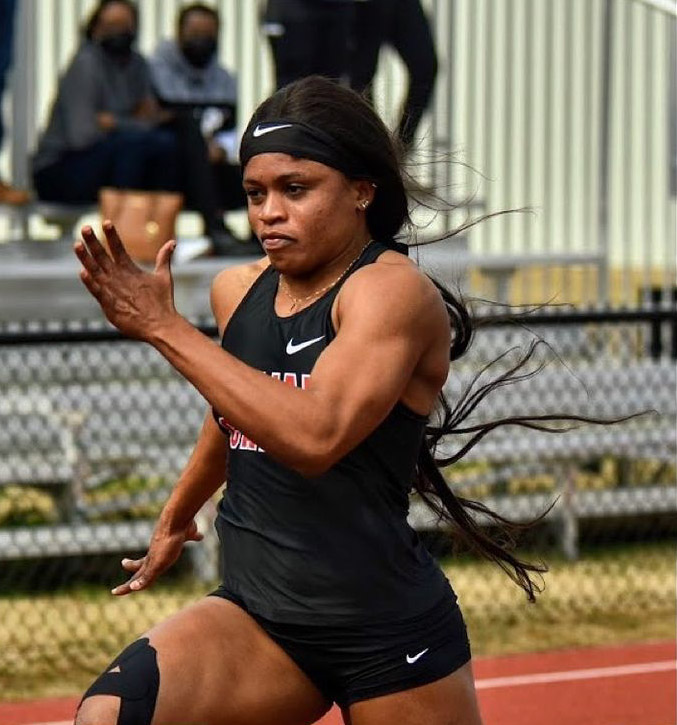 Nigerian athletes, Aniekeme Etim, Rosemary Chukwuma and Onaara Obamuwagun were in brilliant shape over the weekend at their respective divisional Championships on the collegiate scene, two of them winning double titles in the sprints and a title in the Jumps.
Aniekeme Etim clocked a Season's Best (SB) time of 7.35s to win the women's 60m at the NAIA Indoor Championships, defeating Raheema Westfall who ran 7.50s to finish 2nd, while Brittany Jones placed 3rd in 7.52s.
Meanwhile, Etim on the same day returned back to track to win the 200m title in an SB of 24.13s, ensuring that she defended both of the titles she won in 2020 whilst finishing again ahead of Westfall who clocked 24.30s, as Derica Gibson finished 3rd in 24.85s.
Joy Abu with a time of 56.47s, placed 3rd in the women's 400m final won by Rachel Battershell in 56.03s, followed by Emma Bakker in 56.30s.
Another athlete to complete the 60/200m double was Rosemary Chukwuma at the NJCAA Indoor Championships, leading a trio of Nigerian women on both occasions.
She ran an SB of 7.34s for the win over 60m, just 0.01s outside her PB and ahead of Mercy Ntia-Obong (Cloud County CC) who clocked 7.44s, just edging out Linesha Thompson in 7.45s.
Over 200m, Chukwuma ran an indoor Personal Best (PB) time of 23.78s ahead of Linesha Thompson who returned 23.80s, while Hannah Connell placed 3rd with 24.11s. Mercy Ntia-Obong finished 4th in 24.21s, while Success Umukoro was 7th in 24.59s.
Onaara Obamuwagun sailed to an indoor PB of 6.04m for 2nd place in the women's Long Jump, 8cm short of the GOLD winning mark of 6.12m by Nia Robinson.
She however rose to her status as favourite for the Triple Jump title, going out to a best mark of 13.13m for a thorough win over Annia Ashley in 2nd with 12.39m, as Nia Robinson secured 3rd at 12.26m.
Making her collegiate debut on Saturday, Princess Kara at the Mesa Outdoor Invitational #1 in Arizona sent her implement flying out to a new Personal Best (PB) of 51.35m to dominate the women's Discus Throw. She was totally in a league of her own as 2nd-placed Akira Jones managed 39.27m, while Julianna Perez got 38.19m.
Meanwhile, she hurled a Season's Best (SB) of 12.79m to also take the women's Shot Put, securing NJCAA qualifier marks in both events and missing her PB by 1cm and as well ahead of Julianna Perez (11.83m) and Akira Jones (11.45m).