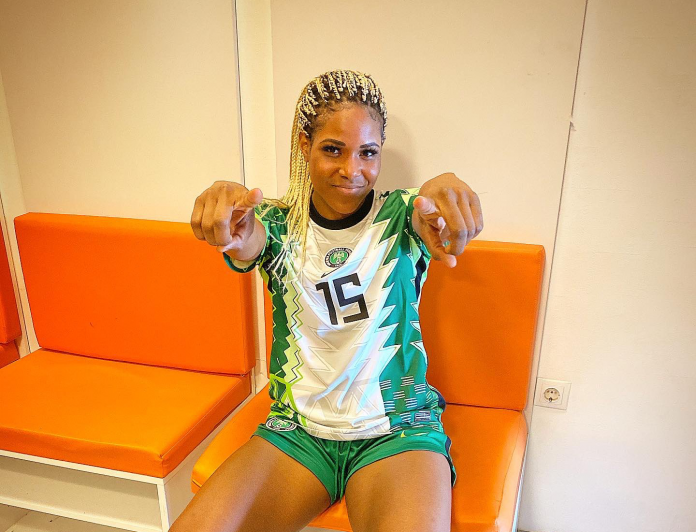 One of the major assignments carried out by the new coach of the Super Falcons of Nigeria, Randy Waldrum, was the assembling of a team for the 2021 Turkish Women's Cup, and he extended invitations to three new players, one of whom is Patricia George, who is now on a journey of fulfilling her dream of upholding her family tradition as far as competing at top level is concerned.
For George, following in the steps of her father, Phillips, mother Florencia Chilberry, and older siblings Patrick, Regina and Phyllis, is an honour she's not taking for granted. Her talent apparently comes from her parents Phillips (Nigerian) and Florencia (Venezuelan) who met at Wichita State University in the US where they both secured Athletic scholarships, and were standout 400m runners. In fact Chilberry is a former National Record holder in the women's 400m for Venezuela with a Personal Best of 53.1s.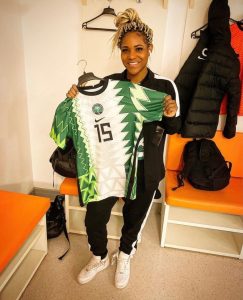 Her older brother Patrick played Football at Gordon Tech and Northern Illinois University , while also starring in track where he ran a time of 10.40s in the 100m. Her sister Phyllis also did some track and played soccer at Arkansas.
The oldest of the George girls, Regina, took things a notch higher and went on to win several laurels for Nigeria including a Silver medal in the 400m at the 2012 African Champs, Bronze in the 4x400m at the 2014 World Relays, GOLD in the 4x400m at the 2014 African Champs, Silver in the 4x400m at the 2014 Commonwealth Games.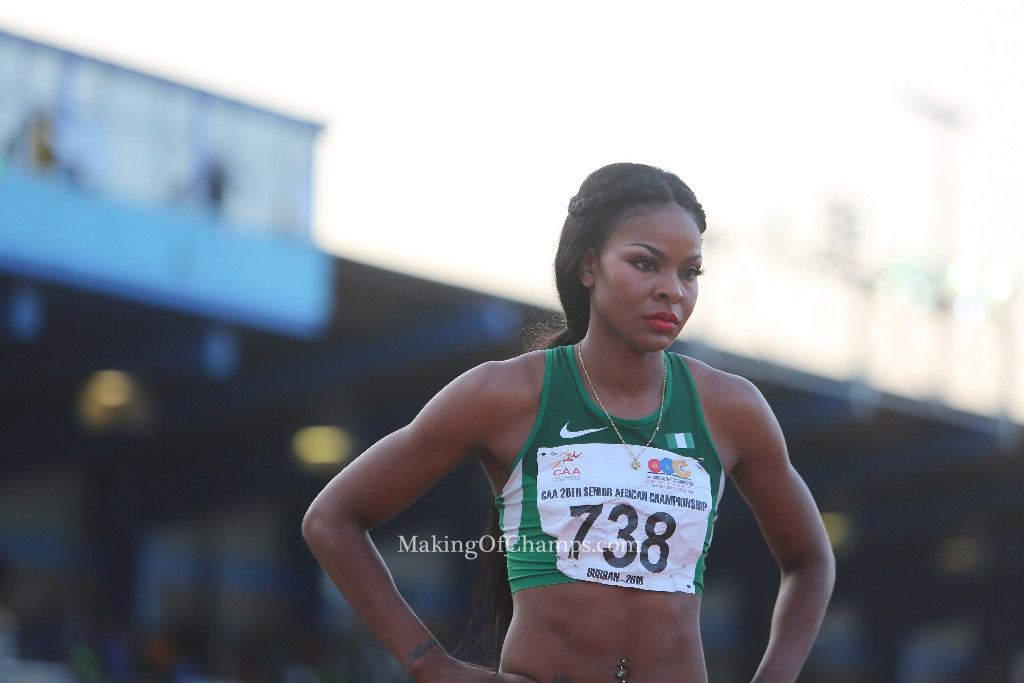 She also won GOLD in the 4x200m at the 2015 World Relays, Silver in the relays at the 2016 African Champs and went on to don the green and white at the London 2012 Olympic Games, completing the overall outlook of a very athletic family!
While growing up, Patricia already knew at an early age that she was going to do sport but didn't take it seriously until later while at the University of Illinois. Naturally, many expected her to do Track and Field just like the rest of her family but George took to other sports like Wrestling, and around the age of six, was introduced to Football and was coached by her father.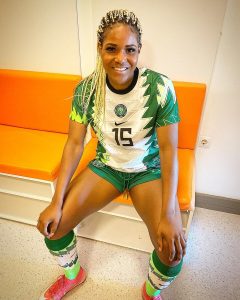 George recounted in an interview how watching her sister win medals for Nigeria and compete at the Olympics ignited her curiosity about her roots. She was so proud and inspired that she would tell everyone everywhere she went that her sister was competing at the Olympics for Nigeria.
"I was so excited when my sister was running for Nigeria, I remember turning on the TV and I saw her on the track…I was telling everybody that my sister was in the Olympics", she said.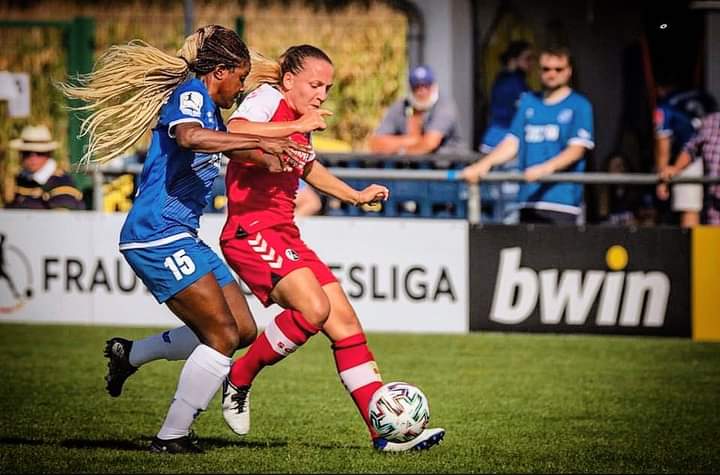 George is quite versatile. She currently plays as a forward for German Frauen-Bundesliga club SC Sand, even though she thrives more in the left wing back position where her pace and strength is most suited. She had previously played for the Chicago Red Stars in the American Women's Premier Soccer League (WPSL), before being signed by the German outfit club in July 2020. In an interview to eaglestracker.com, she stated that she was glad to be playing at top level.
She said: "I'm so excited to be playing for SC Sand and being able to play in Bundesliga 1. The journey to get here has been pretty long and hard. Just having to work out and keep in shape during times when I didn't even know if I would even be on a team was definitely discouraging at times. So I'm just so Grateful that I continued to work hard and trust the process and finally get to playing top level soccer, and living out my dream of playing professionally."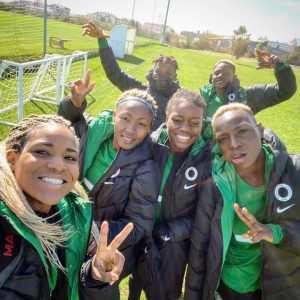 Two years before finally making her debut for the Super Falcons of Nigeria against Russian club CSKA Moscow at the recently concluded 2021 Turkish Women's Cup, the 24-year-old got her first call-up by the erstwhile coach of the team, Thomas Dennerby but the opportunity was dashed due to unresolved nationality certification.
Being able to finally play for the Super Falcons is a dream come true for George who said, "My ambition as a soccer player is to get to the highest level and I'm here to do that with Nigeria and also be the best I can be…I am very grateful to this opportunity to play in this (Turkish Women's Cup) tournament for Nigeria".
First Cap For Nigeria Today 🇳🇬🔥
Thank you everybody for all the love and Support 🙏🏾❤️ It keeps me motivated and always moving forward✊🏾💪🏾 I'm ThankFul 🙏🏾
Let's Go NIGERIA 🇳🇬 pic.twitter.com/05vYxcKHK9

— Patricia George (@Patricia_G11) February 18, 2021
Big sister Regina could hardly hold back her joy and excitement at Patricia's debut outing for Nigeria took to her social media to express it: "My sis is playing with the Nigerian National soccer team in Turkey. ayyyeeee I'm soooo happy !!! " she said.
It was the same feeling for Phyllis who also posted on Facebook, "My sister played on the Nigeria team and quite honestly she'll continue to play on any team she dream and manifest … I'm so GRATEFUL to watch her receive the fruits to her labor. !!! Patricia keep going."
George along with the Super Falcons, went on to emerge as champions of the Turkish Women's Cup after the team won all its three matches and scored 11 goals without conceding in the 10-day tournament.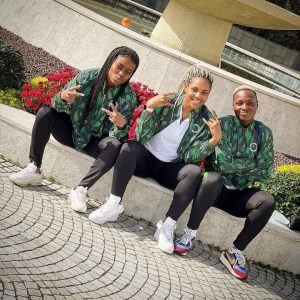 The forward will now switch focus to club duties when she gets back to Germany with SC Sand, who are currently placed 11th on the Frauen Bundesliga table, and need all the help they can get in order to escape relegation.
She will also have her hands full in the round of 16 of the Women's DFB Pokal, where SC Sand faces Potsdam on Sunday. Getting her stats up will be priority as George has scored one goal in the seven matches she's played for the club so far in the 2020/21 season.
With the rest of the George clan cheering her on, the sky is certainly the starting point for Patricia!