In recent years, the Nigerian Wrestling scene has been in the news, and for good reasons too, seeing it is one sport in which the country has considerable medal potentials. As such, it would be a great disservice to leave out the Nigerian wrestling team in our build up to the Olympics series.
The Nigerian Wrestling Federation (NWF) presented seven wrestlers for the Rio Olympics in 2016, but the President of the Federation – a former Olympic Champion and GOLD medallist, Hon. Daniel Igali – is hopeful that at least eight wrestlers will secure Olympic tickets to the Tokyo Olympics holding in the summer of 2021.
At the time of writing this article, World No.2 in the 57kg women's category, Odunayo Adekuoroye is the only Nigerian wrestler to have officially qualified for the Olympics after picking an early bird slot by winning a Bronze medal at 2019 Senior World Wrestling Championships held in Nur-Sultan, Kazakhstan.
Adekuoroye is unarguably Nigeria's top potential medallist in Tokyo and the poster girl of the federation. The two-time Commonwealth Games GOLD medalist made her Olympic debut at the 2016 Olympics where she fell to Sweden's Sofia Mattson in the quarter finals, a loss Adekuoroye attributed to anxiety and match rustiness.
Having dominated Africa and even global competitors, the 5-time African Champ says she's ready to take it a step further by clinching GOLD in Tokyo. Although the pandemic has altered what could have been a busy year in terms of international competitions, Adekuoroye's resolve is not wavering as her eyes are firmly set on the prize.
"Nothing less than GOLD; I believe it is possible. During the ban on contact sport, I trained at home with my coach via the phone or we share videos and when the ban was lifted, I sometimes pay some of my teammates to come over to train with me. It has not been really easy but I try my best to get the trainings done", said Adekuoroye.
Congratulations to Odunayo Adekuoroye, World No 1 female wrestler in the 57kg category, as tonight @halogenNG completed her adoption process & have handed to her directly $10,000 (N3.6m) under @SundayDareSD's 'Adopt-an-Athelete' initiative. Bring home that Olympics gold, Champ! pic.twitter.com/YbGl6GHNEc

— Office of the Minister of Youth & Sports Dev. (@OMYSDNg) February 19, 2020
To make this dream a reality, Adekuoroye was awarded a sum of $10,000 (N3.6m) by a corporate sponsor, under the Ministry of Youth and Sport's 'Adopt-an-Athelete' initiative, to support her preparation for the Olympics.
Some of the country's top wrestlers will be hoping to qualify for the Tokyo Games at the Africa/Oceania Olympic qualifying tournament holding in El Jadida, Morocco, in April. Here they are:
Aminat Adeniyi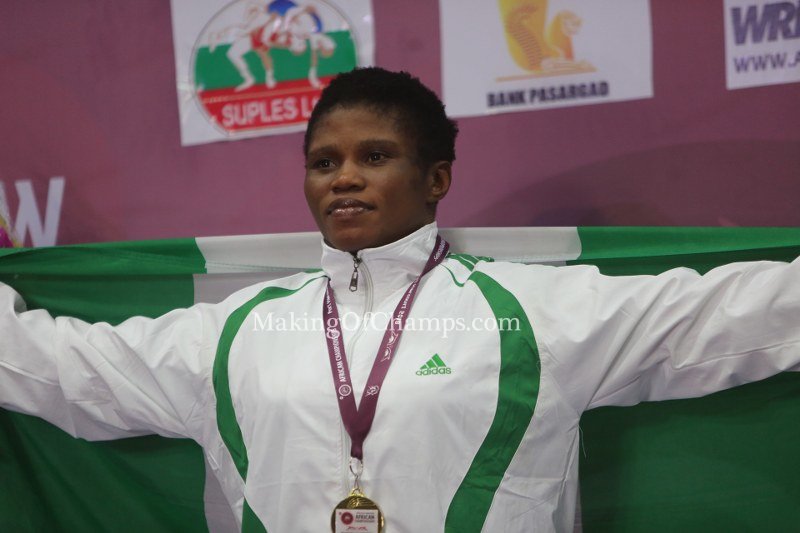 A Political scientist turned professional wrestler is not a story you read often, but that's the uniqueness of Aminat Adeniyi's outstanding career. The two-time Commonwealth Games GOLD medallist has achieved so much in the women's 58kg class. She's won every title on the offering including being a National Champion since 2009, but the World Championships and Olympics have eluded her.
Adeniyi made her Olympics debut in Rio almost five years ago but lost 3-1 to Finland's Petra Olli in the preliminary round. Having garnered more experience over the years, she will be hoping for a better run in Tokyo.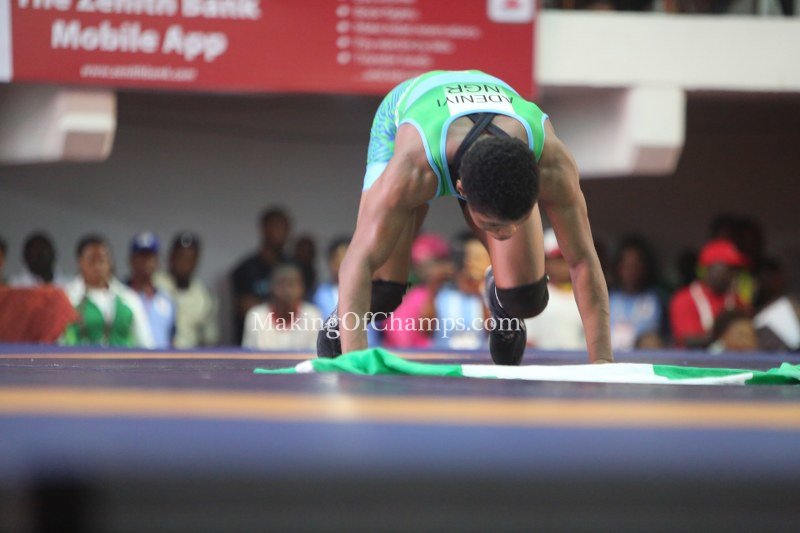 "I can describe my journey so far as an amazing journey with lots of achievements, four-time African champion, two-time African Games GOLD medalist and two-time Commonwealth Games GOLD medallist. I strongly believe I can still do more and achieve more especially on the big stage in the World Championships and Olympics. Imagine been an Olympic medalist", said Adeniyi.
2. Blessing Oborududu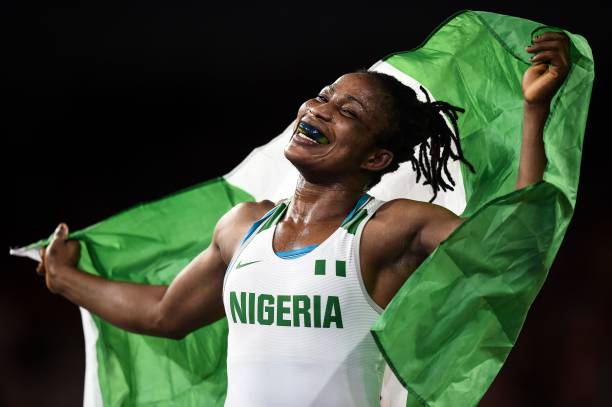 In spite of second round finishes in her previous appearances at the Olympics – London 2012 and Rio 2016 respectively – Blessing Oborududu remains inspired in her search for Olympic glory but must first qualify to make that dream a reality.
Currently ranked No.2 in the world in the 68kg women's freestyle, Oborududu's agility on the mat over the years has earned her several medals including her incredible run to winning a GOLD medal at the 2018 Commonwealth Games in Gold Coast.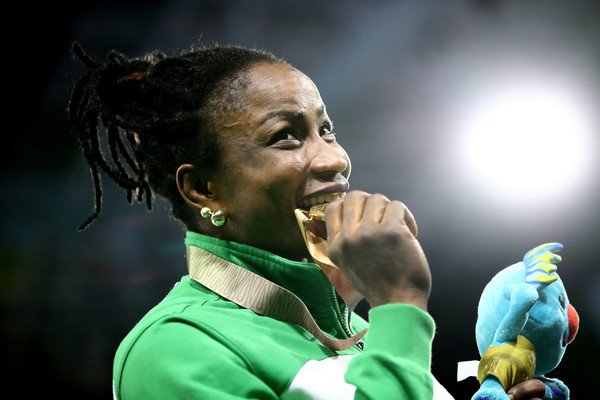 With her wealth of experience, her only wish is to seal what has been a successful wrestling career with an Olympic medal as she fears the Tokyo Olympics may be her last opportunity.
Unlike Adekuoroye, Oborududu fell short of picking an early Olympic qualification ticket at the 2019 Senior World Wrestling Championships following a loss in the quarter final stage.
3. Blessing Onyebuchi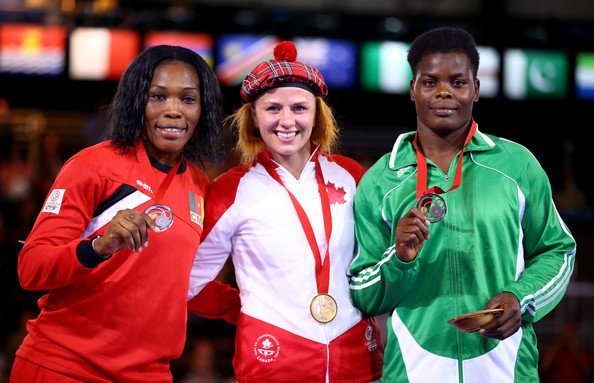 Blessing Onyebuchi recorded her best year yet as a freestyle wrestler in 2019. The women's 76kg African Champion won a historic GOLD medal at the inaugural ANOC World Beach Games in Doha, same year she won two other GOLD medals at the African Games and African Championships respectively.
In Onyebuchi, Team Nigeria has a technically sound wrestler, dangerous on the mat and versatile in Beach Wrestling, making the 2018 Commonwealth Games Silver medallist one of Team Nigeria's secret weapons gunning for an Olympic slot at the Africa/Oceania Olympic qualifying tournament holding in El Jadida come April.
Having never competed at the Olympics, Onyebuchi will be looking forward to making her maiden bow for Nigeria in Tokyo.
4. Amas Daniel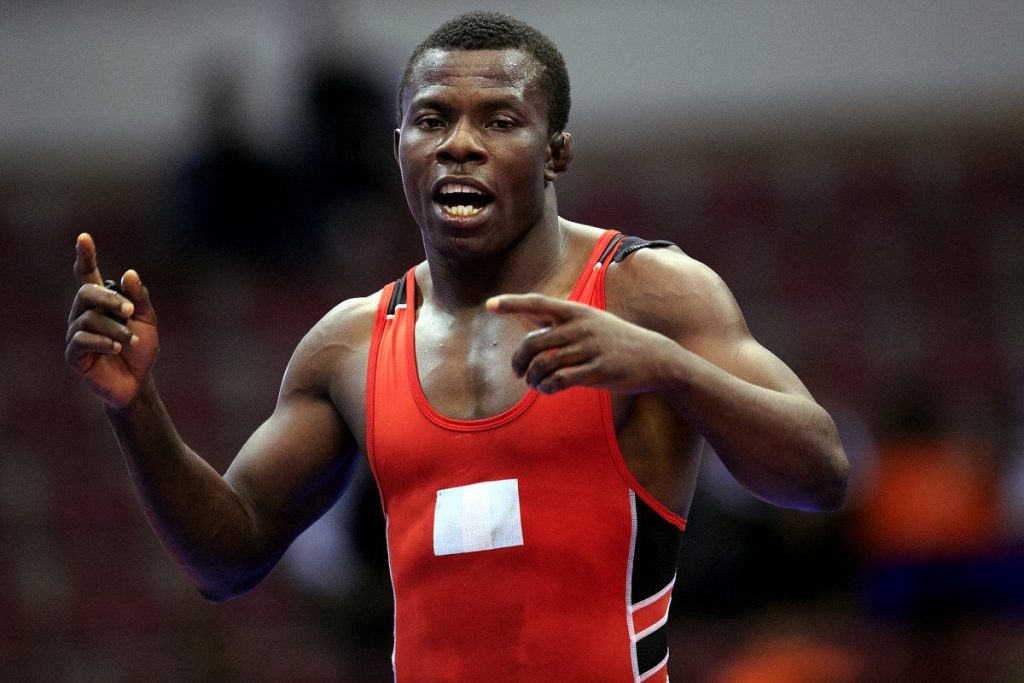 Another wrestler yet to qualify is the Team Captain, Amas Daniel. The Commonwealth Games Silver medallist and five-time African Champion seamlessly transitioned from being a traditional wrestling champion into a professional wrestling champion, holding the men's 65kg National title for over eight years.
The Bayelsa-born wrestler represented Nigeria at the Rio Olympics and made it to the Round of 16 before suffering a loss to eventual GOLD medallist, Georgia's Zurabi Lakobishvili (2-1).
Young Wrestlers with potential to qualify
Apart from its plethora of world beaters, the wrestling federation has not only won several medals for Nigeria, it also boasts of an array of young promising talents with potential to follow the footsteps of their predecessors.
Rising stars such as John Ogbonna Emmanuel, already is a five-time undisputed African Champion in the men's freestyle 70kg and 74kg combined.
Nicknamed 'Iron Monkey' for his tenacity, John's dream of becoming the best in the world begins with qualifying for his first Olympics at the Africa/Oceania Olympic qualifying tournament holding in El Jadida, Morocco this April.
"What I want now is to make records, win more titles and have fame in my career."

Four-time African champion Emmanuel Ogbonna John opens up on how he plans to conquer the wrestling world.

Full story on the Nigerian 🇳🇬 star: https://t.co/2ez6yTsclN@wrestling | @NigeriaOlympic pic.twitter.com/sWVJbJGggI

— Olympic Channel (@olympicchannel) December 14, 2020
"Since I was young and a street fighter, competing at the Olympics has been my goal, and I believe it would take my career to the greater level I want to be. The only thing I want to achieve right now is to qualify for the Olympics and go on to win medal in Tokyo", he said.
Other rising stars such as newly crowned women's 50kg champion, Khadijat Idris at the Barazza Champion of Champions Wrestling Tournament held in Yenagoa last month, has also made it into the team vying for Olympic qualification.
Meanwhile the likes of Mercy Genesis and Mercy Adekuoroye (Odunayo's younger sister) have also worked their way through the ranks and into the senior team but have to wait their turn for a seat on the Olympic train in the near future.