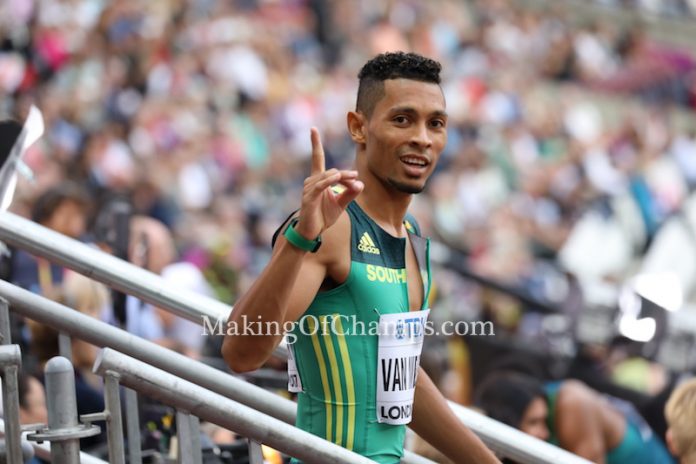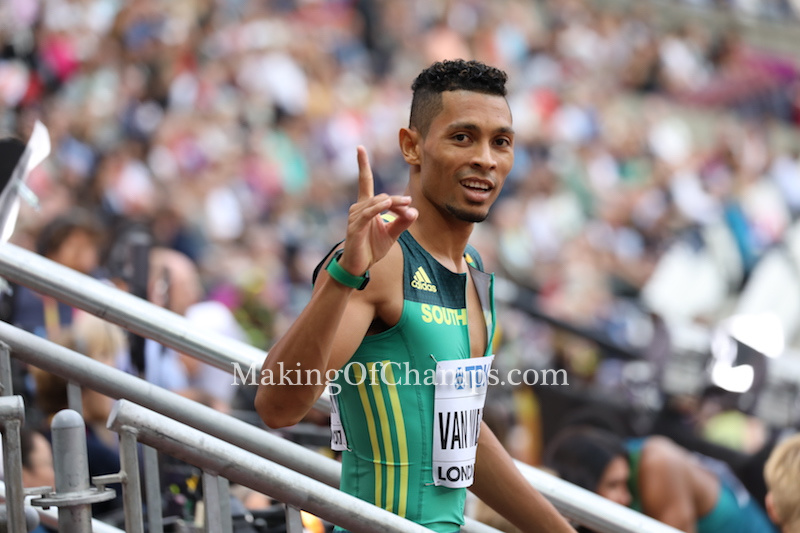 In his first international race in three years, World Record holder Wayde van Niekerk marked his return with a win at the Galla dei Castelli in Bellinzona (Switzerland) where he clocked 45.58s to take the men's 400m.
Van Niekerk who had been injured since he last won the event at the World Championships in 2017, defeated Dutchman Jochem Dobber who ran a Season's Best (SB) of 45.78s, while Karol Zalewski was 3rd in 46.03s.
Akani Simbine himself was in a fine form, turning in a fast 10.02s (+0.2m/s) for the win in the men's 100m, successfully holding off the challenge posed by Italy's Filippo Tortu who clocked an SB of 10.07s to finish 2nd. Sri Lanka's Yupun Abekyoon Mudiyanselage was 3rd in 10.24s.
In the women's 100m, European Leader Ajla Del Ponte ran 11.18s (-0.5), securing a win at home ahead of Kristal Awuah who claimed 2nd place in 11.33s and Amy Hunt 3rd in 11.41s.
Hedda Hynne prevailed in the women's 800m where she ran a big PB and World Lead (WL) of 1:58.10, beating Selina Büchel who clocked an SB of 1:58.37 and Lore Hoffmann who also made a massive improvement on her Personal Best to 1:58.50. Great Britain's Jemma Reekie finished 4th in 1:58.87.
World Silver medallist in the Steeplechase, Lamecha Girma dropped down in distance to the 1500m, and he ran a PB of 3:35.67, edging out Piers Copeland who also did a PB in 3:35.69. Selemon Barega was 3rd in 3:36.07 as Marcin Lewandowski finished 4th in 3:36.44.
Meanwhile, Aaron Mallet topped the men's 110m Hurdles in a Personal Best (PB) of 13.34s (+0.6) ahead of Jason Joseph and South Africa's Antonio Alkana who both finished with an identical 13.40s. It was an SB for Alkana, who is the current African champion.
Nadine Visser took the women's 100m Hurdles in 12.79s (0.0) over World University Games Champion, Luminosa Bogliolo who clocked an SB of 12.82s, while Lotta Harala came 3rd in 13.19s.
While in the 400m Hurdles, French National Champion Ludvy Vaillant emerged winner in 49.22s ahead of David Kendziera in 49.67s (SB) and Thomas Barr in 50.00s, World Leader Femke Bol dominated the women's race in 54.33s, beating Lea Sprunger and Viktoriya Tkachuk who both followed in Season's Bests of 54.98s and 55.15s respectively.
In the men's Long Jump, Kristian Pulli leapt 8.08m (+0.6) ahead of Ruswahl Samaai who reached 8.04m (0.0), while Tajay Gayle finished 3rd on countback with 7.99m (+0.2), just ahead of burgeoning decathlete, Simon Ehammer who also jumped 7.99m (+0.4).
Michaela Meijer soared over 4.70m in the women's Pole Vault ahead of Angelica Moser who topped 4.60m.