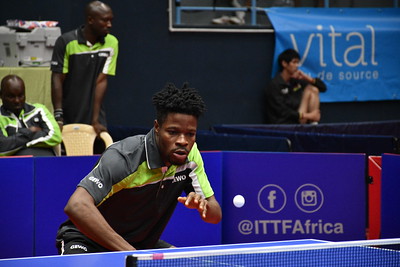 Reigning African Games Table Tennis Champion Olajide Omotayo, who qualified for the Olympics for the first time, has taken to social media to solicit for funds to help boost his preparations for the Olympics taking place in Tokyo in 2021.
Omotayo hopes to raise a target of 30,000 euros through Gofundme, with the funds expected to go towards hiring a personal trainer, physio and pay for other necessary provisions.
He said, "The target is 30,000 euros, to pay for a physio, get better coaching and lots more. I could do a lot with it because there are so many things I need to put in place. Although I live in Europe, the situation is still difficult for me nevertheless. I play for a club here for now, but it's not enough."
While Omotayo has received quite a number of responses on social media, it is yet to materialize into funds on the gofundme page. And so he is pleading with well meaning Nigerians and private bodies to step in.
"The potential out there is immense. I know there are many people and companies capable of supporting me. After posting it on Twitter, I've had many people retweet, so I'm hoping that someone out there will see it and come through for me."
In the meantime, Omotayo is training with the Belgian National Team at their training centre, an opportunity he got through Segun Toriola.
"There are so many things the Europeans are doing that we also need to put in place. We are doing our best but we need funding. For instance if you have an injury, you take care of yourself, which is not meant to be.
"The federation is doing the best they can, but we really need more. I think if they have more support from the Federal Government, I know they will do more", he added.