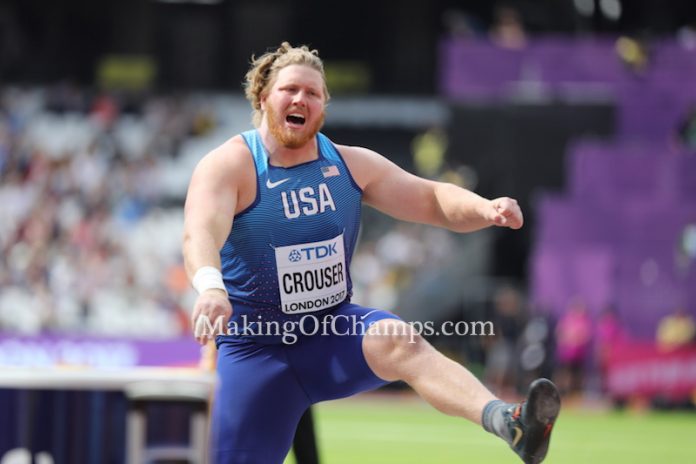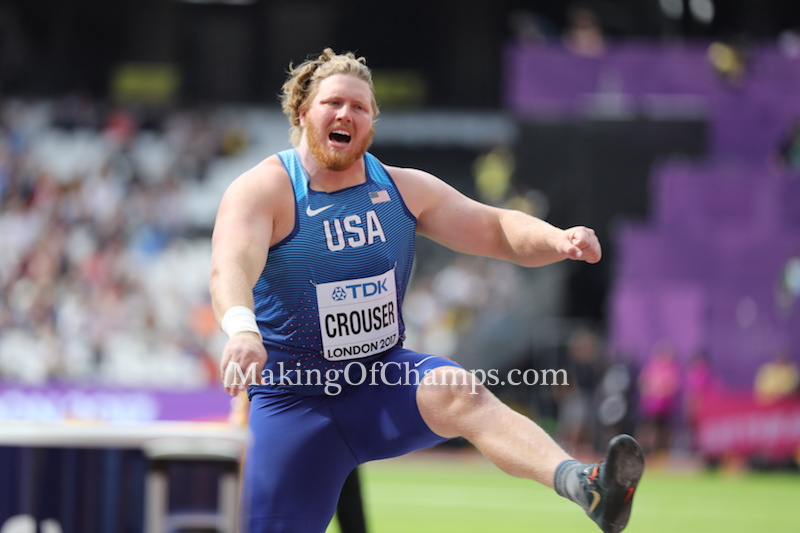 Olympic Champion, Ryan Crouser totally dominated the men's Shot Put at the Kamila Skolimowska Memorial in Chorzow (Poland) where he recorded a mark of 22.70m for the win, only his 3rd best mark this season.
He broke the Meet Record (MR) of 22.25m set by Michal Haratyk three times through the course of the competition and has now thrown past 22m in his last 17 legal throws of the season!
Behind him, Michal Haratyk threw 21.78m, while Italy's Leonardo Fabbri placed 3rd with 20.96m.
Barely a day after winning at the Finnkampen in Sweden, World Champion Daniel Stahl was again top of the field in the men's Discus Throw where he threw a substantial 67.28m, beating season breakout, Kristjan who reached 66.16m.
Andrius Gudzius, the former World Champion was 3rd with 64.45m ahead of Bartlomiej Stoj who in 4th, led an array of Polish athletes with his Season's Best (SB) of 63.94m, followed closely by Robert Urbanek with 63.83m and Piotr Malachowski at 63.42m.
Meanwhile, Pawel Fajdek delighted the home crowd as he got out to an SB of 79.81m in the men's Hammer Throw, beating his compatriot Wojciech Nowicki who also reached a big 78.88m.
Greek Hristos Frantzeskakis finished 3rd with a big Personal Best (PB) of 76.78m.
In the women's equivalent, Alexandra Tavernier came away winner with a throw of 74.12m ahead of Malwina Kopron who threw 72.37m and Katarzyna Furmanek at 71.99m.
Piotr Lisek secured the win in the men's Pole Vault as he soared over 5.82m, beating World Champion Sam Kendricks who topped 5.72m before taking attempts at 5.92m.
Renaud Lavillenie finished 3rd with 5.62m, while Pawel Wojiechowski cleared 5.52m for 4th.
Dafne Schippers came through in the final stages of the women's 100m, snagging the win in a time of 11.29s (-0.2m/s) from a fast starting Ewa Swoboda who clocked 11.34s, just holding off European Leader Ajla del Ponte who ran 11.35s.
European Champion, Justyna Swiety-Ersetic also gave the home crowd something to cheer in the women's 400m where she ran an SB of 51.33s, beating Dutch Lieke Klaver who clocked 51.61s.
Iga Baumgart-Witan claimed 3rd in 52.04s (SB).
The men's event saw Karol Zalewski successfully hold off Jochem Dobber as he clocked a time of 45.74s to the Dutchman's 45.78s.
Tony Van-Diepen was 3rd in 45.84s (SB), while Rabah Yousif also improved his SB to 46.05s.
In the men's 800m, Kenya's Ferguson Rotich finished well to take the win from Wesley Vasquez in a time of 1:45.30 to the Puerto Rican's SB of 1:45.47.
Guy Learmonth finished 3rd in 1:45.57 (SB) ahead of the brilliant Polish duo of Adam Kszczot and Marcin Lewandowski who followed in Season's Best times of 1:45.64 and 1:45.77 respectively.
Elvira Herman did enough to win the women's 100mH where she clocked 12.87s (-0.1), beating the fastest woman this season, Nadine Visser who ran 12.95s.
Pia Skrzyszowska broke the Polish U-20 Record as she ran 13.19s for 3rd place.