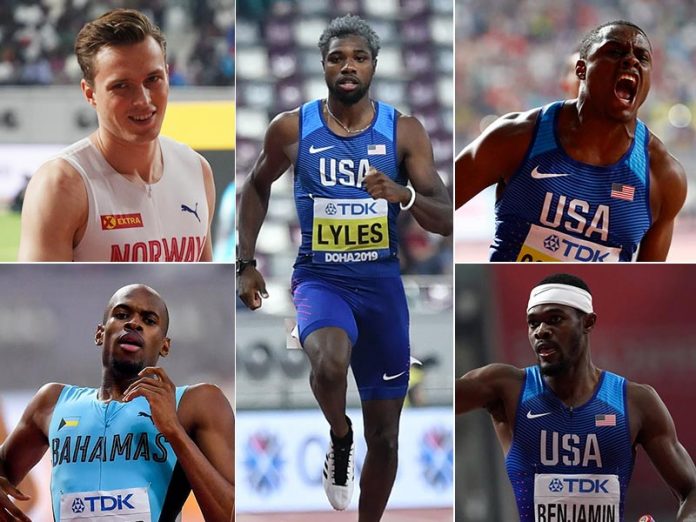 A few days ago, we published Part 1 of our series on our Top 10 World Male sprinters in 2019. In the concluding part, we highlight some of the achievements of our Top 5 World Male sprinters in the season just ended, and hope you concur with our list.
Steven Gardiner (BAH)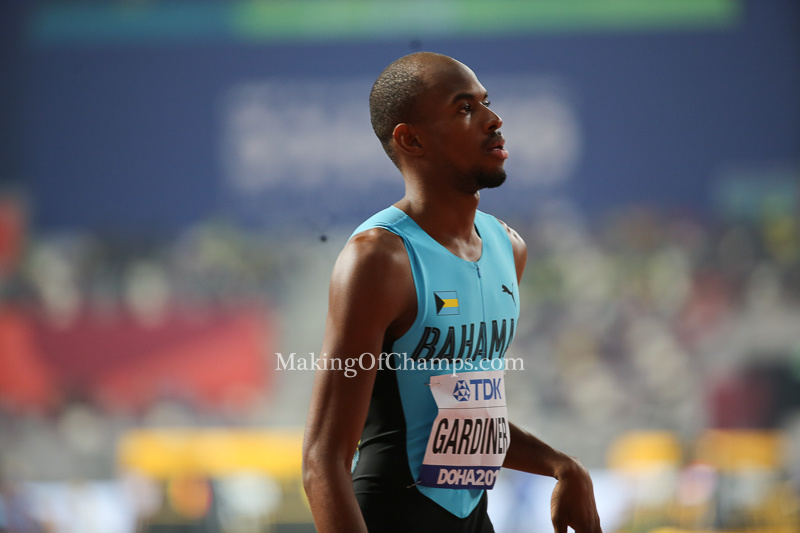 One key motivation for any athlete is the desire to bring glory to their respective countries, and that was exactly what Steven Gardiner did for the Bahamas when he stormed to GOLD in the men's 400m at the 2019 World Championships in Doha.
A few weeks to the World Championships, the Bahamas was hit by its worst hurricane ever – Hurricane Dorian, and the small island nation was desperately in need of some cheer. And Gardiner, alongside compatriot and training partner – Shaunae Miller-Uibo, delivered when it mattered the most.
The 24-year old did not run too many races this season after suffering from a case of tendonitis in his right Achilles at the World Relays in Yokohama back in May and needed to take some time off the track to heal. A few days later, he was in Shanghai for the Diamond League (DL) but didn't run eventually.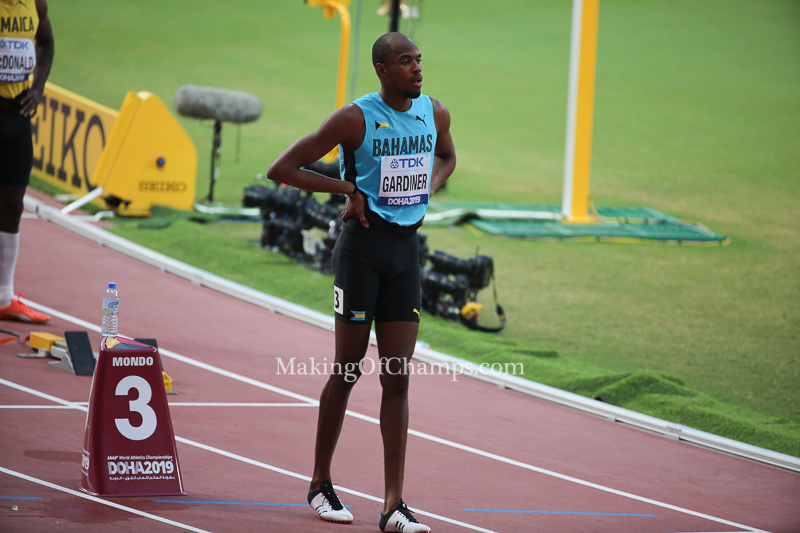 In July, Gardiner was able to race at the Monaco DL where he clocked a Season's Best (SB) of 44.51s, then took another break before returning to action in September at the Kamila Skolimowska Memorial Meeting in Poland where he lowered his SB to 44.14s to nick the win.
Coming to Doha, the London 2017 Silver Medallist was faced with the herculean task of beating USA's duo of Michael Norman and Fred Kerley who were considered favourites for the crown. However, after executing perfect races in the heats and semis clocking 45.68s and 44.13s respectively, it became evident that Gardiner was going to be oe of the major contenders for the  title. Unfortunately, Norman couldn't make it past the semis as he ran a cautious race in order not to succumb to injury.
In the final, although the Bahamian was a bit farther behind in the early stages, he timed his race to perfection, striking in the last 150m and pulling away from everyone else as they came out from the last bend to race to victory, shattering his previous Personal Best (PB) with a stunning National Record (NR) of 43.48s to move to sixth place on the all-time list.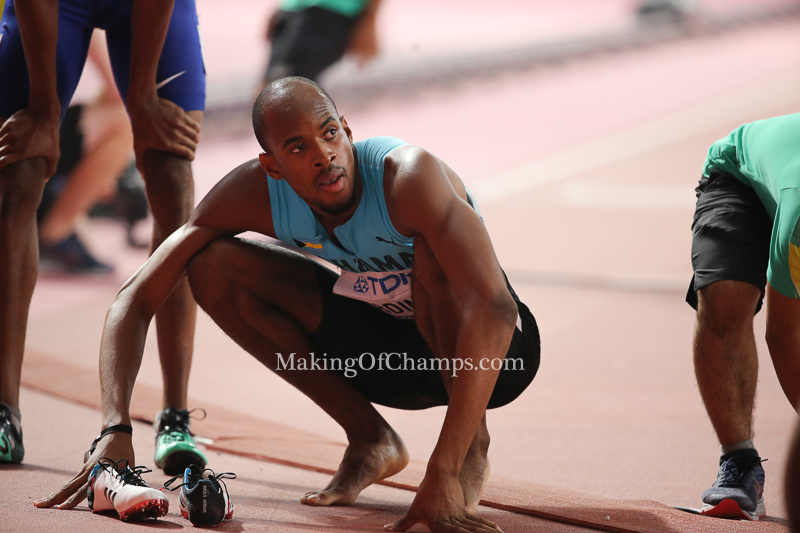 Only Wayde van Niekerk, Michael Johnson, Butch Reynolds, Jeremy Wariner and Mike Norman have run faster than Gardiner who also became the first Bahamian to win the men's 400m World title in 18 years. Anthony Jose Zambrano came through for Silver in a South American Record of 44.15s, while Kerley settled for Bronze in 44.17s.
Speaking afterwards, Gardiner said: "Hurricane Dorian was very devastating for my island and my family. I just wanted to go out there and do my best for my friends and family. I got messages from all over; they just wanted me to out there and perform but I wanted to do a little bit more.
"I had to fight it and was able to bring home a medal for my country. I was a Silver medallist in 2017, and to now upgrade to a GOLD medal is unbelievable. We're a small country but I'm happy I get to make a part of history."
Rai Benjamin (USA)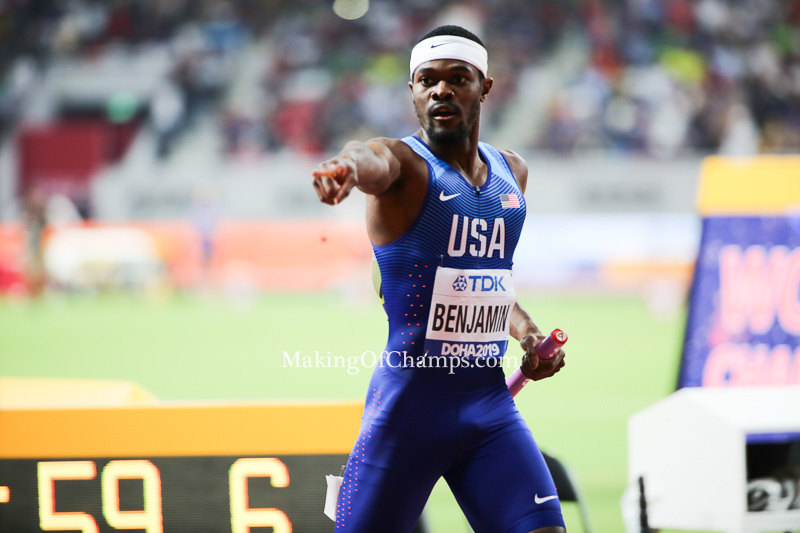 Not many are aware that USA's Rai Benjamin almost pulled out of the World Championships in Doha, but that was exactly what happened to the 400m Hurdles sensation who cleared every hurdle on his path to eventually claim Silver at the championship.
The former USC standout who won the 2018 NCAA title in 2018 with a jaw dropping 47.02s, was spectacular in 2019 – his first year of running as a professional athlete for Nike.  The season started early for the 22-year old as he raced in the 300m at the New Balance Indoor Grand Prix where he stormed to a PB of 32.55s.
In April, Benjamin ran the 400m at the Mt. Sac Relays setting a PB of 44.31s in the process. He was also impressive in the DL circuit where he claimed victories at the Prefontaince Classic and Rome DL with times of 47.16s and 47.58s respectively. Benjamin was in a class by himself at the USATF Championships where he claimed his first national title with a fast 47.23s.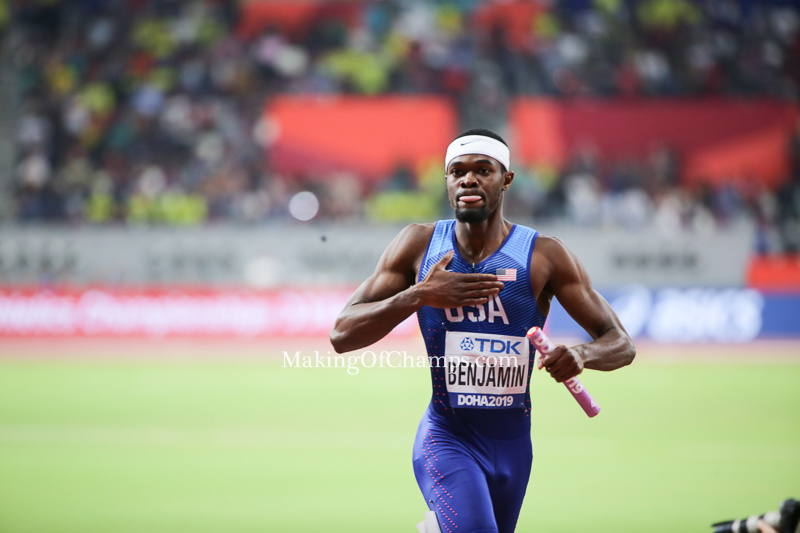 Benjamin was yet to race against World Champion Karsten Warholm in the DL as the pair had somehow managed to evade each other in the course of the year. However, a clash was imminent at the DL final in Zurich and bookmakers were poised to watch the action unfold.
Though it was a close race, Warholm edged the American by half a metre to win the race with the second fastest time ever in the 400m Hurdles – 46.92s, as Benjamin also bettered his lifetime best to 46.98s to tie with Abderrahman Samba for the third fastest time in history!
However, a few weeks to the World Championships, Benjamin had to take a tough decision with regards to the World Championships: "I was in practice four or five days before I left for Doha and I banged a hurdle pretty hard and crashed. I couldn't really walk. I went to the doctors and got an x-ray. It wasn't broken thankfully, but I had a pretty hard bone bruise, I was in crutches for a few days", he said.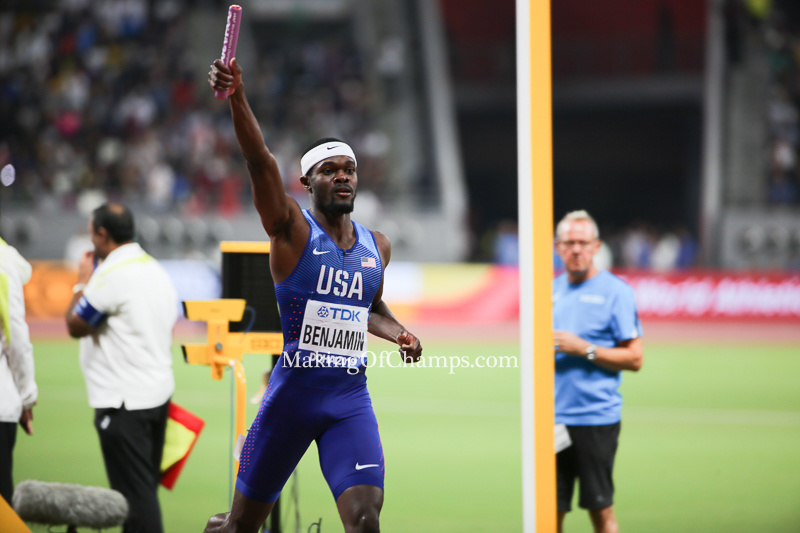 The Tuesday before the first round of the men's 400m Hurdles in Doha, Benjamin's coach asked him to consider the option of pulling out of the championship because he wasn't looking too good. However, the hurdler said he felt good a day to the competition and eventually decided to go for it, a decision that paid off in the long run. He won his heat in 49.62s and semis with 48.52s.
Once again, the stage was set for a faceoff with his Norwegian rival who eventually retained his title with a time of 47.42s as Benjamin claimed Silver with 47.66s despite gashing his knee after hitting a hurdle during the finals.
He says: "Considering where I was a few weeks ago when I was contemplating scratching this meet due to injury, I came out here and did what I have to do. I tried to win GOLD but I settled for Silver for now. I paid the price; I had a gash on my knee, but I got it done."
Benjamin also anchored Team USA to GOLD with a World Lead (WL) of 2:56.69 in the 4x400m relay to end the championships on a high and is looking forward to 2021 when he gets to square off with his opponents on home soil.
Christian Coleman (USA)
It's no mean feat being called the 'World's Fastest Man', but exceptional US sprinter Christian Coleman is one athlete that makes sprinting look so easy, and is one many consider the heir apparent to Usain Bolt's throne.
The reigning 60m World Indoors Champion ran very calculated races this season, skipping the indoors to focus on the outdoors, competing in five meets in all. His only defeat of the season was at the Shanghai DL where himself and fierce rival Noah Lyles both clocked an identical WL of 9.86s, with the latter being given the nod at the end of the day. He bettered his WL to 9.85s to win the Oslo DL, and then ran another WL of 9.81s at the Prefontaine Classic in June, which was just 0.02s slower than his PB.
The 23-year old competed in his first 200m race in two years at the Golden Spike meet in Ostrava where he placed 2nd behind Andre De Grasse in a time of 19.97s. He extended his winning streak to the USATF Championships where he claimed his first title with a time of 9.99s to finish ahead of Michael Rodgers and Christopher Belcher.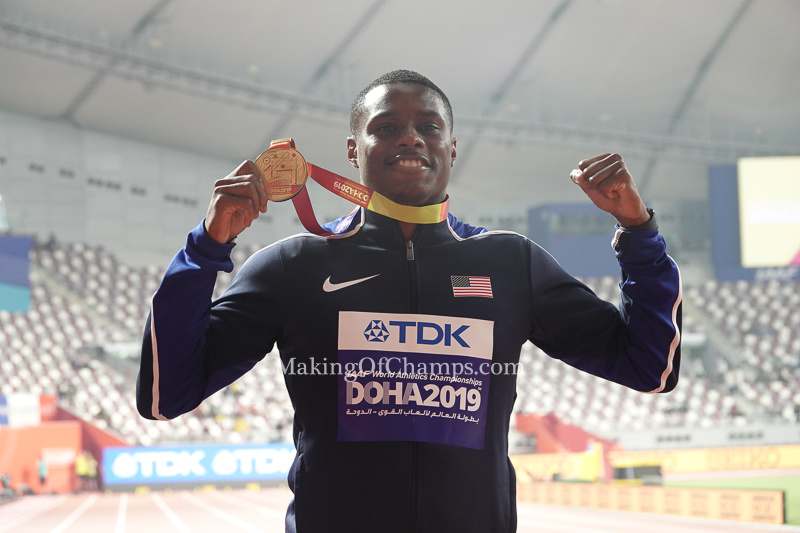 A few weeks to the World Championships, the issue of Coleman missing three doping tests in a space of 12 months came to fore, and it was not certain if he would be allowed to compete in Doha. However, because of a rule that called for one of those missed tests to be backdated outside the one-year period, the USADA had to drop its charges against him and cleared him to compete.
Having made a remarkable debut at the 2017 World Championships in London where the youngster twice upstaged Bolt, beating him in the semis and eventually taking Silver ahead of the WR holder, Coleman arrived Doha as the man to beat. He coasted through the heats with a time of 9.98s to take the win, and then dominated the semis with the overall fastest time of 9.88s.
The former NCAA Champion predictably proved too strong for the rest of the field as he sailed to a WL and PB of 9.76s to strike GOLD, making him the sixth-fastest man in history. His winning time is also the second fastest in World Championships history, with only Bolt's 9.58s being faster. Coleman also ran a fantastic first leg in the men's 4x100m that played a vital role in the team securing GOLD with a WL of 37.10s – an icing on the cake.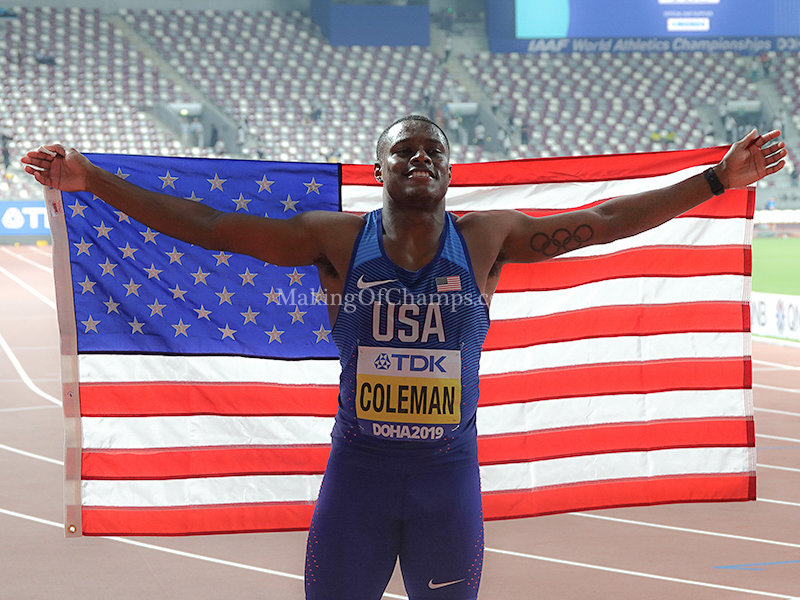 Speaking after his victory, the sprinter said: "I think people get caught up in what they see out there on the track but behind closed doors, the amount of blood, sweat and tears that goes into the sport, to make it to that line…I can never say it was easy, to work that hard. The plan coming into the season was to come here and get to the final and try and come out with the GOLD medal, and I was able to execute that so yeah, I think it was expected.
"The road to success is never going to be straight. You're going to have ups and downs, bumps and bruises along the way, but if you keep the same goal, dedication and focus to your craft, anything is possible. I wasn't focused on anything other than getting to this line for this final and coming out with a win. Now I'm a World Champion and that's something no one will be able to take away from me."
Karsten Warholm (NOR)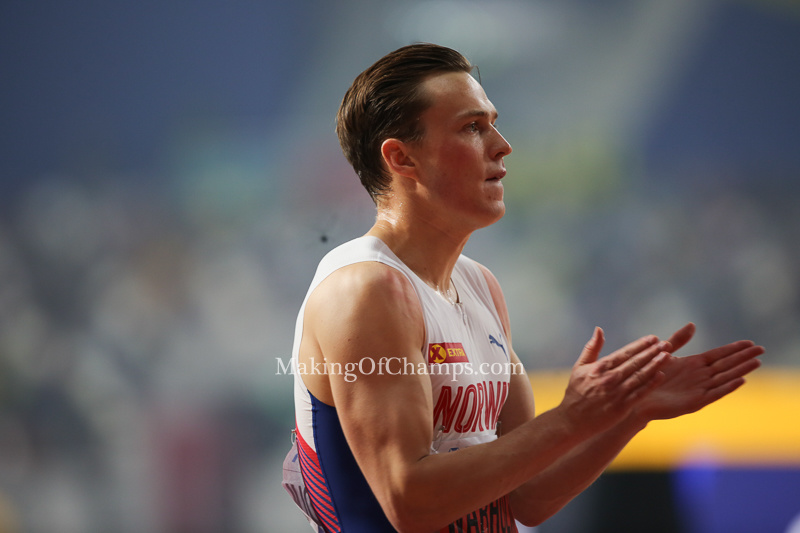 The men's 400m Hurdles has evolved in the last few years, and Karsten Warholm certainly plays a key role in the evolution of the event, seeing that himself, USA's Rai Benjamin and  Abderrahman Samba of Qatar have in the last 18 months, clocked five of the nine fastest times in history and now make up the Top 4 on the all-time list, with World Record (WR) holder Kevin Young topping the list.
The 23-year old remained unbeaten in all his races this year and dominated the DL, winning all six legs he competed in including the final in Zurich which turned out to be a historic race. He started with the Sweden DL in May where he returned a time of 47.85s, then lowered his SB to 47.33s on his home turf in Oslo. The following month, he raced to a WL, Area Record (AR) and PB of 47.12s to win in London.
He posted 47.26s in Paris, and then it was time for the big one – the DL Final in Zurich, where he was to face a major contender: Benjamin! At the sound of the gun, the reigning European Champion took off like a man possessed, knowing he had to establish some kind of gap if he was to emerge tops in the battle for superiority.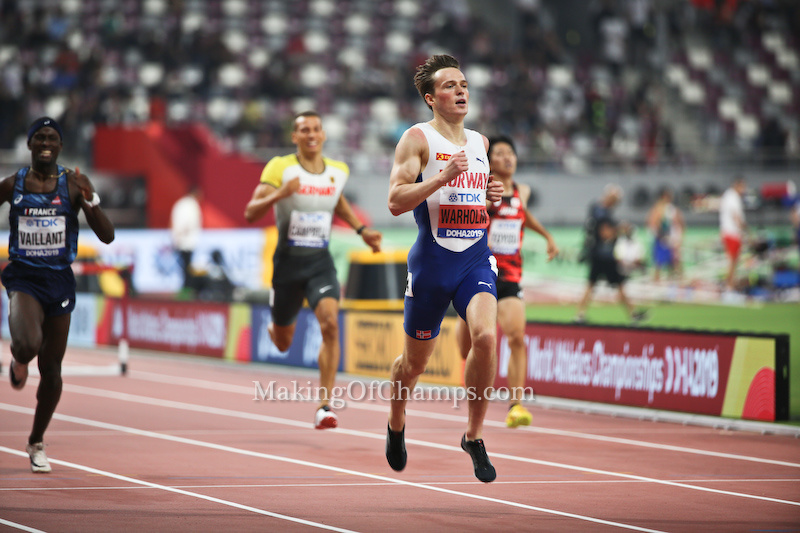 The American levelled up and at some point and appeared to go past him, but Warholm dug deep to produce the second fastest time in history: an astonishing 46.92s which was an NR, AR, WL, Meeting Record (MR) and Diamond League Record (DLR)!
Having secured the DL Trophy, Warholm set his sights on retaining the world title he secured two years ago. He knew he was the man to beat and as such, needed to execute a perfect race which left no room for errors. He easily won his heat with 49.27s and extended his dominance to the semis where he clocked 48.28s.
The men's 400m Hurdles final was one of the most anticipated at the championships as three of the four fastest men in the history of the event – Warholm, Benjamin and Samba, were poised for a faceoff for the first time ever. But once again, it was Warholm who reigned supreme, holding off the pressure from the others to take the GOLD with a time of 47.42s, defeating Benjamin by 0.24s while Samba finished 3rd in 48.03s.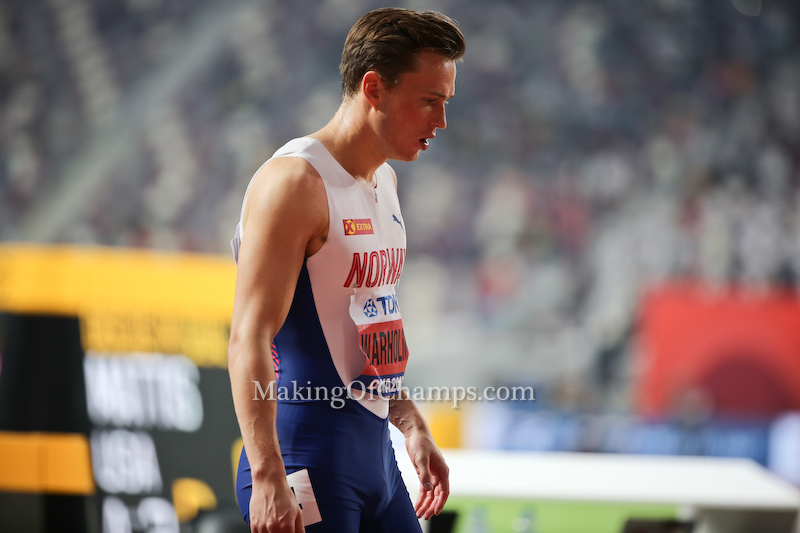 Even though many had anticipated a WR race, we may just have to wait till next year. Warholm's feat makes him the fourth man to retain a world title in the 400m Hurdles after Edwin Moses, Felix Sanchez and Kerron Clement, and also the first ever athlete from Norway to win two consecutive GOLD medals at the World Championships.
He said: "It feels very good to be honest. It's not something you expect but it's something you work very hard for and what you're hoping for, and standing here defending my title, it's crazy. People say that when you're very good at something, you make it look easy.
"I appreciate it and see it as a compliment, but it wasn't easy. It took a lot of determination, a lot of focus and hard work. It felt very good being World Champion for the last two years and I felt it was something I could do for two more years."
Noah Lyles (USA)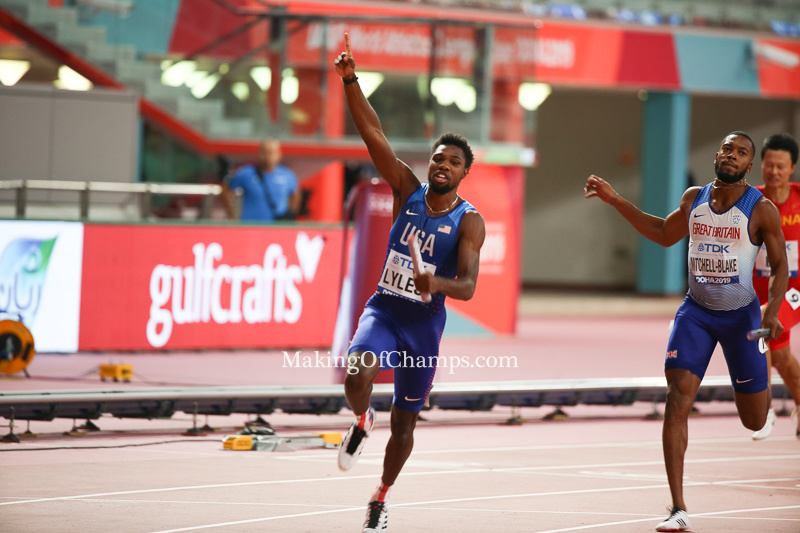 Taking the No.1 spot on our list of Top 10 World Male Sprinters in 2019 is none other than Noah Lyles who is also ranked No.1 on the World Athletics men's global rankings for his exploits in the 100m, 200m and 4x100m.
2019 was the year the spectacular athlete cemented his place as the best in the world in the 200m as he remained undefeated over the distance except when he was edged out by compatriot Michael Norman at the Rome DL which the latter won with 19.70s as the former followed with 19.72s – his first loss since the 2016 Olympic Trials. Lyles has posted a stunning four sub-19.70s marks in the course of his career, a feat only Usain Bolt can boast of.
The former World U-20 Champion was quite outstanding in the 100m as well as he stormed to a then WL of 9.86s to win the Shanghai DL ahead of teammate Christian Coleman, even though both athletes clocked identical times. He also clocked 9.92s in the 100m at the Monaco DL where he narrowly lost to Justin Gatlin by 0.01s.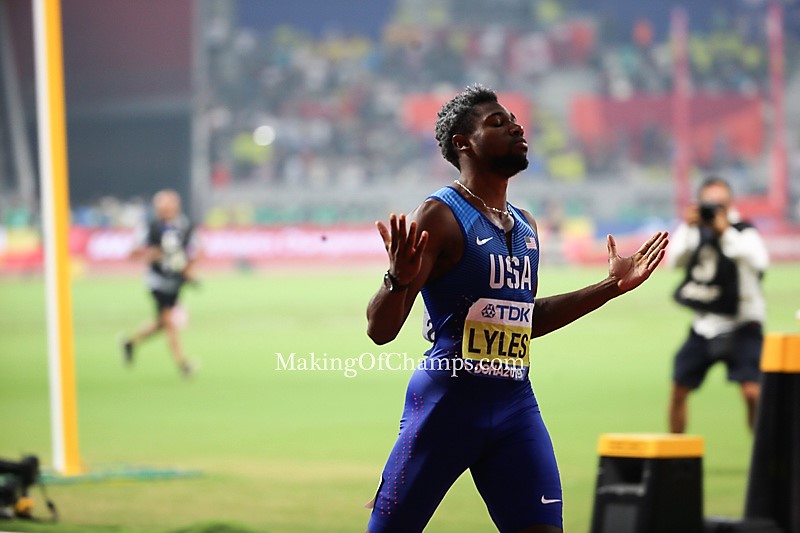 While taking on a strong field at the Lausanne DL, Lyles sped past his rivals to cross the finish line in a new MR and WL of 19.50s, erasing Usain Bolt's former mark of 19.58s to move to fourth place on the all-time list behind Bolt (19.19s), Yohan Blake (19.26s) and Michael Johnson (19.32s). He also clocked an impressive 19.65s to win the Paris DL, and then claimed his first National title with a time of 19.78s.
To cap off an impressive DL season, Lyles became the first man to win the Diamond Trophy in both the 100m and 200m in the same season, snatching the 100m trophy with a victory in Zurich where he beat Gatlin to the title in a time of 9.98s, and then a week later, won the 200m final in style in Brussels with a clocking of 19.74s to claim the fourth Diamond Trophy of his career.
Lyles became the youngest ever winner of the men's 200m at the World Championships after storming to a time of 19.83s to take his first senior title, having finished 2nd in the heats with 20.26s, then dominating the semis with a time of 19.86s. He also anchored the US team to victory in the 4x100m with a WL of 37.10s, taking his second title at the championships. While his execution of the 200m final may have looked easy, Lyles says it was the hardest race of his career.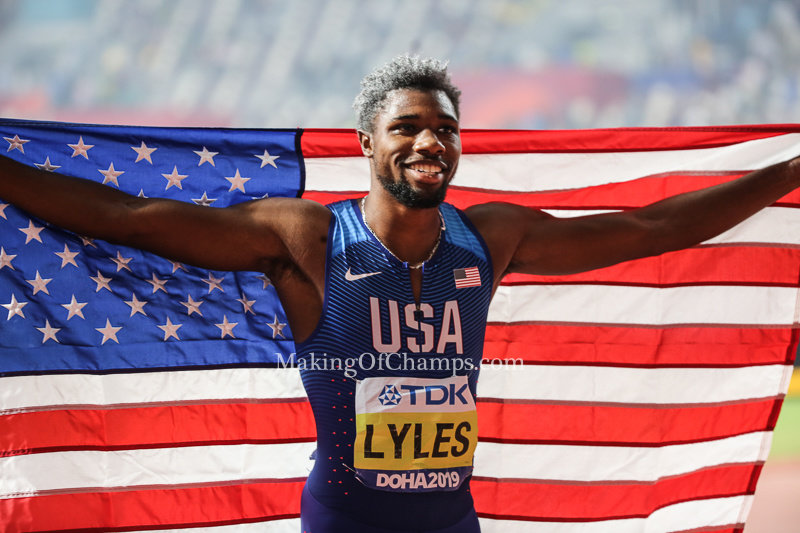 "This is my third attempt at the senior team and it finally came to fruition. I tried to go up for the Olympic Trials (in 2016) I got 4th; the year after that (2017) I got injured, there was no team to make in 2018 and that was my most dominant year, and then finally I came out here and I was able to make the World Championships 2019 team", he said.
"I feel like this was the time when I knew I was most ready, but it was also the time where I was most tested, with the longest year of some of everyone's careers. To come out here and to grab that GOLD is nothing but greatness. This was the hardest race of my career and I believe that grabbing the GOLD was the most important thing."
Ahead of the 2021 World Championships, Lyles is looking forward to defending his title on his home front, and has asked his rivals to watch out: "I just want you all to know that it will be lit in Oregon", he says.