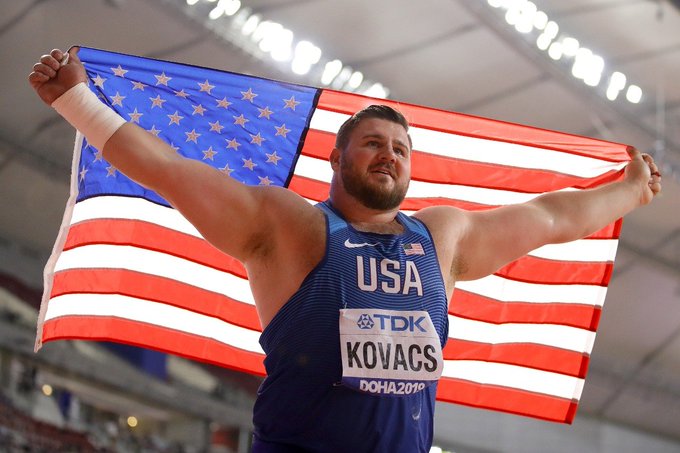 With eight athletes past 22m in this season prior to the 2019 World Championships in Doha, the men's Shot Put final was billed to be an interesting and tough one, and it well delivered an epic contest.
Olympic Champion, Ryan Crouser opened up on a very high note with a Championships Record (CR), going out to a 22.36m throw for the lead but it didn't take long as the lead switched hands, it didn't take long before defending World Champion, Tomas Walsh surpassed it, throwing a big CR of 22.90m on his first attempt.
Darlan Romani momentarily was in 3rd with 22.53m after Crouser threw 22.71m, but it was in fact the former World Champion, Joe Kovacs who produced a massive new Personal Best (PB) and  CR of 22.91m on his final attempt to snatch the win, going third on the all-time list.
It was a great climax in the final round as Ryan Crouser peaked with a big new PB of 22.90m, pushing Tomas Walsh into the bronze medal position as the New Zealander's first round throw was his only legal attempt, while Romani finished 4th.
In the women's Triple Jump, there was hardly a doubt Yulimar Rojas would successfully defend her title from the 2017 World Championships. She indeed was successful, soaring out to a big second round jump of 15.37m ahead of a very consistent Shanieka Ricketts who got a best mark of 14.92m.
It looked like Caterine Ibarguen was going to be off the podium for the first time at a major championships, but the strong Colombian bounded out nicely to a 14.73m leap that sealed her place on the podium, earning the bronze medal to add to her impressive haul.