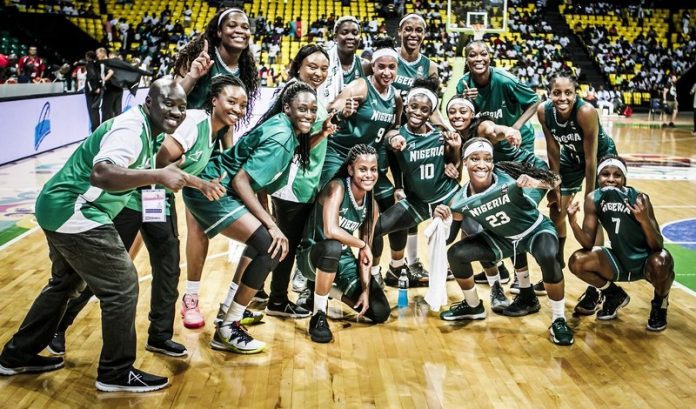 Nigeria's D'Tigress have successfully retained their Afrobasket crown, defeating the home country Senegal by 60-55 to win a second consecutive title in what was a pulsating encounter.
Playing in a packed Diamniadio, Dakar Arena, the Nigerian ladies also had to contend with majority of the 15,000 fans who were firmly rooting for Senegal. It has a tough hurdle for the coach Otis Hughley tutored side, but they showed mental strength to emerge as champions.
It was Nigeria's toughest test in the tournament, and they toiled hard to earn the victory. Having been drawn as the favourite before the start of the championships, no one would give you a free pass to the crown, it's the team who wants it more that will get it.
Nigeria played in between pits of pressure and brilliance, but would be happier knowing that their first three quarters had given them something to hold on to in the 4th quarter that they played very poorly.
In fact, Senegal topscored in that 4th quarter with 18-12 on Nigeria, which saw them level and even surpass D'Tigress by a point. However, the quality of Nigeria's team bailed them when they stared defeat.
Three players got double figures for Nigeria, but they would have Evelyn Akhator to thank after she topscored with 14pts & 9reb. Her calmness under pressure in the last minute of the match was pivotal to Nigeria's victory, making a steal with 21s left & drawing a foul to make two vital free throws that stifled any comeback.
Nigeria with the win, have now extended their head-to-head over Senegal to 6-4 in 10 clashes, and incidentally have now beaten Senegal in two successive Afrobasket finals.
This team is arguably Nigeria's best female Basketball side in history, last year becoming the first African side ever to get to the quarterfinals of a FIBA World Championships, and now the second set of players to win back to back continental title, emulating the 2003 & 2005 set.
Prior to the match against Senegal, D'Tigress have blown out all the opponents they had faced, and it was hard not seeing beyond them winning. They didn't disappoint and deservedly won a fourth title for Nigeria, these ladies are truly making the country to dream.