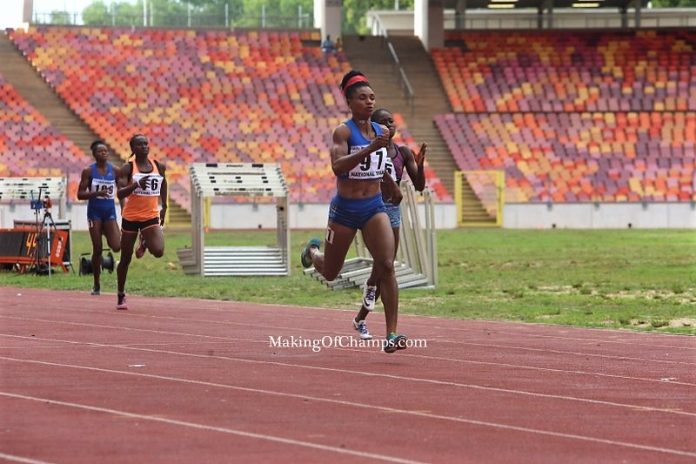 The Athletics Federation of Nigeria (AFN) has released a list of 47 athletes expected to resume a camping exercise in Kaduna on Friday, July 5th, ahead of the 2019 African Games billed to hold in Morocco in August.
The list made available to Making of Champions (MoC) comprises 24 Male athletes and 23 of their female counterparts.
The male athletes listed for the 100m/200m are Enoch Adegoke, Emmanuel Arowolo, Alaba Akintola, Jeremiah Jakpa, Idjesa Uruemu, Abdul Gafar Abdulsalam and Thankgod Igube.
In the women's category, Rosemary Chukwuma, Joy Udo-Gabriel, Blessing Ogundiran, Adekunle Jasper and Anita Taviore were named.
For the men's quartermile event, Emmanuel Ojeli, Samson Nathaniel, Sikiru Adeyemi, Daniel Atinaya, Shedrach Akpeki and Orukpe Erayokan were listed. The invitees in the women's event are Favour Ofili, Patience Okon-George, Blessing Ovwighoadjebre, Deborah Adewale and Blessing Oladoye.
Samuel Osadolor and Martins Ogieriakhi made the 110m Hurdles list, while Grace Ayemoba and Kemi Francis are to represent the female sprint hurdlers. Timothy Emoghene, Henry Okorie and David Olowookere were listed for the 400m Hurdles, as well as Joy Abu and Comfort Ekanem.
Other athletes included on the list are Toyin Oladimeji (Long Jump), Oluwayemi Blessing (Triple Jump), Best Erhire (High Jump), Onwuka Eke Kalu (Shot put), Samuel Adams (Javelin), and Nnamdi Chinecherem (Javelin).
Completing the list of invited athletes are Princess Kara (Discus), Kasie Ugeh (Javelin), Blessing Ibrahim (Triple Jump), Esther Isa (High Jump), Tope Adesina (High Jump), Fegor Clifford (Long Jump), Precious Okoronkwo (Long Jump), Nkechi Chime (Shot put) and Anabel Frank (Shot put).