With a host of debutants, broken wrists and Meeting Records (MR) at the Shanghai Diamond League (DL), one would have expected it to affect players in the Fantasy Race Contest, but there was to be no changing of guard in the MoC 2019 League as Okelu Onyeka's team still reigned supreme after the meet.
Going into the meet, a lot of fantasy players licked their lips about the prospect of picking athletes such as Beatrice Chepkoech, Luvo Manyonga & Abderrahman Samba, all whom have been dominant in their respective disciplines.
Sadly, Manyonga copped an injury and was a no-show in the men's Long jump. In the same vein, bookies favorite in the men's 400m, Steven Gardiner Did Not Start (DNS) in his event.
All these didn't affect Onyeka's team as he went on to select seven out of eight winners in his team. In all, the player garnered 190 points to top the MoC League table in Shanghai, as well as retaining his top position in the overall table after the second meet.
Also, the 380 points he collected in the two meets so far means he his just five points behind the current World Leader, as he sits in the second position in the World.
Nnaji Micah's Team placed second with 168 points after he selected five winners, while MoC's CEO, Bambo Akani becomes the first MoC staff to get into the top 3 this season after he finished third with 163 points.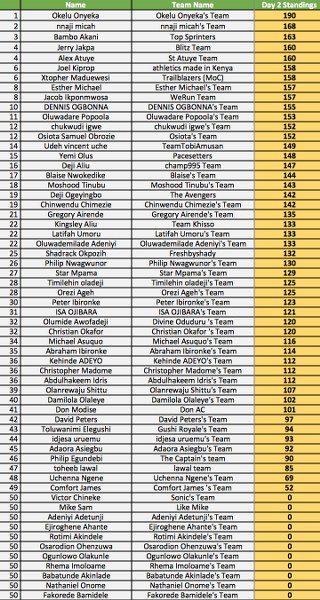 AIRTIME WINNERS for #DiamondRaceContest DAY 2
There will be N3,000 worth of airtime available to the public each Diamond League day, although owing to our Terms and Conditions which states that "Airtime can only be redeemed to Nigeria-based phone numbers", Phillip Nwagwunor's Team who placed 4th in our league would be upgraded to 3rd in place of Janino Livramanto's (Royal Nuts) Team.
So who were the Top finishers on Day 2 in the MoC League who are not MoC staff, and how will the Airtime be shared?
1st – Okelu Onyeka (Okelu Onyeka's Team) – 190 points
2nd – Nnaji Micah (Nnaji Micah's Team) – 168 points
3rd – Jerry Jakpa (Blitz Team) – 160 points
The prizes for the Top 3 are: N1500, N1000 & N500 worth of airtime respectively, to a phone number of choice within Nigeria. To redeem your prizes, kindly send an email with subject: "Airtime Redemption for #DiamondRaceContest" to [email protected]
In the mail, kindly state your name, team name and phone number, as well as the network to redeem the airtime to.