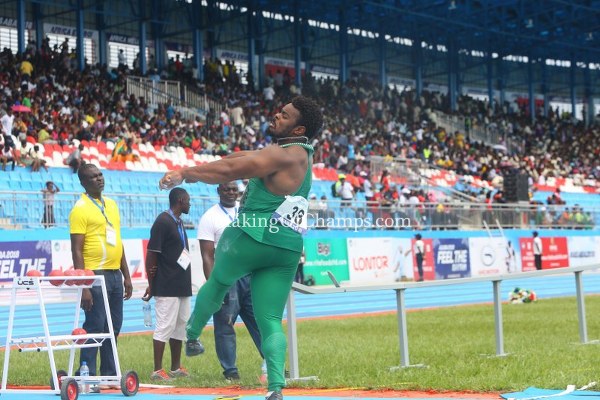 Chukwuebuka Enekwechi's burgeoning abilities this season has had him break his Personal Bests (PB), both indoors and outdoors in the men's Shot Put.
He was listed to compete at the 35th Grande Premio Brasil Caixa de Atletismo, the first leg of the IAAF World Challenge Series in Braganca Paulista (Sao Paulo) against Darlan Romani, a Brazilian who infact had better Personal and National Records (NR) to his name.
Romani has had as much as 22.00m go up from his sleeves in 2018 and had a 21.83m Season's Best (SB), while Enekwechi came into the competition with a 21.22m PB he set early this season.
It all livened up in the second round of the competition when Romani landed a 21.62m heave, but it didn't go down well as the Nigerian responded in the third round with a huge 21.77m, a figure enough to win the competition even though Romani improved to 21.69m in the final round.
Enekwechi who is the African Champion therefore took down Stephen Mozia's NR set in 2016 by a centimetre, and becomes the second best thrower Africa has ever had in the men's Shot Put, just behind Janus Roberts of South Africa who owns the African Record with 21.97m, a mark the new Nigerian Record Holder may well have in sights now.
Tobi Amusan also opened up her outdoor season at the Drake Relays in the women's 100m Hurdles where she competed against World Record (WR) Holder Kendra Harrison.
In conditions far from ideal, she finished 4th in a time of 12.96s, which wouldn't count as an SB, albeit a 3.3m/s wind reading, while Harrison won in 12.65s.
Tega Odele kept up his comeback at the Mauritius International Meet where he competed in the men's 100m, dashing to the finish in a time of 10.36s (-0.3m/s), just edged out by Swaziland's Sibusiso Matsenjwa who clocked 10.34s for the win.
In the 200m, he totally dominated his race by running an SB of 20.90s, well clear of Jordan Christophe who clocked 21.62s to finish 2nd.
Abejoye Oyeniyi also competed at the LSU Invitational which held at the Baton Rouge. It was in his customary 110m Hurdles as he finished 2nd and just missed a new SB in 13.95s behind Arthur Price who won the race in 13.85s (1.8m/s).
CSUN freshman, Bashiru Abdullahi broke his  PB en route a 2nd place finish in the men's 110m Hurdles at the Desert Heat Classic in Tucson. He clocked a time of 13.82s, breaking his previous mark by five-hundredths of a second. The Nigerian however finished behind Eric Edwards who topped the race in 13.63s (+1.0m/s).
Raymond Ekevwo also clocked a fast 10.12s in the men's 100m at the Tom Jones Memorial in Gainesville to finish 2nd in his heat behind his teammate, Hakim Sani Brown who won in 10.06s. The mark won't count as a PB but shows he is in great form with the wind only marginally over the allowed limit at 2.2m/s.
Ekevwo also teamed up with Sani Brown, Grant Holloway and Ryan Clark for the University of Florida as they improved their 4x100m to 38.52s, coming from a 38.55s clocking a week before.
Temilola Ogunrinde finished 4th in the women's Hammer Throw at the Drake Relays as she got out to 58.41m in an event won by Amy Herrington who threw 60.08m, while Victor Peka clocked 10.70s (2.8m/s) to finish 5th in his 100m heat.