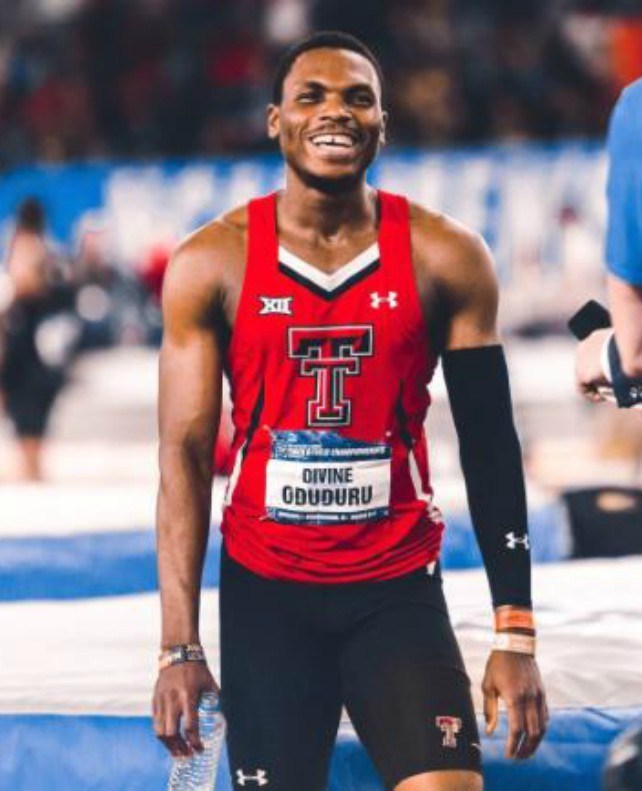 Divine Oduduru was by all means class in his performance at the Michael Johnson Invitational that took place in Waco, Texas.
The Nigerian powered to a Personal Best (PB) in the men's 100m with a time of 9.94s – the first sub-10s clocking by a Nigerian in almost 13 years, a World Leading time and the 6th fastest ever run by an African. It also further broke the Clyde Hart Stadium Record pegged at 10.02s by World Junior Record holder, Trayvon Bromell.
Less than an hour afterwards, he returned to the track for the 200m and by a 'storm,' he hit the finish in a Lifetime Best of 19.76s.
It stands as the world's fastest time in 2019, a new Nigerian record as it broke Francis Obikwelu's 19.84s record set in 1999, and also goes as the new Stadium Record, breaking Bromell's mark that stood at 20.30s. It was a new Texas Tech Record like the 100m, and the 2nd fastest ever run by a collegian.
Divine Oduduru therefore became the 10th man to achieve a one-day 100m/200m double.
Aniekeme Alphonsus made her 2nd competitive appearance for the William Carey University at the SSAC Championships as she raced to victory with a tint of dominance in the women's 100m in a Season's Best (SB) of  11.38s (0.3m/s), well ahead of Britney Jones that finished 2nd in 12.09s.
The same grind was what she carried on to the 200m as she clocked 23.65s for a resounding win, though aided by a 2.7m/s wind.
Raymond Ekevwo was in action for the men's 200m at the LSU Alumni Gold where he finished in a good 20.79s (+3.9m/s) and then led off a victorious Florida Gators men's 4x100m that had Hakim Sani Brown, Ryan Clark and Grant Holloway on to 38.55s.
MTSU's Cecilia Francis competed in the women's 100m at the War Eagle Invitational in Auburn. She finished 3rd in the event in a time of 11.65s (1.8m/s) as Brandee  Presley narrowly took the win in 11.61s with Symone Darius picking up 2nd in 11.63s.
Francis also honed her 200m skills with a good 23.72s clocking into a -1.2m/s headwind, while she finished 2nd to Commonwealth Games finalist, Halutie Hor, staying with her all through as she won by 4-hundredths of a second in 23.68s
Abike Egbeniyi won the women's 400m in 52.92s ahead of Chisom Nwoko who finished in 54.03s while Isaac Odugbesan finished 2nd to Zack Hancock in the men's Shot put with a best of 18.08m to the winner's 18.33m.
Ogheneakpobo Efekoro recorded better marks in the men's shotput at the Virginia Challenge in Charlottesville but ended up in 4th with stiff competition. He threw 19.54m while Andrew Liskowitz carted away the win at 20.23m, just edging former world champion, Joe Kovacs who registered 20.20m.
Charles Okeze built on his 200m SB of 20.88s at the Red Wolves Open, winning the event in 20.92s (-1.1m/s) ahead of Kennedy Lightner in 2nd with 21.15s.
African Triple Jump champion, Grace Anigbata competed at the Kansas Relays, dominating the event with a 13.19m grasp which wasn't without a 4.2m/s wind aide. She was the only athlete to surpass 13m in the field as Amiya Anoma placed 2nd with a 12.41m jump, also wind aided.
National Record holder in the women's Hammer throw, Temilola Ogunrinde finished 3rd at the Duke Invitational in Durham (NC) with a 63.31m heave behind Laura Iguane who reached 71.61m and Stefan Vujkalovic at 64.95m.
Chioma 'Cici' Onyekwere topped the women's discus throw at the GVU Al  Owens Classic with a final round throw of 58.35m ahead of Mary Hecksel whose best through the competition was 50.74m.
Tega Odele won his 200m heat at the ASA Grand Prix in 20.93s (0.5), just edging out Fhatuwani Mudimeli who placed 2nd in 20.96s. Odele has run a 20.60s race this season.
Oyeniyi Abejoye topped the men's 110mH at the Georgia Tech Invitational in 14.02s (+0.7m/s) ahead of Bretram Rogers and Solomon Simons in 14.19s and 14.35s respectively.
Chidi Okezie made a go for the men's 200m at the USC Open in Columbia where he won his heat in an SB of 21.25s but finished 2nd overall to Marquett  Simmons who put down 21.22s in another heat.