It was billed a race for Yomif Kejelcha, one where he would make out for the 1500m World Record (WR), but his compatriot, Samuel Tefera had other ideas.
With a very fast pace set by Bram Som, Kejelcha immediately moved out to take the lead behind the pacemakers while Tefera stayed close enough until all that was left was about 150m, when he moved out wide a bit to usurp the lead.
He totally switched gears as he raced away to win the event in a time of 3:31.04, which broke the World Indoor Record set by Hicham El Guerrouj – 3:31.18 as far back as February 1997.
Kejelcha on the other hand finished 2nd in a personal record time of 3:31.58, well ahead of Stewart McSewyn of Australia who set a National Record (NR) of 3:35.10 in 3rd place. It was a big leap for Tefera who had set a World Junior Record of 3:36.05 that was left unratified last year.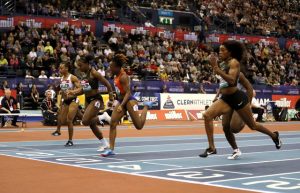 In the women's 60m final, Marie Josee Ta Lou who had hardly broken a sweat in winning her heat, had to get off from a fair start to gradually match up with Olympic Champion, Elaine Thompson and Asha Philip of Great Britain. She couldn't  get quite as much as she was nipped out on the line in a time of 7.15s as she had done in the qualifying rounds.
Thompson won the event in a Season's Best (SB) of 7.13s, while Philip was 2nd in 7.14s. Another Ivorian, Arthur Gue Cisse who is the fastest African over 60m this season didn't get it quite right as he slowed to finish in 6.81s after doing 6.63s in the rounds.
Ethiopia's Alemaz Samuel confidently sat back in the women's 3000m final until about 300m to the finish when she began to stride away to emerge winner of the tour in 8:54.60, which gives her a wildcard to the 2020 World Indoor Championships, ahead of Axumawit  Embaye, also of Ethiopia, who chased hard to take 2nd in 8:54.97.
To complete the Top 3, another Ethiopian Meskeram Mamo was 3rd in 8:55.03 as Ejgayehu Taye finished 4th in her indoor debut with a time of 8:55.28 to complete a full Ethiopian Top 4 sweep.
Behind Laura Muir in a race that produced the 3rd fastest indoor mile ever run, Uganda's Winnie Nanyondo finished 2nd in a Personal Best (PB) of 4:29.40 as Rababe Arafi was 3rd in 4:29.74 (NR).